Our mission calls us to honor student voice, and it's a theme woven into the fabric of our school. Voice itself can take many forms. There's voice as in simply expressing yourself well, whether you are off to the international debate and public speaking championships or making a short presentation in class. There's voice as in making proposals or putting ideas out there for discussion. There's voice as in speaking up for what is right. There's voice as in simply being your authentic self. Among many others.
You'll note that all the examples I've given may assume there's a point to self-expression beyond the expression itself, but don't explicitly consider it. When you start thinking about actually bringing about positive change in the world, then you're moving beyond voice into agency. As our mission also calls us to shape our various cultures to value what is now called feminine alongside what is now called masculine and break down gender barriers and stereotypes, student agency is also a major, if largely implied, aspect of our mission.
Last Thursday, approximately 50 students and adults in approximately equal numbers gathered together for a meeting about the "Support Our Students" group. Like many schools, we have what is often called a "sanctuary policy" wherein students who are concerned about their own health or that of a friend have a safe place to go with that concern that doesn't automatically bring a disciplinary response as well. "Support Our Students," organized by School Counselor Ellen Carter, is the group of faculty and staff who publicly identify as ready to help, granting that those not in the group would not hesitate to help and support any student who felt comfortable going to them as well.
In the meeting, we held confidential (at least for now) discussions about what students need for this policy to be successful, and what might get in the way. These discussions grew out of other meetings and discussions Ellen, along with Dean of Students Kristen Peterson, had hosted with the students. The students helped set the agenda for this joint meeting, and their voices, experiences, and wisdom were the primary drivers for our discussions. Everyone agreed the meeting had been powerful and productive, and we all are looking forward to the next one.
Meanwhile, I don't think I'm overstepping bounds to speak of some ideas this meeting reinforced for me. As I've been actively reflecting on the topic of voice and agency this year, I see a huge difference between student voice as input that then waits patiently for final decisions and courses of action, and student voice that is integral in shaping those final decisions and courses of action. What we saw so powerfully in action in this meeting shows what can happen when we move beyond student voice into student agency.
I've also been thinking a lot about the existence and effects of different kinds of hierarchies, and this meeting brought out several points. First, it may well be that adults need to acknowledge the inherent power imbalance in schools (the Sudbury model aside) in order to move past it and truly work with students. Second, there's a fine balance between acknowledging that age brings with it the chance to accumulate knowledge and wisdom and acknowledging that age has no monopoly on knowledge and wisdom. Third, that one important factor in learning about and understanding multiple perspectives is decentering the one that has historically been dominant and thus furthering the work for true equity. Fourth, that in a teacher-student relationship, those teachers who are in touch with their inner teenagers may find it easier to decenter themselves; this, too, enables teachers and students to work side by side toward a common goal.
Ellen's work with S.O.S. is by no means the only example in our school of moving beyond student voice to student agency (for one, I like to think my own classroom is another such example). But her work with S.O.S., along with the students, and now the faculty and staff as well, certainly points the direction to the future of our school. If we draw on the collective wisdom of our students, faculty, staff - and parents as well - we will be so much stronger than we otherwise would be. That's got to be both a mindset and daily commitment. We're moving steadily down the road.
Written by Bill Ivey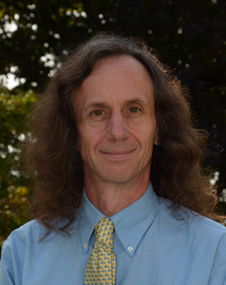 A dedicated member of the faculty, Bill Ivey is the Middle School Dean at Stoneleigh-Burnham School. He teaches Humanities 7 and the Middle and Upper School Rock Bands. Bill is the advisor for MOCA, the middle school student government, and he coordinates and participates in the middle school service program. Among his many hats, Bill also coordinates social media for Stoneleigh-Burnham School.