(originally written on May 31, 2015)
I'll be honest - this is not normally the time of year when I feel the best about my work. As much as I try hard to make every minute count (a refrain I share with my students throughout any given school year), the sudden absence of the cushion of "Okay, she did better in these ways, but she's still got to work on this. That'll be for the next unit!" hits hard. Luckily, the sadness my students generally express as we prepare to go our separate ways over the summer, and the kind words they say about my class in the process. go a long way toward helping me keep the faith to some extent. And with time, and rest, and more time, perspective returns.
A number of us at the Center for Teaching Quality had been discussing all of this and more, centered in part on Justin Minkel's outstanding blog "What Is Necessary: Did I fail my students this year?" and, later, on Deidra Gammill's own outstanding blog, "What Matters Most." So when Justin's latest blog was entitled, "What did you learn this year?" I figured it had to connect to these conversations, perhaps overtly, perhaps not. Either way, I had to read it. In presenting his own top three learnings, he invited others to present theirs. Of course, that's the kind of challenge I can't resist! Here, then, are my own top three learnings (either brand new or strongly reinforced) of the year.
I am not kidding myself when I say I work hard to enable student voice and that I am willing to place the kind of trust in students that is necessary for that to take place. Certainly, these are my ideals, and certainly, I reflect all the time on whether or not I am living up to them. But this year was my formal evaluation year, and both Shawn Durrett, our Dean of Faculty, and Jake Steward, our English Department Chair, visited my Humanities 7 classroom on multiple occasions. After the first class, Jake wondered how it was that the kids remained so focused on their work during "choice time" rather than letting the potential distractions of their iPads get the better of them. After the second class, he realized it was at least in part because of the tremendous trust I place in them, there and in many other ways. Similarly, Shawn identified the theme of the final class she observed as voice, and had kind words and praise for the space I left for student voice all the while ensuring they remaining focused on whatever our primary task happened to be. Students have echoed that theme as well and, since I view making space for genuine student voice to be fundamental to a democratic classroom in a feminist school, I am delighted to have my own positive instincts confirmed.
I now have a more nuanced view of what students think about our standards-based system. Every year, it seems, there's a moment when one or more students sit me down and try and convince me we should go back to letter grades. I enjoy it both because it suggests they feel comfortable using their voices (see above) and because it gives me a glimpse into their thinking. But many of them, in an effort to be as convincing as possible, adopt the debating technique of never ever conceding a single point. In that context… This year, a friend of mine, Lynn Bruno, sat down with the kids to talk about what they thought she should consider if she tries to start a new middle school in retirement. When assessment came up, the kids were 100% unanimous that standards-based assessment removed a lot of the stress of letter grades, gave them useful and helpful information about how they were doing, allowed them to focus more on learning, and made it all much more fun. Three or four out of the 13 students in my class said they still wished we had letter grades, saying they worried they weren't working their hardest. The others said that wasn't an issue for them. Putting it all together, there's no question standards-based assessment is both better for and popular with kids, at least middle school kids. The question of how to handle kids who are so focused on external motivation remains, but I'm inclined to think that if they nonetheless appreciate the lower stress, greater precision of feedback, greater fun, and greater focus on what is actually being learned that comes with being grades-free, their own internal motivation must be developing at some level. And that is one of the fundamental goals of our program.
Working toward the ideals of intersectional feminism means both falling short far more often than is remotely comfortable and understanding the importance of getting up, shaking your head, and continuing on. I can't even begin to tell you how many times I discovered retroactively how I misspoke, or inadvertently forgot an important axis of diversity, or came on too strong, or not strong enough. I learned the concept of calling in, essentially gently pointing out to people who have all good intentions when they fall short, whether or not they might even have noticed the effect of what they said or did, as opposed to calling out, when you see the necessity of being more aggressively confrontational given the opinions being expressed. I struggled to figure out which approach worked in which situation. I often felt clueless, clumsy, and on the fringes,. Yet, I knew I must be doing something right when a friend referred to me as her "LGBT brother in arms," when a member of the Twitter group #educolor thanked me for sharing her ideals and helping amplify her voice, when I acquired nearly a dozen new followers during a Twitter chat for educators following Caitlyn Jenner's coming out as transgender. I doubt I will ever be the intersectional feminist I dream of being. But I have no doubt that I am on the right path and heading, however uncertainly, in the right direction.
Those are three of my own major learnings of the year. What are yours? And if you write about them, please share your piece with both Justin and me. Thank you.
Written by Bill Ivey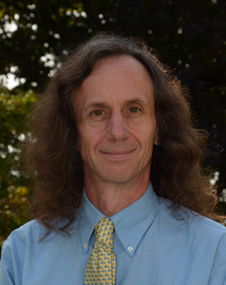 A dedicated member of the faculty, Bill Ivey is the Middle School Dean at Stoneleigh-Burnham School. He teaches Humanities 7 and the Middle and Upper School Rock Bands. Bill is the advisor for MOCA, the middle school student government, and he coordinates and participates in the middle school service program. Among his many hats, Bill also coordinates social media for Stoneleigh-Burnham School.