"They have carved a tunnel of hope through the dark mountain of disappointment." - Dr. Martin Luther King, Jr., from the "Letter from a Birmingham Jail."
While I had a good experience at the recent "Justice for All" March in Washington organized by Rev. Al Sharpton, I was and still am mindful that a number of my friends in the anti-racism movement were disturbed by some of the events that transpired. Particularly notable among these is the exclusion of young leaders of the Ferguson protests and the infamous cutting of the mic while Johnetta Elzie, one of the organizers of the Ferguson protests, was speaking. This seemed to confirm an impression among many activists prior to the protest that Rev. Sharpton was co-opting the movement away from some of the very young people that had helped get it started.
This does not diminish the depth of emotion stirred by many of the speakers at the March or the feeling many in attendance had that the movement was finding its soul, that they were finding the solidarity which they had sought. It does not diminish the carefully thought-out demands for the rooting out of racial profiling and the promotion of community-based policing. But nuanced thinking allows us to simultaneously hold two seemingly opposing thoughts, and as a girls school teacher and staunch supporter and promoter of student voice, in no way can I support the marginalization of young, female voices, including of course that of Ms. Elzie.
As it happens, Ms. Elzie did not go to Ferguson intending to be one of the principal organizers of a nascent movement. As she describes it, "I went to Canfield just to pay my respects to the space, to the people, and the community. But, seeing Mike Brown Jr.'s blood so vibrant on the street; it was calling out to me. (...) I had no idea what my role would be but I could only think to take to my social media accounts and hopefully show the world exactly what I was seeing. People noticed my active involvement in cleanup efforts on West Florissant and food and water distribution to protesters during the evenings. As a result, I became a point person for folks who came from out of town to help." (quoted in Alhassen) Ms. Elzie continues her work in a number of ways, including curating a #Ferguson protester newsletter along with Deray McKesson.
Recently on Twitter, Ms. Elzie was asked what she felt people most often overlook about Dr. King. Her response was "that he was radical. & participated in civil disobedience." Indeed, Dr. King was arrested 30 times, including for violating a court order not to hold an organized protest in Birmingham, Alabama. From that jail, he wrote: "One day the South will recognize its real heroes. They will be the James Merediths, with the noble sense of purpose that enables them to face jeering and hostile mobs, and with the agonizing loneliness that characterizes the life of the pioneer. They will be old, oppressed, battered Negro women, symbolized in a seventy two year old woman in Montgomery, Alabama, who rose up with a sense of dignity and with her people decided not to ride segregated buses, and who responded with ungrammatical profundity to one who inquired about her weariness: 'My feets is tired, but my soul is at rest.' They will be the young high school and college students, the young ministers of the gospel and a host of their elders, courageously and nonviolently sitting in at lunch counters and willingly going to jail for conscience' sake." (King)
Note how inclusive his statement is. Note, too, the sense of quiet and unyielding courage, the absolute refusal to accept injustice, the absolute insistence of dignity and respect, and the willingness to accept the consequences of civil disobedience designed both to call attention to injustice and to call for dignity and respect.
Many in our country who were not aware of some of the more egregious and completely unacceptable effects of systemic racism have now become so. Our collective conscious cries out against the injustices we see around us. But simple protest will not be enough. Attempts to change laws will not be enough, and even successful attempts to eliminate racial profiling and institute community policing systems will not be enough. All this is important, of course. However, more fundamentally, the system that produced unjust laws, unjust practices, and the racist attitudes behind them must be rebuilt from the ground up. Older generations have much to offer, of course, including such wisdom as we have been able to glean from our experiences. But so, too, do young generations - most definitely including the students of Stoneleigh-Burnham School. For it will take all of us working together - and, ostensibly, the youth of today eventually taking a turn in supporting and encouraging the youth of tomorrow - to bend the arc of the moral universe completely and permanently toward justice.
Written by Bill Ivey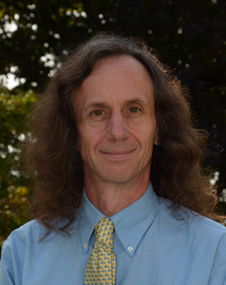 A dedicated member of the faculty, Bill Ivey is the Middle School Dean at Stoneleigh-Burnham School. He teaches Humanities 7 and the Middle and Upper School Rock Bands. Bill is the advisor for MOCA, the middle school student government, and he coordinates and participates in the middle school service program. Among his many hats, Bill also coordinates social media for Stoneleigh-Burnham School.