When you see the world through another set of eyes, it's a more beautiful place. - Melody Brook
I had a good fortune to attend the Translating Identity Conference on Saturday, October 14 at the University of Vermont. As the website says, "The largest conference of its kind in New England, TIC is a free, student organized, non-profit conference that seeks to reach not only the University of Vermont & the Burlington community, but the nation as a whole." As I arrived, the "Welcome" was just getting underway, and Melody Brook, an adjunct professor at Champlain College and a member of the Einu Abenaki tribe, officially welcomed us with words and song to a site that once belonged to her people.
The first session I attended was an Education Panel on disrupting cisnormativity - essentially, ensuring our schools are aware of, knowledgeable about, and supportive of all their students of the full diversity of genders.
The first question was on what kind of progress the schools represented were making, and there were several examples: a group of middle schoolers making a training video on understanding gender diversity as well as pronouns; including gender-neutral bathrooms; creating a gender-neutral locker room ; teaching a fully inclusive health, wellness, and sexuality course; getting a GSA going in a middle school. It was noted an active GSA leads to better health outcomes for all kids, not just LGBTQ+ kids. GLSEN was mentioned as a useful resource.
The second question involved the most urgent work being done at each school. These included: moving beyond Trans 101 to have more teacher education on pronoun usage and what trans and non-binary kids' lives are really like; having the school's administration kindly demand that all teachers and staff be brave advocates for trans and non-binary kids using a human rights and social justice lens; holding a firm line of what's not okay (especially in the current political climate); ensuring teachers working with younger kids have this on their radar as we don't always know the gender of all our kids; becoming more educated and being a role model for pronoun usage and gender inclusion; advocating with the school administration to get professional development. It was noted that there needs to be accountability; we all mess up and if we are making excuses, we need to stop. It was also suggested we survey youth to find out their top priorities - inclusive sex ed and/or bathrooms often top the list.
At this point, we broke up into groups of four to talk about our own questions and determine the most pressing one we wanted to ask. My group, which included the mother of a trans kid, settled on a question about how best to shift the burden of advocacy off kids' and parents' shoulders and create a school-based culture of accountability. Unfortunately, the "magic question box" (that contained a wireless microphone) never came our way.
Panelists were asked about their stories of courage. This included: coming out as non-binary at school; school administrators supporting a kid who wanted the formal school picture taken wearing different clothing than what caregivers wanted, with the administrators eventually paying for a second set of photos; gradually coming out and sharing information and questions despite not knowing what the response would be (and in fact receiving strong support from colleagues); a high school student dealing with transphobia when volunteering in a middle school; learning the importance of reporting incidents such as being outed by a colleague.
One high school student reported they got a gender-neutral locker room installed simply by going to the principal and asking where they should change. The principal originally offered the student their choice of boys' or girls' locker rooms, but they said they really wanted a truly gender-neutral space. The principal figured out where that could happen and even found funding for construction work over the summer to renovate the space.
One question was how to approach parents who might not be as open-minded. Suggestions included: get training to schools; figure out where the administration stands and get external support; use Teaching Tolerance resources (free and online). It was noted that we can't change all minds, including kids', but that administrators have a responsibility to delineate what can and can't be said in a school. It was also noted that educating about gender is something done by people with a wide range of political views and is not a liberal/conservative dichotomy.
One audience member expressed a worry about bullying and how to be the best possible ally - how do we call others in to this work? One suggestion was to use the formula, "Do you know the importance of (pronoun usage)?" Other suggestions included: the safe schools ally program (Massachusetts site here); focusing on bystander intervention; ensuring that kids are allowed to be kids and don't take on the role of a therapist; being willing to correct someone else; offering to accompany a friend to the bathroom. It was also suggested one could ask friends who their go-to adult is rather than prescribing a person with whom to talk (I noted to myself that one could also ask if a friend even has a go-to adult and help them find one if they don't).
Panelists offered these closing comments. Teachers, be aware of what you're saying and who might be feeling left out. Teachers and administrators need to include kids with social capital and talk directly to them and empower them to use their influence for good and not be a bystander, particularly in middle school. So many people focus on what parents "might" say and do, so parent-advocates can counteract that by speaking out on the one hand and on the other, writing letters of support (and not just focusing on gender). Let youth be the experts on their own identity and support it even if you don't understand.
Final words: Everyone always has room to grow and improve and change.
Yes, that was all just from the first session.
The second session was entitled "Supporting trans and gender-expansive students in school." Using the Critical Friends Protocol, we were divided into groups of three and led through a problem-solving session. My group included an elementary teacher, a college staff member, and me, covering the entire span of the K-16 years. We chose to focus on visibility in the elementary school as the college person and me both agreed that improved visibility of trans, gender non-conforming, and non-binary people as well as of a gender-inclusive culture was bound to help all of us, not just our group member's school. Among the things we focused on: including voices of parents/families/caregivers and students in the conversation; building supportive relationships with key individuals on campus; cultivating support from administrators; professional development.
Over lunch, I watched two episodes from the documentary series "America in Transition," directed by Andrés Pérez, that examines the lives of trans people of colour in community.
I had to get back to school for an evening chaperone duty, so I only had time for one more session. Because of my work in Communications, I chose "Gender Inclusion in a Virtual World" for which one of the major themes was how best to function without face-to-face clues.
The session evolved into a mix of presentation and problem-solving as we discussed pronouns (in person and in writing), assumptions around names (e.g. Melanie is not necessarily a girl), how we address and delineate groups (e.g. "Hi, people!" NOT "Hi, (boys and) girls!"), the tendency to generalize one particular gender experience to all, understanding what may feel gender neutral to some may not necessarily be seen that way by all (e.g. "Hey, guys!"), inclusive health records, and supports databases can offer (e.g. a pop-up designed to say stuff like "Dana has a peanut allergy" can also be used to say stuff like "Sarah (legal name Dana) uses she/her pronouns." We talked about making pull-down menus of honorifics more inclusive (e.g. including the gender-neutral "Mx."). The Radical Copyeditor's Style Guide for Writing About Transgender People was offered as a great support.
It was an enjoyable and productive day. I certainly hope I am able to return for next year's conference!
Written by Bill Ivey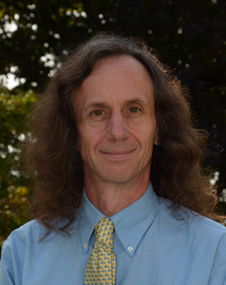 A dedicated member of the faculty, Bill Ivey is the Middle School Dean at Stoneleigh-Burnham School. He teaches Humanities 7 and the Middle and Upper School Rock Bands. Bill is the advisor for MOCA, the middle school student government, and he coordinates and participates in the middle school service program. Among his many hats, Bill also coordinates social media for Stoneleigh-Burnham School.