By now, you may have heard of this pithy observation on women in science: "Let me tell you about my trouble with girls ... three things happen when they are in the lab ... You fall in love with them, they fall in love with you and when you criticize them, they cry." (Sir Tim Hunt, quoted in Drum) The piece provoked a firestorm of reaction, including the trending hashtag #distractinglysexy which mocked Sir Hunt's remarks through comments such as "Rosalind Franklin was so #distractinglysexy that Watson and Crick forgot to give her credit for figuring out how DNA worked." (Seth D. Michaels, quoted in Waxman) A few days later, Sir Hunt, a Nobel Prize winning scientist, was fired from his position at University College London.
Kevin Drum raises some important questions about scale in his piece, "Are We Really In Control of Our Own Outrage? The Case of Social Media and Tim Hunt," essentially suggesting that some level of public humiliation and a reprimand would have been sufficient punishment. He links to a Guardian article by Robin McKie that features an interview with Sir Hunt and his wife, Professor Mary Collins. Professor Collins observed, "It was an unbelievably stupid thing to say. You can see why it could be taken as offensive if you didn't know Tim. But really it was just part of his upbringing. He went to a single-sex school in the 1960s. Nevertheless he is not sexist. I am a feminist, and I would not have put up with him if he were sexist." (Collins, quoted in McKie) Personally, I would be less willing to excuse his "upbringing" than she is, but I understand where she is coming from.
That said, what is getting lost in the passion of the discussions, as so frequently happens, is a discussion of the conditions in which statements like that take place. The American Association of University Women just published an article highlighting the results of a study published by the National Academy of Sciences of the United States of America. The study asked science faculty members to rate resumes of job candidates, using identical resumes with one key difference: the candidate was named either John or Jennifer. John, as you may have expected if not hoped, was rated more highly than Jennifer for competence, hirability, and mentoring potential, and was also offered a higher salary.
Upbringing may account for some portion of that clear gender bias, but then if bias can be learned, it can also - indeed, must - be unlearned. Best of all, of course, is not to learn it in the first place.
In that context, the National Coalition of Girls Schools is preparing for their annual conference for which they have chosen the theme, "From STEM to STEAM: Girls Schools Leading the Way." As they note in the conference description, "Research shows that girls' school graduates are six times more likely to consider majoring in math, science, and technology and three times more likely to consider engineering careers compared to girls who attend coed schools. Nevertheless, women continue to be vastly underrepresented in STEM careers." (NCGS)
I'll be there, along with two science teachers, Andrea Tehan Carnes (who will be taking on the job of STEAM coordinator starting next year) and Meghan Lena, and also our Head of School, Sally Mixsell. Among the sessions I'm hoping to attend:
Keynote Address: Reshima Saujani - Workforce of the Future
Incorporating Ethics into STEM Education
Keynote Address: Maria Klawe - Giving More Girls Access to Tech Careers
STEAM Surge: Unique Opportunities and Challenges for a Small School
Girls as Change Agents
STEAM Success for English Learners
Keynote Conversation: Dorothy Bennett and Amy Leidtke - Advocating for Irresistible Girl-Powered STEAM Learning
Keynote Conversation: Ellen Stofan & Jacque Fetrow - Plugging the Leaky Pipeline - From Problem to Solutions
It will be fun and inspiring to spend three days with people who are deeply committed to girls education, to working for gender equity in STEAM fields, and for that matter to working for gender equity in general. Because, while it might feel good to get all outraged over completely unacceptable sexist comments, in the end nothing is served by outrage alone. When the tumult subsides, it comes down to each of us and the work we do daily.
Written by Bill Ivey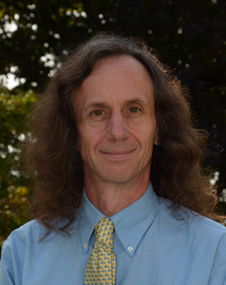 A dedicated member of the faculty, Bill Ivey is the Middle School Dean at Stoneleigh-Burnham School. He teaches Humanities 7 and the Middle and Upper School Rock Bands. Bill is the advisor for MOCA, the middle school student government, and he coordinates and participates in the middle school service program. Among his many hats, Bill also coordinates social media for Stoneleigh-Burnham School.