What do condiments, the four seasons and the secret life of the Voice of Stoneleigh-Burnham have in common?
For those of you who don't like mayonnaise, I encourage you to visit our Reception area once again. The walls, recently repainted, are creamy and bright and open. The new furniture arrangement highlights one of the schools very best carved wooden furniture pieces. The "mayonnaise" paint color arrived at SBS after several trials of designer color chips, also with designer names - such as "first snowfall" and "lily white." Thanks to Lauren Cunniffe, Stephanie Luebbers, and Mark Pelis, "Mayonnaise" was a quick yes here at SBS.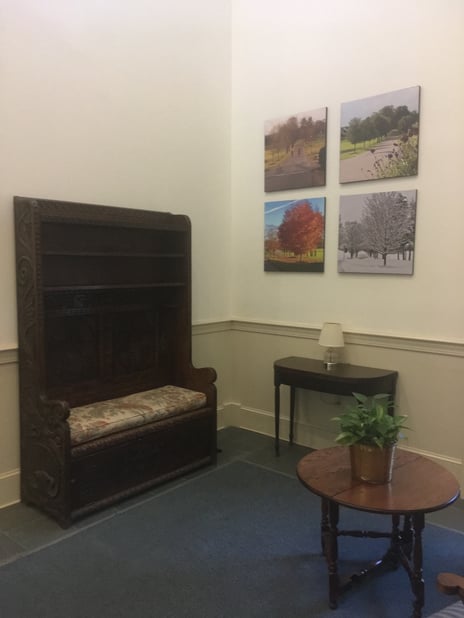 The Artist highlighted here at our "new" Reception area is Hank Mixsell. The Four Season posters of Hank's photos are shown to great advantage here above the chair rail. It turns out that Spring, Summer, Fall and Winter go along very well with "Mayonnaise."
As there is always inspiration here at SBS- it is time to share how the Voice of Stoneleigh-Burnham also appreciates the four seasons The secret life of Carolyn Flower aka "V of SB" involves creating pastel art works. During the weekday, the V of SB is out in a very public area, welcoming all who arrive here on campus. Each evening, and Saturday and Sunday, the V of SB is locked behind closed doors creating and learning much about each pastel piece of artwork she creates. The pastels are mostly landscapes, many of trees and views of New England. There are also abstracts, and occasionally a wild palm tree too. Color and the landscape of New England are ever present here at SBS.