The National Coalition of Girls Schools (NCGS) held their Annual Conference from June 22-24, 2015 at St. Catherine's School in Richmond, Virginia. The theme was "From STEM to STEAM: Girls' Schools Leading the Way." Sally Mixsell, Head of School, attended along with science teachers Andrea Tehan Carnes and Meghan Lena, and Bill Ivey, Middle School Dean. Over the weeks following the conference, we are sharing our thoughts on what we learned and what we did.
Excited and inspired by the opening keynote (see "Like Home" for more), I headed for my first breakout session, "Incorporating Ethics into STEM Education" with Terry Maksymowych. She began by distinguishing "ethics," the code of a social system, from "morals," which are about personal and individual character. Examples of ethical questions in STEM work abound, from the Facebook manipulation of users' emotions to a bogus but still influential anti-vaccination study to the use of Henrietta Lacks's cells. Case studies can help spark discussions of ethics, and the underlying questions of who has the power and who gets to decide can lead to examination of social justice issues including racism, gender bias, ableism, and more. Students also need to learn to critically evaluate statistics. When building modules: identify a problem or question, find resources, seek multiple perspectives, spend time with group sharing, identify biases and assumptions, make connections, determine new questions and what else you need, and apply multiple assessments. Finally, while these questions can clearly be examined within STEM courses themselves, they also provide excellent opportunities for interdisciplinary work.
For the last session on Monday, I chose to attend "Diverse Voices in American Literature: Exploring the Harlem Renaissance and Beyond Through Sound Design, Argument, Rhetoric, and Cultural Research" with Brien Gorham and Chanel Summers. The driving question behind the unit was, in essence, "How can literature, art, and poetry be a match in the darkness - a way to empower diverse voices?" As a woman in the gaming industry, particularly in the field of soundscape design where women are especially underrepresented even for this field, Chanel Summers brings both a high level of expertise and a strong voice of her own. She showed the recut trailer "Scary Mary," using images from the classic film "Mary Poppins," to help us understand the power of soundscapes in shaping how we view images. From their respective perspectives, Ms. Summers and Mr. Gordon shared how they helped kids through the unit, touching on basic ideas and skills in both English and soundscape design, and showed us a sample project. For their soundscapes, students use Audacity, which is available for Max OS, Windows, and Linux.
The next morning, Ana Homayoun presented on "From Social Media to STEAM: Understanding the Latest Trends, and How Social Media Can Promote STEAM." She talked about six social media apps that (as of June 23, 2015!) were the most popular with tweens and teens: Snapchat, Instagram, Kik, Vine, Ask.fm, and Whisper (a supplementary list included Facebook, Twitter, YouTube, Frankly, Rumr, Yik Yak, and WhatsApp). Noting that girls tend on average to be more relational in their social media usage, she also pointed out that the commonly used fear-based approach to teaching kids about social media has led to a predilection for ephemeral and anonymous apps. Of course, kids, like many of us, tend to overestimate how ephemeral and anonymous what they post actually is - another point of education.
A useful approach might be to talk to kids about the effects social media can have on their lives - positive and negative. They can become aware of negative effects that can include organization time management, socialization, emotional wellness, identity development, and stress management. Some of those, of course, can be mitigated - for example, by recognizing that posting takes up much less time than the constant checking to see who has had what reactions, we can come up with a plan to minimize time spent on social media while still feeling connected.
In using social media positively, specifically to promote STEM, we can move girls from curation to creation. We can work with them on how to use social media to create an inclusive and pro-social community, how to use social media to make a positive difference in the world, and how to build confidence. We can let them know about following positive organizations such as Girl Effect. We can hold "six-second science fairs" using VIne. We can ask them to imagine a social media campaign a historical figure might have organized. We can ask them to engineer videos that include sleight of hand or optical illusions. We can ask them to use social media to publicize projects, events, and causes. We can organize a hackathon. (note: Many thanks to Sarah Edson, whose tweets along with my own helped record many of these great ideas.)
On Tuesday afternoon, I attended three more inspiring sessions (and a keynote conversation). In "Girls as Change Agents," Kathryn Taylor and Sara Sykes discussed how the Rudolph S. Raisin Center for Global Justice at Westover School uses tech to help coordinate student involvement in community service, diversity, environmental sustainability, and global programs. In "Interdisciplinary Teaching through Facets of Design Thinking," Melissa Fairchild, Katie Gillen, Kali Lambrou, and Nicole Sadowski of Trinity Hall School presented sample units that genuinely integrated work in different disciplines, most notably through the final summative projects. And in "STEAM: Success for English Learners," Marjorie Cooper and Amy Pelissero talked about and demonstrated the amazing work Global Village Project is doing to help refugee girls improve their English and, eventually, find success in the public education system. They also demonstrated some of the teaching techniques they use.
Again, I was struck at how strongly themes of intersectional feminism and social justice were running through this conference. STEM and STEAM were being used as means to an end, and not just as an end in themselves. Part of that, of course, is knowing how best to reach girls. And part of that is knowing the right questions to ask (itself a STEM/STEAM-related skill). As a recent National Coalition of Girls Schools newsletter said, "A question can: shine light on where you need to go, be the spade that unearths buried truths, and [be] the switch that produces the light bulb effect." They also quote David Cooperrider, a professor at Case Western Reserve University who said that "organizations gravitate toward the questions they ask." (NCGS)
Clearly, NCGS is asking the right questions.
Written by Bill Ivey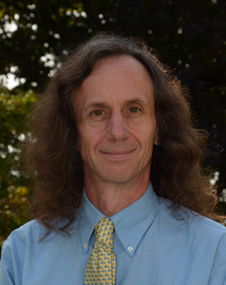 A dedicated member of the faculty, Bill Ivey is the Middle School Dean at Stoneleigh-Burnham School. He teaches Humanities 7 and the Middle and Upper School Rock Bands. Bill is the advisor for MOCA, the middle school student government, and he coordinates and participates in the middle school service program. Among his many hats, Bill also coordinates social media for Stoneleigh-Burnham School.