It's funny how empty a house can suddenly get, isn't it? - Steve Martin, from "Father of the Bride"
As Steve Martin and Diane Keaton start dancing and the end credits for "Father of the Bride" roll, I look over at my son Kian, now three. "What do you want to do now?" I ask, already knowing the answer. Soon, we are gathering a collection of stuffed animals and rubber snakes, preparing for a wedding. Sometimes, I am in the wedding party along with him, other times I am asked to focus solely on moving the animals about at their appointed times and delivering the lines of the script that seems to lengthen slightly every day. Whatever else we might do - go down to the stream at the back of our property, read, get lunch, sit out in the front yard and watch trains go by, walk around the neighbourhood, go on play dates with Kian's friends or cousins, and so on - this is part of our daily ritual.
It never grows old.
You had to look below the surface to see how nervous they were, the first members of Stoneleigh-Burnham's Class of 2012 in their first days of seventh grade. There was something in the subtly elevated pitch of their voices, the slight clipping off of the last word in the many questions they asked, the barely noticeable incline of their bodies and widening of eyes as they focused on my answers, wanting to take in every word and get everything down. Among the things I shared with them to help them settle in was that I had a son just their age, starting his own seventh grade year at a brand new school - Eaglebrook; maybe some of them had brothers there? As it turned out, Lizzy did, and we'd established a point of contact. Gradually, they relaxed and became extraordinarily close throughout the year as they strengthened their reading; wrestled with questions of identity including gender, race, and sexuality; reflected on what they'd learned and where they needed further improvement; gradually developed a sense of accomplishment and a sense they were up to each new challenge life would bring them.
On the way to school together, he to his ninth grade year (his last) at Eaglebrook, me of course to Stoneleigh-Burnham, we would talk the whole way (there and back) about just about anything you can imagine - classes, homework, school sports, college and professional sports, politics, world events, what we were going to have for dinner, the cat - you name it. The one unquestioned time we would stop would be when Dan and Kim played "Aloha Friday" as a means of announcing the imminent weekend. We'd turn up the radio and listen, him singing along, me drumming on the steering wheel. After the last chorus, we'd turn the radio back down and resume our conversation. I knew what a gift our time together was, and once it became clear he was going to go away to boarding school the following year, that time became even more precious.
The middle schoolers had voted to spend the morning of Founders' Day watching The Hunger Games downtown at the Garden Cinema. As time passed, I realized that I was going to have to leave early if I was to fire up the grill for the traditional lunch out behind Bonnie's House, and I zipped back to campus. While I was getting everything ready, the six-year Seniors from the Class of 2012 showed up, their faces lit up by smiles, so excited to have one more Founders' Day with the middle school before they graduated. We shared a blitz of reminiscence and, as I turned back to the grill, they ran down to the softball field and began a game with neither bat nor ball.
In another blink of the eye, they were all dressed up in white, processing to Pomp and Circumstance, roses cradled in their arms. Through misty eyes, I watched them one by one walk up the stairs, shake hands, accept their diplomas, and smile out at the crowd as they walked off stage.
Four years later, I am walking back from dinner out with Kian, my wife, and my mother-in-law, when I see a familiar pick-up truck pulling out of a parking lot and a flood of memories come back. It is Claire Callahan's dad, Claire being one of those six-year Seniors in the Class of 2012. He has seen me, too, and instead of turning down the road, he drives across the street and into an alleyway. I run over to talk to him. It turns out Claire has just graduated Phi Beta Kappa and Summa Cum Laude from Connecticut College and has plans to live in the East Village with a friend, working for Bully Pulpit Interactive, a marketing firm that has done work for President Obama. Besides sharing his pride in his daughter, he also wanted to thank me: "It all started with you." I tear up and, after a moment, tell him it was easy to see from Claire's first days at Stoneleigh-Burnham that she had it in her to Go Places. I continue to tell him my son Kian has also just graduated (Phi Beta Kappa and Magna Cum Laude from Brown University) and will also be living and working in New York City starting in July. He congratulates me as I had congratulated him.
But we don't just speak with pride of our kids' accomplishments. We talk about how amazing they are as people - kind, warm, gracious, giving. We talk about how happy we are they are home for the month of June and how wonderful it is to have this time with them. We laugh out loud, we tear up again, we high five, we grip each other's hands repeatedly. And then he looks into my eyes and murmurs, "It's bittersweet, isn't it?" "Yes, it is," I acknowledge.
(...)
I finish the last line of that paragraph and look over at my son, lying on the sofa studying for the certification exam he's going to have to take in August for his new job, periodically glancing at his computer screen and sending a text to his girlfriend. The cat is napping less than a tail's length from my computer. My wife has gone upstairs to sleep, and I'll join her shortly. This phase of his life is winding down, too fast. But he is ready for the next phase, and I know the love that has animated our every moment together will carry us into the future.
When he was born, I wrote in his baby book that I wanted him to be happy, to know he was deeply loved, to grow into his own authentic self.
That moment has come.
Written by Bill Ivey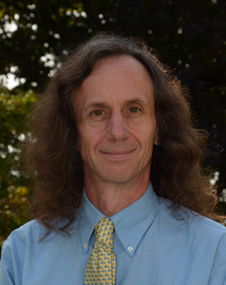 A dedicated member of the faculty, Bill Ivey is the Middle School Dean at Stoneleigh-Burnham School. He teaches Humanities 7 and the Middle and Upper School Rock Bands. Bill is the advisor for MOCA, the middle school student government, and he coordinates and participates in the middle school service program. Among his many hats, Bill also coordinates social media for Stoneleigh-Burnham School.