Good morning, everyone, and welcome officially to the 2017-2018 academic year. I loved hearing about each one of you students last night and would like to take a moment to thank, especially, the senior class for getting us off to such a happy start! You, seniors, have set the tone for a spectacular year. Thank you.

(...) Though it's hard to believe, this is my tenth SBS Convocation, and never has this ceremony felt more important than it does this year. With varying levels of uncertainty around the world, we have a duty to all of you students to provide a safe and nurturing environment so that you can focus on the hard task of growing into your adult selves. And yet, through social media, newspapers and other news media, you all are privy to the external forces driving our world today, and I imagine it feels a bit overwhelming. I am here to tell you that while Stoneleigh-Burnham is a microcosm of the world by virtue of our broad cultural makeup, it does not need to be a reflection of the discord we are all reading about and experiencing. In fact, it has the potential to be quite the opposite. We can be better than what we're reading about and witnessing right now – if we all decide that that's what we want.
Most of you know that I am a graduate of Stoneleigh-Burnham. I was a four-year girl, here for the latter half of the 1960's decade – a time in American history when there was also a lot of turmoil and turbulence. My junior year, 1967-1968, was particularly stressful. The Vietnam War was in full swing, and images from halfway around the world were projected on TV in ways that weren't possible during earlier wars. World War II veterans hated the "peaceniks" who were protesting against the Vietnam War, and special interest groups were popping up to represent their political viewpoints. In April of 1968, Martin Luther King, Jr., leader of the Civil Rights Movement and promoter of nonviolence and civil disobedience, was fatally shot. That June, Bobby Kennedy, at that time a state senator working hard for racial equality and the leading Democratic candidate in the upcoming presidential election, was assassinated. It was a very hard year in this country, and the summer after my junior year six of us Stoneleigh friends went to Rockwood, Maine, where my roommate's family had a cabin on a lake. One afternoon while we were there, we took a walk in the woods and stumbled upon a beautiful little chapel made of hand-hewn wood. We went in and found it empty; the simplicity of its design and the peace and quiet it offered us after such a difficult year inspired us to take a seat and just sit with ourselves for quite awhile. Eventually, one of us got up, stood at the pulpit and started talking about her feelings. And then, each of us did the same; we processed together how the year had felt to us. It was one of those experiences that I will always remember; actually, we all remember it and talk about it to this day, even though it was almost 50 years ago.
The reason I'm telling you this story is that I would like to create for you here that same sense of peace and contemplation. I want us all to be able to reflect on what is happening around us while still feeling safe to do the work we are here to do. I hope we will all work hard to make this a safe space for each other, understanding how difficult it is to stay open and accepting and welcoming. And that is why this ceremony is so very important.
We have come together today to form a covenant – a promise – to live by the ideals expressed in our Honor Code. Each one of us is here this morning to commit to our community by committing to our Honor Code – the most important values by which we agree to live. Right here, right now, is the most important hour of the year. It sets the tone and clearly establishes what we honor in each other and in ourselves.
I am fully aware that some of you in this school have felt marginalized by various factions of our larger society, and I want to state very clearly that you are all equally valued here. We are committed to give you what we promise – a chance to explore who you are and what your values are - and emerge as your best selves. But we need the help of everyone in our community to make it possible for our students to feel safe enough to take the risks required for self-discovery. We ALL have to commit to the ideas expressed in our Honor Code; we ALL have to make room for the broad spectrum of perspective and opinion that lives in our walls; we ALL have to appreciate difference and honor each other by acknowledging what those of you in IB classes know so well. That is, that my opinion is not the only "right" opinion.
I'm talking about what happens when we actually do live up to all of these ideals. But what happens when we don't? What if someone tells an inappropriate joke, makes fun behind someone else's back, sends a snarky text message? Please name it. Politely call each other out on it. Ask that person not to do things that harm someone else in any way.
This is a steep challenge, but I believe we are all up for it. I will give you my pledge that I will do my very best to protect this community so that you may all rise to the occasion. Best of luck to you all this year; I look forward to our soaring beyond what we even imagine is possible.
Written by Sally Mixsell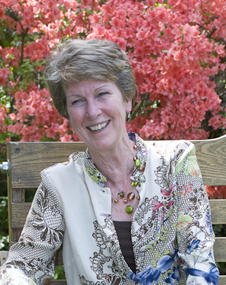 As an alumna (Class of 1969), Sally brings an intimate knowledge of the Stoneleigh-Burnham community to the position of Head of School. She is dedicated to the academic, social and physical growth of each girl, and believes that such development is accomplished by students' engagement in a close community where meaningful participation is key. Sally's contributions to this blog allow parents, fellow alumnae, prospective families, and friends a close view into the life of the school from her perspective.