Within moments, they had dispersed, some to seek out construction paper to make paper chains, some to the school store to get red duct tape and other supplies, some to their rooms to get other decorations, and one group… to the cubby room to finish the last shots and editing on their film. The Humanities 7 class had decided to have a special premiere celebration when they shared their original movies with each other and, after quickly convincing me to bring popcorn, cookies, and soda (which I had been planning to do anyway!), had decided to decorate the room specially and to have red carpet moments.
The appointed day came - and it snowed. Of course.
On the morning when we were finally able to hold the premieres, I walked into the room to find the red duct tape already laid out between a line of tables, another table set aside for concessions, and paper chains, stars, and hearts still being hung. They readied themselves (those who so chose) to walk the red carpet, and as one of them positioned herself to conduct interviews, I saw a teachable moment. So I told them about the #AskHerMore campaign being promoted for the 2015 Oscars, to focus red carpet questions asked of women on things they had done and what they were interested in rather than just what they looked like. And the student doing the interviews asked a marvelous range of creative, inspired and wide-ranging questions.
On the night of the Oscars, I quickly found some great examples of real life #AskHerMore moments and shared them out on the school's Twitter account in between taking my son and his girlfriend out for dinner and reading first drafts of student essays. Later on, I saw people praising Patricia Arquette for having delivered a strong feminist message during her acceptance speech: "It's our time to have wage equality once and for all and equal rights for women in the United States of America!" (quoted in Stern) Like hundreds of thousands of people, I was delighted at these words.
But the next morning, my Twitter feed was rather less complimentary, and in particular I found that women of colour and LGBT activists were furious. Checking it out, I found that Ms. Arquette had added, in remarks after the ceremony: "It's time for all the women in America — and all the men that love women and all the gay people and all the people of color that we've all fought for – to fight for us now." (quoted in Castillo) There is absolutely no question that, as phrased, the statement implies that "all the women in America" are straight, cisgender, and white, and that there's a further implication that, after years of profiting from the selfless advocacy of that slice of population, it was high time men, gay people, and people of colour give back. You can also, if you choose (and a great many people did), go back to her original acceptance speech and find both class privilege and a still further narrowing of "all the women in America" to exclude those who have not had children. And there is absolutely no question that level of erasure of the full range of diversity of women is troubling, granting this was a one-minute speech with no possibility for the kind of true dialogue that leads to nuance. I'll add, by the way, that trans women were erased to the point of not even being mentioned in the erasures.
However, there are other things I find deeply troubling, and KJ Dell'Antonia, in an article that Susanna Thompson shared with me earlier today, puts it well: "as we listen to her words being torn apart, there's a real risk that other women, other actresses, others who may at various times in their lives have a chance for one minute that the whole country will hear, are hearing something else: / Shhh." The first thing I find deeply troubling here is that the New York Times chose to put a spot-on feminist critique in a blog on parenting. For far, far too long, and far, far too often, writing by and about women has been separated out from the, harumph, "serious" parts of newspapers. It is long past time that reprehensible practice stopped once and for all.
But the other thing I find deeply troubling is the deep truth of the message that, in U.S. society (among many others), women are systematically silenced, both directly and indirectly. Patriarchy simply can not survive if women regularly use their voices and if those voices are regularly treated with respect.
As it shouldn't.
That is why I view the Mission Statement of this school as sacred. What greater sense of purpose than to elevate all girls and women's voices in a global community, to fight for a world in which all voices (of all genders, ethnicities, races, sexualities, classes, abledness, and ages) are treated with equal dignity and respect? We here in the Stoneleigh-Burnham community have the opportunity to be at the forefront of positive social change if we are all careful to truly live this Mission Statement to the fullest.
As we can - and should - and must.
Written by Bill Ivey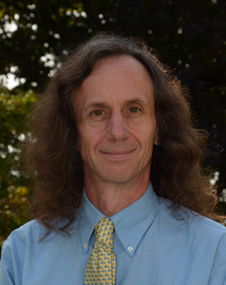 A dedicated member of the faculty, Bill Ivey is the Middle School Dean at Stoneleigh-Burnham School. He teaches Humanities 7 and the Middle and Upper School Rock Bands. Bill is the advisor for MOCA, the middle school student government, and he coordinates and participates in the middle school service program. Among his many hats, Bill also coordinates social media for Stoneleigh-Burnham School.