Middle School classes ended today, which simultaneously means that my time instantly becomes much less scheduled and that the next couple of days will be absolutely packed with progress report writing, proofing, and revising, not to mention entering skill assessments. (Break is also packed with missing my students, but I know we all need and deserve the rest, and that we will all be back together soon enough!)
So of course, with all this free time and all this work to accomplish, I decided to… take a road trip to Natick. What could be more logical?!
But I had had a Rock Band rehearsal the night that Jessica Lahey spoke in Western Massachusetts, and I knew she was speaking in Natick, and I wasn't about to miss her again - particularly as just this morning she had shared out one of the most vulnerable and honest pieces of writing I've ever seen. Plus, I had managed to finish the rest of my Rock Band comments this afternoon, and was pretty confident I could handle my Humanities 7 comments tomorrow.
Ms. Lahey, who is very much in demand as a speaker (and for good reason), was going to be at Natick High School, talking about her book, The Gift of Failure: How the Best Parents Learn to Let Go So Their Children Can Succeed. Near the end of her talk, she mentioned that, however heartbreaking it might be at one level, ultimately our job as parents is essentially to put ourselves out of a job. As a teacher, of course, I get to experience that dynamic in my actual job, too. Lucky me. Except that student autonomy really is my ultimate goal. If I truly love them (and I do), I owe them no less - same as with my son.
One of the most basic tenets of our middle school program is to minimize extrinsic motivation and focus on developing intrinsic motivation. That was one of the main themes that Ms. Lahey set in her talk, emphasizing the importance of autonomy, competence, and connectedness in developing intrinsic motivation. Those familiar with the founding principles of our middle school program may recognize those nearly match exactly the three core elements of self-esteem in girls as defined by JoAnn Deak: confidence, competence, and connectedness. So I found myself sitting in the audience musing on the significance of autonomy being present in one triad and confidence in the other.
Ms. Lahey gave me a huge clue in highlighting the fact that one can be perfectly confident without having a valid reason to be - I envision, for some reason, a beginning skier pushing off down a double diamond hill. I was pretty sure that wasn't the kind of confidence Dr. Deak had in mind, and thought back to the founding of our middle school. Connectedness, I had reasoned, provides the context in which students can develop competence, which is turn leads to confidence. So while the core elements of self-esteem in girls certainly reinforce each other, there can also be a sequence to their development. Confidence based on competence is our goal here.
So, I wondered, might it be true that autonomy blends not only with the development of intrinsic motivation, as Ms. Lahey noted, but also with the development of competence-based confidence seen in Dr. Deak's work? It made intuitive sense and, as I listened to Ms. Lahey talk compellingly about autonomy in more detail, bringing in both personal stories and research, it seemed increasingly clear that it was so.
And then, connectedness provides the supportive context that helps facilitate everything, whether with a parent, a teacher, or some other caring adult.
One of my major themes this year is ensuring that student voice leads to true student agency. Ms. Lahey helped me see that autonomy is the next step, and truest goal.
It all takes me back a week and half to a rehearsal I attended with Charlotte and Natalie, two Seniors who wanted to perform a medley from "Hamilton" and had asked me to play drums. It felt very much like playing in First Draft, our faculty band from the mid 90's. Each person was responsible for developing their own part, and trusted to do so. Yet we all shared responsibility for the unified sound, and spoke honestly and supportively about what we thought went well and what we thought needed tweaking, what we needed from each other for the next run-through to improve. We were, in essence, no longer teacher and students, but simply three musicians preparing for a show. They no longer needed me in my teacher role - and it honestly felt good. I knew they were truly ready for college.
Autonomous, as it were.
Written by Bill Ivey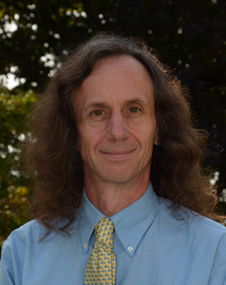 A dedicated member of the faculty, Bill Ivey is the Middle School Dean at Stoneleigh-Burnham School. He teaches Humanities 7 and the Middle and Upper School Rock Bands. Bill is the advisor for MOCA, the middle school student government, and he coordinates and participates in the middle school service program. Among his many hats, Bill also coordinates social media for Stoneleigh-Burnham School.