The headline may have been overstated, as headlines can sometimes be: "Georgia Legislators Admit It: 'Religious Liberty' Bill Is About Anti-Gay Discrimination." But the general drift was accurate. Concerned about the true intents and purposes of a bill under debate, a moderate Republican introduced an amendment clarifying that the bill should not be interpreted as legalizing discrimination. As reported by Mark Joseph Stern, "Conservative representatives cried foul, asserting that an anti-discrimination amendment would defeat the purpose of the bill." Such a bill has actually passed in Indiana, sparking protests and boycotts.
Meanwhile, 14-year-old transgender activist Jazz Jennings is lighting up the world, with a brilliant interview with MSNBC accompanied by a Twitter chat, a new documentary series on TLC intended to show the world how perfectly normal families with trans kids can really be, and an ad campaign for Clean and Clear. She is naturally charismatic and articulate, strong in the way that kids who know they are unconditionally loved by their parents tend to be, and already one of the most effective spokespeople for trans rights you will find.
So as I travelled to Boston for the GLSEN-Massachusetts conference for students and educators, it felt like we were at a tipping point in the fight for LGBT rights. Attempts to rewrite discrimination back into our legal code, juxtaposed with increasing numbers of states where same gender marriage is legal. The haunting face of the late Leelah Alcorn, who died by suicide at age 17, juxtaposed with Jazz's confident words and brilliant smile. Through it all, a consistent pushback to ignorance.
Because, as Robyn Ochs noted in the session "Beyond Bisexuality," it's often true that people who believe in stereotypes simply don't have enough information to know otherwise. They may have all good intentions, and may be as shocked to learn the truth of it as the person bringing them to speed may have been by whatever the first person said. I try hard to keep up on the full range of diversity of different sexualities, and had still never heard of a number of the middle sexualities mentioned by participants in this session (mostly students) – for just two examples, multisexual (people attracted to more than one gender) and lithsexual (people who feel attraction but do not have the desire to have it reciprocated).
One of the best ways to deal with stereotypes, then, has to be to correct inaccurate seeing. To this end, Ms. Ochs proposed that people who identify with one or more of the middle sexualities, and those who want to support them, keep five things in mind when helping other people see more accurately (and when caring for themselves in the face of such stereotyping). One of these, for example, is simply to remember that middle sexualities are really hard to see. If you're attracted to more than one gender, or if the nature of your attraction differs from the norm in one way or another, or if you're asexual and don't experience attraction, there's no way for people to know it by looking at you unless perhaps you tattoo it on your forehead, as one student participant in the session facetiously suggested.
Some of that work by definition needs to be done in the moment, when the topic comes up in conversation. But it helps if you prepare ahead of time. Where should leadership come from in making that happen? In a session earlier in the day, "Strengthening Youth/Adult Collaboration," facilitators Jessica Flaherty (Director of Programs at the Boston Alliance of Gay Lesbian bisexual transgender Youth) and Fari Satar and Julia Lillis (student members of the BAGLY Board of Directors) got participants thinking about the roles that youth and adults might play in a wide variety of different situations. For each example, we were asked to align with one of four options: Adults should handle it alone, adults should handle it with student support, students can handle it with adult support, and students can handle it alone. Through the exercise, many of us were challenged to think both of what genuine student leadership looks like and of what they are capable, and what might need to be adult responsibilities no matter how much faith they have in students. For example, students might take the lead in developing a trans friendly bathroom policy that meets their needs, and might even help in implementing it, but in the end adults bear responsibility to ensure the climate of the school is safe for every single student, and need to be willing to step up and act as a shield if the situation demands it.
One way to build awareness, empower youth, and in general make our schools (and thus our culture) fully able to treat each person with the respect and dignity that is their due, is through storytelling, and this was the focus in my third and last session of the day. In "Another World IS Possible: Revisit, Rethink, Relaunch Our Stories," facilitators Trenda Loftin and Erin Feldman led us through a series of exercises to warm up our creative minds, provided prompts, and gave us time to create and share our stories. We agreed that everything said in the room would stay in the room, even with the recognition that anything shared might or might not be fiction, so you'll need to take my word for it that the stories we heard were all powerful.
Earlier in the day, keynote speaker Oscar Olveira Soens told their own story of the struggles and triumphs in understanding and expressing their own sense of sexuality and gender. The power of much of what they said moved the audience to tears and laughter, and we responded with applause and finger snaps so frequently and so supportively that Oscar began to choke up as well. At the end of the day, when asked to share highlights of what we had experienced, the first audience member to speak shouted "Oscar!" and the room once again erupted in applause as Oscar stepped forward from where they were standing in the back of the room and gave a little wave.
Those little moments abounded through the day. When Ms. Ochs mentioned that three of her BFFs were gay men and one young woman smiled at the young man behind her and high fived him. When a participant in that same session said, "I want to cry." as we were thinking through how the long list of stereotypes affects people who identify with middle sexualities. When one of the people in the storytelling session gasped and reached for a pen and paper to note down the words they had just heard. Overall, when Ms. Ochs ended her session by saying, "You're the complicated, wonderful person you are. Smile." she captured the mood of much of the day.
"Love," Oscar said early on in their speech, "is a process." And as I drove away at the end of day, I couldn't help but think that maybe we really are going to come out of this tipping point moment on the side of love.
Written by Bill Ivey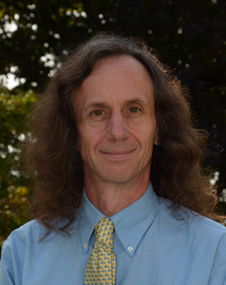 A dedicated member of the faculty, Bill Ivey is the Middle School Dean at Stoneleigh-Burnham School. He teaches Humanities 7 and the Middle and Upper School Rock Bands. Bill is the advisor for MOCA, the middle school student government, and he coordinates and participates in the middle school service program. Among his many hats, Bill also coordinates social media for Stoneleigh-Burnham School.