The National Coalition of Girls Schools (NCGS) held their Annual Conference from June 22-24, 2015 at St. Catherine's School in Richmond, Virginia. The theme was "From STEM to STEAM: Girls' Schools Leading the Way." Sally Mixsell, Head of School, attended along with science teachers Andrea Tehan Carnes and Meghan Lena, and Bill Ivey, Middle School Dean. Over the next few weeks, we plan to share our thoughts on what we learned and what we did.
Several weeks ago, I ran into a former student. She had that look of calm confidence that can only come with being at peace with who you are and your place in the world. I asked her about what she was connecting most strongly with in school, and she said that she loved computer science. She continued on to say that while at Stoneleigh-Burnham, she had somewhat taken for granted that girls would use their voices and would be heard, but now that she had moved on, especially in a male-dominated field, she understood and was grateful for what the school had done for her.
These kinds of experiences lay behind so much of the praise, encouragement, and exhortations to keep moving forward that were expressed by speakers at the recent National Coalition of Girls Schools Annual Conference. For one speaker, Julie Elberfeld of Capital One, her niece's experience at a coed high school really drove the point home. She was taking a computer science class, and one day, when she had a sub, the sub somewhat obliviously asked her why she was taking "a boys' class."
As a country, we face something of a crisis in STEM fields, and it's a crisis of our own creation. For the 1.4 million anticipated job openings, the U.S. will only provide 400,000 candidates. (Rob Alexander, Capital One) Cybersecurity and energy-based industries are among our most vital needs (Terry McAuliffe, Governor of Virginia) and in general, there are many more job openings in technology and engineering than in science and math (Reshma Saujani, Girls Who Code). Additionally, tech jobs tend to pay more than many other sectors. So, there seems to be both opportunity and motive.
But women are too frequently missing from STEM fields - of those 1.4 million anticipated job openings, just 3% will be filled by women. (Reshma Saujani, Girls Who Code) Moreover, we are moving in the wrong direction - in 1984, 37% of college graduates in STEM were women; that figure is down to 10% today. As Reshma Saujani said, we need more women in tech to stimulate innovation, to create pay equity, and because we simply need more female leadership.
What can be done? We need more people to mentor and sponsor girls, and more women to serve as role models (Jacque Fetrow, University of Richmond and Ellen Stofan, NASA). Girls Who Code provides a successful model - 90% of alumnae from their summer and after-school programs major in STEM, vs. 77% who intended to going in to the experience. They feel their success is based on sisterhood, exposure, and role models (which, of course, girls schools can readily provide). All-girls environments help build resilience in the face of failure. "We have got to change culture; culture matters." (Reshma Saujani, Girls Who Code)
Nearly everything I've just written came from the opening keynote, and there were still three more keynote presentations and conversations to go, plus four breakout sessions, two "INSPIRE" sessions (short presentations held in the dining room so participants could quickly learn about multiple topics), and one hands-on session. From the opening keynote to the final session, the conference was inspiring in its focus on honestly facing up to realities, seeking solutions, and celebrating accomplishments.
When you attend a conference run by the National Coalition of Girls Schools, you know and expect it will focus on empowering girls. But the clear and firm feminism that ran through the conference also focused on issues of race, class, diversity of genders and sexualities, and abledness. In short, it was a truly intersectional feminism.
I've been to some wonderful conferences, some of which even had a strong social justice focus, but never before to one where I saw all axes of diversity being woven throughout. Quite beyond what I learned - and will be sharing with you all in a future blog - it simply felt good to be part of a bigger social movement. It felt… like home.
Written by Bill Ivey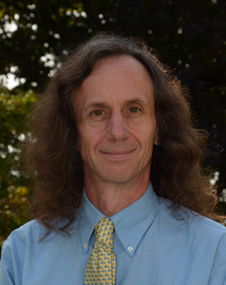 A dedicated member of the faculty, Bill Ivey is the Middle School Dean at Stoneleigh-Burnham School. He teaches Humanities 7 and the Middle and Upper School Rock Bands. Bill is the advisor for MOCA, the middle school student government, and he coordinates and participates in the middle school service program. Among his many hats, Bill also coordinates social media for Stoneleigh-Burnham School.