As the new year begins, for whatever reason, countless teachers have been jumping on the #oneword bandwagon - in fact, it was the topic of a #satchatwc conversation just this morning. Actually, it was also the original topic for this post, until I saw my friend Rusul Alrubail write, "I don't have a #oneword this year. What shall a girl do?" and I quickly decided (resolved, if you will) to reorganize.
It's not that I didn't have ideas. Most nights, I sign off Twitter by writing: "Good night, everyone. / #EverydayKindness / #Coexist," so I considered #Kindness and #Coexist as my #oneword. I also thought of my ongoing goals to #BendTheArc always toward #justice. I tried to think of something that would encompass my #Intersectional #SocialJustice advocacy, my work with students, and my family. And it occurred to me that my current Twitter profile pic, a photo of a rainbow taken here in Franklin County, might offer a clue - in fact, perhaps #rainbow could be a good #oneword in that it could encompass all of the above. I also tend to be optimistic and try to maintain and create hope, and that seemed to fit as well.
But even before Rusul's tweet made me stop and reorganize, I had been hesitating anyway. In his Atlantic essay Hope and the Historian, Ta-Nehisi Coates wrote "But I think that a writer wedded to 'hope' is ultimately divorced from 'truth,'" and my friend José Vilson had shared and elaborated on this quote in his own brilliant piece, Hope and the Teacher. José went on to observe, "Hope is a useful motivator, but, sans mass action, has done little to obstruct the whims of oppression for so many of our kids. And us." And of course, obstructing the whims of oppression for so many of our kids - and adults, too - is one of the central goals of my life. I refuse to give up hope, but I also refuse to rely on hope alone, and even less on baseless hope. I value the truth in all its nuanced complexity, and believe the only way to genuinely maintain and create hope is to act from truth. And I wondered if #rainbow would have been able to encompass all that.
A year ago, in Finding Resolution, I wrote, "I have no idea what the year will bring, and thus I have no idea what I'll need to say and do. But I do know the values I live by. I know my family's values. I know my school's values. If I can live every day according to those values, if I can do what I can (no more, but certainly no less) to bend the arc of the moral universe towards justice (to paraphrase Dr. Martin Luther King, Jr.), I will – hopefully! – be able to view 2015 as a success on the next New Year's Eve." 2015 certainly turned out to be a year filled with joy and despair, ups and downs, successes and - well, not-successes. Call them "iterations of learning" if you will.
In the end, though, I do think I'm more aware of what needs to be done to bring about justice and equity, and what I can and should be doing toward that end, than I was a year ago. And I think there have been times when other people were able to learn both from my successes and my stumblings along the way. I don't know if that adds up to success. But it does add up to something.
So this new year, I guess I won't try to focus on just #oneword after all. I'll just have to keep living the way I did in 2015 and try both to keep growing personally and to help others grow. I still know no better way to bend the arc. And I still know no better way to create and maintain legitimate hope.
Written by Bill Ivey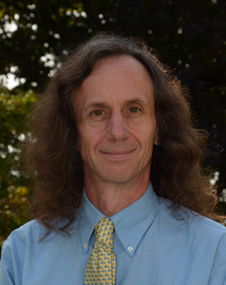 A dedicated member of the faculty, Bill Ivey is the Middle School Dean at Stoneleigh-Burnham School. He teaches Humanities 7 and the Middle and Upper School Rock Bands. Bill is the advisor for MOCA, the middle school student government, and he coordinates and participates in the middle school service program. Among his many hats, Bill also coordinates social media for Stoneleigh-Burnham School.