Okay, I'm just going to say it, controversial or not.
I use a Gillette razor. Always have, and still do.
Whew. Glad to get that off my chest.
If you're smiling to yourself right now, you've probably heard of Gillette's new ad campaign, "We Believe in the Best in Men." And if you're looking around in confusion, you're probably wondering why a razor, or more precisely why this particular slogan, would even be controversial in the first place.
It's not that hard to find Very Serious People in the traditional media, or random ranters on social media, who have many theories as to why. A lot of the fooferaw focuses on the phrase, "toxic masculinity." People who are determined to understand the phrase as meaning, "All men are toxic" unsurprisingly find it offensive.
But people who have grasped the actual and more nuanced meaning, "Some aspects of masculinity are in fact toxic, to men as well as to women and non-binary people, which isn't to say all aspects of masculinity are toxic nor that your specific friend/husband/son/uncle/third cousin twice removed is personally toxic," are for the most part pretty much on board with the campaign. They are often dismissed as feminists by those who oppose it. Personally, of course, I wear the name like a badge of honour.
I also saw an analysis that another much less commonly stated reason for the furor that erupted over a call to men to be their best selves (here, I am deliberately echoing our school's Mission Statement) is that Black men are portrayed in a much more positive light than is often the case in our media.
In short, a call to men to maybe be respectful to women (while I always mention non-binary people in my writing, we aren't specifically mentioned in the ad), and the implied affirmation that it's not just White men who stand up for what's right, are controversial. So it's fair to say there's a lot of work to be done to undo the effects of a white supremacist, patriarchal society.
Which brings me to today and the nearly 300 Women's Marches being held around the country.
I was at the first Women's March. I flew down to Virginia and took a bus up to Washington, DC with my wife and a group of about 20 people from her school, also a girls school. I knew several students of mine were there with their mothers (others were closer to home) but in the crowd of over a million, unsurprisingly, we didn't randomly bump into each other. As for our group, unable to get anywhere near the speakers, we spent most of the day walking around holding up our signs and admiring others, joining in and sometimes leading spontaneous chants. We felt the promise and power of the moment, and also knew once the exhilaration of the day wore off, there would be a lot of work yet to do.
I was at the second Women's March. This time, my wife flew up to join me, and we went together to Greenfield, finding a place near the speakers among the 500 or so in attendance including a good size contingent from Stoneleigh-Burnham. Among the highlights was the all-girl rock band Kalliope Jones singing their original song, "We Are the Light."
And for sure, and to a degree not foreseen by many adults who don't work directly with them, kids are increasingly - and effectively - taking the lead in working for a better world.
I will not, however, be at the third Women's March. Both our school and my wife's school will once again be sending contingents, but I will be taking students to a conference at nearby Vermont Academy.
The topic is: "Everybody, Everybody": Reimagining Gender and Sexuality in Our Schools," and it's all about supporting LGBTQ+ kids in all the the diverse aspects of their identities. Besides the four racially diverse students travelling with me, Stoneleigh-Burnham is also sending three other adults who collectively represent the constituencies of faculty, staff, parents, graduates, and trustees. The eight of us, a "pod" in the terminology of the conference, will join with all other attendees in witnessing a keynote address and a student panel, join with other attendees in focus group discussions built around our specific constituencies (students, faculty, staff, etc.), and meet together in school groups to come with a goal specific to our school and an action plan for meeting that goal. Students will also gather for networking and pizza, and adults for networking and… something that is not pizza.
I will of course be very sad to miss the Women's March this year. I got myself some temporary tattoos which I plan to wear on the back of my hands as a visible reminder of my solidarity.
But as a girls school person, spending my time in the company of students and working alongside them to create positive change is perhaps the perfect way to celebrate the day.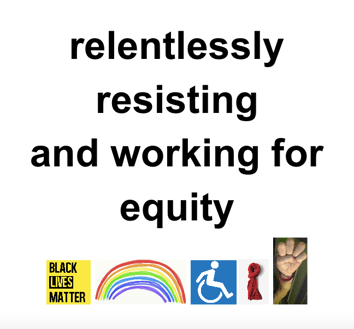 (my sign for the 2018 Greenfield Women's March)
Written by Bill Ivey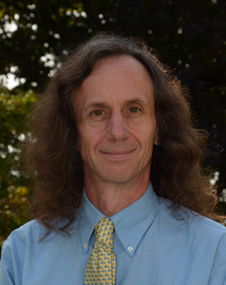 A dedicated member of the faculty, Bill Ivey is the Middle School Dean at Stoneleigh-Burnham School. He teaches Humanities 7 and the Middle and Upper School Rock Bands. Bill is the advisor for MOCA, the middle school student government, and he coordinates and participates in the middle school service program. Among his many hats, Bill also coordinates social media for Stoneleigh-Burnham School.