"Please join us in wearing black tomorrow in solidarity with men and women asking for equality, respect and meaningful change within all industries. Pass it on. #WhyWeWearBlack #Time'sUp" - Alyssa Milano (Jan. 6, 2018)
Ms. Milano's tweet referred to the Golden Globe awards, where many women were planning to wear black as a political statement, drawing attention to both the #WhyWeWearBlack and #TimesUp hashtags. On Sunday, it was announced that eight stars had invited key activists in the #MeToo movement to attend as their guests, including the movement's founder Tarana Burke. In turn, Ms. Burke released a joint statement on her Facebook page: "(...) Our goal in attending the Golden Globes is to shift the focus back to survivors and on systemic, lasting solutions. Each of us will be highlighting legislative, community-level and interpersonal solutions that contribute to ending violence against women in all our communities. It is our hope that in doing so, we will also help to broaden conversations about the connection to power, privilege and other systemic inequalities. (...)"
When I first saw Ms. Milano's tweet, I quote-tweeted it back out immediately. In the spirit of broadening conversations, I commented, "(Though, as always, I would add "and non-binary people" to the list.)". Ms. Burke set a similar theme herself later in the day, commenting, " (...) It's people across all genders, all races, all classes. (...)"
In that spirit, I want to share one of my own #MeToo moments, from an unpublished blog written earlier this year.
**********
Sometimes, even in Northampton, I find myself looking nervously over my shoulder when walking alone late at night. Usually, it's nothing. In fact, almost always, it's nothing. But almost always is not always.
Haymarket Café was closing up, so I stood up and smoothed my skirt, put my espresso glass in the bus bucket, packed up my laptop, and decided to treat myself to a Glazed Doughnut. And maybe some Rao's coffee. As usual, people were hanging out on the benches in downtown Northampton, and I smiled as I passed a man with a cane. He smiled back. Moments later, I crossed at the rainbow crosswalk and took a right.
And then after a bit, I heard a steady tapping behind me. I was in heels and so unable to run worth anything, and my heart rate rose though I consciously didn't alter my posture or pace. It was the man with the cane, walking with a slight limp I was slightly ashamed to wish was much more pronounced, gradually coming up alongside me. "Nice legs," he commented. "Thanks," I said as noncommittally as I could. "You mind if I walk with you?" "Umm, well," I said, "I'm just about to where I'm going anyway. Have a good night." And I gratefully turned into Glazed Doughnut Shop, hoping and praying he wouldn't turn in as well, secure in the knowledge that I was welcome there even in a skirt and heels and that, even if I wasn't, Massachusetts law was on my side. "Have a good night," he said, and he tapped on down the street.
So in one sense, a totally innocuous encounter. Mild compared to what many women face. A compliment (if inappropriate). A request (if unwelcome). No issues when the request was turned aside (fortunately). Male privilege, keeping me safe again. A woman might have been as lucky. But then again, she might not have.
And yet... I've noticed something. I don't get a ton of compliments on my legs, but when I do, it's almost always when I'm wearing a skirt. I wear shorts from May (April when I can) through September (October when I can), dressier occasions excluded, and far more often than skirts. So what it is about skirts that invites compliments?
What could it be???
**********
If that sense of public ownership of my body is something I primarily have to deal with only when presenting on the feminine end of the spectrum, it is easy to understand why women have to deal with it regularly - many women I know say daily. It may or may not lead to physical violence, but it is a violence nonetheless, meant to reinforce the patriarchal power structure.
"The #TIMESUP initiative joins an ever-growing collective of organizations, movements, and leaders working to end gender-based violence. We look forward to partnering with them and others to organize, support all survivors, and find solutions that ensure a future where all women and all people can live and work with dignity." (Burke et al)
Tarana Burke's goal is congruent with our school's mission. As such, it is unsurprising that the voices of some of our graduates are found among these organizations, movements, and leaders, and also (along with some of our students) working to support them each in their own way. It's still too early to tell for certain whether #MeToo is truly a turning point in our society's culture, and whether it will lead to a permanent reversal in patriarchal thinking. But it's certainly looking better all the time, and if sufficient numbers of people nationally match our school community's willingness to name and resist oppression and marginalization, hope will continue to grow stronger.
"Speaking your truth is the most powerful tool we all have." (Oprah Winfrey, 2018 Golden Globe Awards) Be true to your power. Speak out. And out, and out, and out, and out again. Until our society cannot help but listen. Because that is what will bring the change we need.
Written by Bill Ivey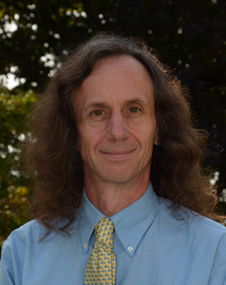 A dedicated member of the faculty, Bill Ivey is the Middle School Dean at Stoneleigh-Burnham School. He teaches Humanities 7 and the Middle and Upper School Rock Bands. Bill is the advisor for MOCA, the middle school student government, and he coordinates and participates in the middle school service program. Among his many hats, Bill also coordinates social media for Stoneleigh-Burnham School.