When the United States launched airstrikes that killed General Qasem Soleimani and others shortly before we returned to classes from winter break, I was pretty sure the students in my seventh grade Humanities class would want to talk about it. As I sifted through posts and articles, verifying facts, weighing opinions, I kept in mind these important precepts:
My kids would want clarity. What were the facts of what had happened?
My kids would want to feel safe. I can't control world events, but I can help create a classroom atmosphere where my students could honestly say what they were thinking and feeling, knowing there would be things on which they'd all agree and other areas where they would have a range of opinions.
My kids would want hope. Here, I often turn to Mr. Rogers's famous dictum to "look to the helpers." I'm also well aware that any concrete action kids can take can also be helpful.
My kids would need the comfort of familiar routines.
One of the students did indeed ask me that first morning back if I'd be willing to talk about what was going on and give them some hope. I told them that I had read early on the advice to be careful to sort out actual facts from misinformation and even disinformation, and that I had been reading reports and articles and listening to the radio with that very much in mind. We went over facts, with the students variously interjecting things they had heard or were wondering about, taking the opportunity in the moment to double-check one unverified report a student had heard which I had not already seen.
Asked specifically whether we were going to go to war, I was honest with them that we were now entering the realm of predictions and only with the passage of time would we see we what really happened. I was nonetheless careful to point out that nearly every analysis I had seen to date (and I had seen a good many), predicted we would not go to war.
It was a little trickier to look to the helpers with this situation, but fortunately they also mentioned another current event that was worrying them deeply: the fires in Australia. Here, I was able to tell them about how Australian authors are banding together to auction off books, author chats, writing advice, and more in order to raise money for firefighting efforts. As they were already aware of what Greta Thunberg, Alexandria Villaseñor, and other young people are attempting to do about climate change, we could take that as a given and didn't need to discuss it at length.
And as an additional source of hope for most and perhaps all students in our girls school, a brief question on the possibility of the draft being reinstated and if so whether it would apply to women gave me the chance to remind them that Virginia is likely to become the 38th state to ratify the Equal Rights Amendment.
While by no means do we have political discussions every day, they do happen frequently enough that there was some sense of routine to the conversation itself. Even the transition out of it felt familiar, as a few kids said they were about ready to move on even as a few other kids had their hands in the air. I told them, as I always do, that we'd let everyone whose hand was up speak and then move on to the next activity, in this case our daily read-aloud book.
And as I began to remind them what had happened in the book right before winter break, they jumped right in to add other important details they thought I should have mentioned, to make predictions for what was about to happen, to lean forward and look eagerly at the screen while imploring me to start actually reading. Which I quickly did.
And honestly, as we settled in to the story together, I too took comfort from the routine.
Written by Bill Ivey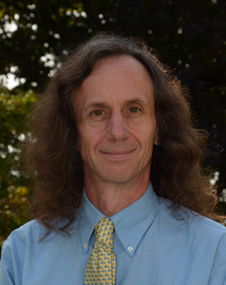 A dedicated member of the faculty, Bill Ivey is the Middle School Dean at Stoneleigh-Burnham School. He teaches Humanities 7 and the Middle and Upper School Rock Bands. Bill is the advisor for MOCA, the middle school student government, and he coordinates and participates in the middle school service program. Among his many hats, Bill also coordinates social media for Stoneleigh-Burnham School.