https://twitter.com/emmajthatcher/status/1042183012987936768
Note: RAINN (The Rape Assault & Incest National Network)'s website includes information, resources, and a hotline.
I can't follow the "debate" about the Brett Kavanaugh's nomination with thinking about my kids. How many of them are thinking right now exactly what Emma has said here? How many of them are wondering about what boys are thinking? Even those of my students who identify as non-binary and/or whose romantic/sexual orientations don't include boys may be (and probably are) thinking about how these messages society is sending applies to them and the people in their lives.
It cuts across political lines, too - Ms. Thatcher's profile says she is a member of "Future Female Leaders of America," whose own profile reads, "Being a conservative woman can be hard, we make it easier." For all that many political leaders and pundits are taking a hard-line "us vs. them" attitude about the nomination, with a fair number of citizens following right behind, I've also seen plenty of conservatives and liberals find common ground on what should be a given: sexual harassment and assault of women and girls is a problem in this country and every single time someone shames a victim or searches for a reason to excuse the perpetrator, that problem is perpetuated.
As Rachel Simmons said in "When Middle Schoolers Say #MeToo," "It is not only acts of harassment that harm girls. It is the expectation that they not resist them." Kids in my Humanities 7 class are certainly at different developmental levels - each year, some are actively seeking romantic relationships while others are actively saying, "No, thanks. Not yet. (If ever.)" But kids as young as four can be learning about the importance of mutual consent (learning to share toys, stopping tickling someone as soon as they ask you to, etc.), and certainly kids who are 12-14 absolutely need to know this.
But what we learn (and/or see reaffirmed) in the Kavanaugh case suggests that, beyond understanding consent, kids also need to know they will be heard and believed if they ever come forward with something serious. That's the kind of trust that is best built gradually over time, always taking kids seriously, always treating them with dignity and respect. It can't hurt to explicitly tell them they can come to you, but in the end, they'll make their own decision based on past history. We can't control that decision. But we can control our role in their past history.
*****
Tarana Burke, the originator of the #MeToo movement, posted the following tweet on Saturday:
As I write this post that same Saturday I don't yet know how many of our kids have noticed this tweet or, if so, what they plan to do about it. Personally, I will definitely be wearing black (again), walking out, and posting a message. As it happens, I have no commitments at 1 p.m., so I risk nothing. But risk or no, I need to do it. Solidarity matters.
In 2011, responding to the Jerry Sandusky case, I wrote, "We need people of all genders out there, speaking up, acting out, working with every ounce of energy every moment of the day to ensure that all genders are respected and treated with dignity." And up until relatively recently, I would have said we're not making much progress.
But it certainly feels like the level of outrage and resistance pouring forward in response to Dr. Ford's allegations dwarfs anything seen before. It's been just about a year since the #MeToo movement, so carefully nurtured by Tarana Burke for so many years, caught our national attention. Are we finally moving forward? I'm hopeful we are. But there are no guarantees.
As with any positive social change, it's up to us. All of us. Without exception.
Written by Bill Ivey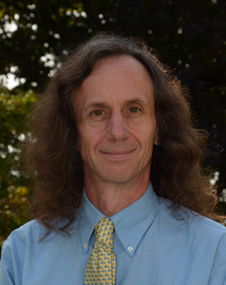 A dedicated member of the faculty, Bill Ivey is the Middle School Dean at Stoneleigh-Burnham School. He teaches Humanities 7 and the Middle and Upper School Rock Bands. Bill is the advisor for MOCA, the middle school student government, and he coordinates and participates in the middle school service program. Among his many hats, Bill also coordinates social media for Stoneleigh-Burnham School.