Read at the end-of-year faculty party to honor and celebrate my long-time friend and colleague Ann Sorvino, dance teacher extraordinaire, on her retirement.
Ann, when you first came to Stoneleigh-Burnham… hmm, when was it? Did we ever figure out which of the two of us came first?! Anyway, when I first came to Stoneleigh-Burnham, the dance program existed in the shadows and relative anonymity throughout the year until it suddenly burst forth in a spectacular and, to first-year people at least, completely unanticipated show the night before graduation. To me in those early years, you were this enigmatic person somehow working magic with kids though I had no idea how.
In my second year here, I began to play in the pit band for school musicals every year, and through that venue, I got a little more insight into who you were. You were apparently a person the kids deeply loved, someone who brought a sense of calm purpose to rehearsals, someone they could count on for a proud smile when they nailed it, and gentle and supportive words and ideas for how to fix it when they didn't. The message was clear: you loved them, you had faith in them, and they in turn acted out of reciprocal love and faith.
But it wasn't until I formally joined the Arts Department in 1997, when I was asked to start an instrumental program here, that I really began to get to know you well. You and Cyndee ceded performance time from your programs to make space for instrumental performers, including a nascent Rock Band that began with two singer-guitarists, one of whom didn't learn to do both at the same time until partway through that first year, a bassist, and a flutist. You also welcomed us into the benefit performances despite the fact that we had 70 million times more equipment than yours and Cyndee's groups put together.
That of course leads to the classic story of when Rock Band and the dancers were collaborating on a Beatles piece, performing at the Shea. We'd rehearsed it repeatedly and worked out the kinks, and by the night of the show, were feeling that mix of confidence with a touch of the jitters that performing arts teachers know so well. It was the closing number, and everything was set to go. And then, inexplicably and to our mutual horror, the drummer, Leah Freeman, clicked out an introductory beat that was at least 50% faster than normal. The Rock Banders adjusted to the frenetic pace, which the dancers somehow managed to match, though the overall effect was that they were literally throwing themselves all over the stage rather than executing the precise and nuanced choreography we'd come to love. The piece mercifully ended, to the usual enthusiastic Stoneleigh-Burnham applause, as Cyndee hit the stage to announce the pizza place next door was on fire and could we all exit the building as soon as possible. We threw costumes and equipment and kids into vehicles as fast as we could, and beat it out of there before the fire department could seal off our exit. This retroactively explained Leah's hitherto mystifying tempo - as she concisely put it later, "Bill, I smelled smoke and I didn't want to die."
When the Arts Department was split in two, you were chosen to become the first-ever chair of the Performing Arts Department, and your skills with kids transferred beautifully to working with adults as you created and grew into the role, just as a good performer would do! I knew I could count on you for supportive words, whether reassuring me or helping me find a path to growth, and you've helped me become a much better teacher. Just one of many things about you that have stuck with me.
I can still remember the 1994 Dance Performance like it was yesterday. I believe that was the class for which you created DPP, and for their last dance, you included a whirl that progressively spun each dancer off stage. After the third one left, I suddenly realized that they were never coming back on stage and I'd never see them dance again. It was one of the most moving dances I've ever seen, although your choreography for those end-of-year performances generally made me cry at least once on any given night. It became a ritual for me to tell you each night which pieces had affected me the most deeply.
And one last memory… sitting together before a show at the "cool kids table" as I've come to call it, with you showing us a picture of your granddaughter on your phone. Well, two pictures of her. Three. Four. You get the idea…
So as you retire to enjoy time with your granddaughter and, you know, the rest of your family, and to reflect on a career that has touched countless lives, you leave with my respect, admiration, and love. Thank you for everything, Ann. We'll miss you dearly.
Written by Bill Ivey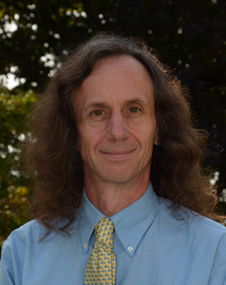 A dedicated member of the faculty, Bill Ivey is the Middle School Dean at Stoneleigh-Burnham School. He teaches Humanities 7 and the Middle and Upper School Rock Bands. Bill is the advisor for MOCA, the middle school student government, and he coordinates and participates in the middle school service program. Among his many hats, Bill also coordinates social media for Stoneleigh-Burnham School.