Over the weekend, I came across an NAIS blog post by Debra Wilson on "Taking Steps to Support Transgender Students and School Communities." I know that for national organizations, policy statements on transgender people can be fraught with difficulty as some member schools may be part of communities who simply do not accept trans identities. (Just the other day, at the AISNE Diversity Conference, several people in a session on supporting trans students said they as LGBTQ+ adults did not feel safe coming out in their schools. And that's in New England, a region generally considered to be more LGBTQ+ friendly than many others.) I wondered what path NAIS had chosen. It turned out to be, perhaps unsurprisingly, a somewhat tentative middle ground.
In providing resources for schools, Ms. Wilson referred to the Title IX guidance provided by the U.S. Departments of Education and Justice. In that guidance, Secretary of Education John King affirmed that "gender identity is protected under Title IX" and Vanita Gupta, head of the Justice Department's Civil Rights Division, further affirmed that "Every child deserves to attend school in a safe, supportive environment that allows them to thrive and grow." Toward that end, schools are obliged to "respond promptly and effectively to sex-based harassment of all students,... treat students consistent with their gender identity,... allow students to participate in sex-segregated activities and access sex-segregated facilities consistent with their gender identity, and protect students' privacy related to their transgender status." While those guidelines apply to schools receiving federal money, which may or may not be the case for a specific independent school, they can still help all of us support trans kids.
Generally speaking, in regards to issues of student privacy, the word I am hearing in conferences (including the AISNE Diversity conference mentioned above and various GLSEN conferences which I've attended) is that the student needs to be in the driver's seat. As NAIS noted in this blog, that's fairly easy in terms of how out the student wants to be to the school community. It's trickier, though, if a student wants to be out in the school community but doesn't want his/her/their parents to know. Of course, school counselors and other support staff can and should be working with the student to figure out how best "get on the same page with parents" (Wilson). But given that the odds of depression and suicide attempts by transgender children are dramatically higher if families are not accepting, there is legitimately a question of student safety as well. Ms. Wilson concluded that, "Schools need to develop their own policies based on their school communities. The resolution may vary by student, taking into account a student's individual needs and family circumstances." (It should be noted, although they don't mention it, that it is of course true that students' families can often be wonderful sources of support - it has often been noted that parents of trans kids are in the forefront and among the most effective in the fight for trans rights.)
So far, everything sounded reasonable. Then I focused on this line: "In some cases, students may opt out of events that involve gender specific cultural signifiers, such as graduation, school traditions, etc., because they do not feel comfortable participating at this point in their transition" (Wilson)
What?
Is NAIS really taking the position that gender-specific traditions can be so important to a school that they would allow for the possibility that a student might not want to participate in graduation in order to uphold that tradition? And are they really proposing schools weasel out of hard decisions by passing the choice to students and not taking personal responsibility for their willingness to adhere to an exclusionary policy?
This is where we see how much work still needs to be done.
Janet Spencer '49S has spoken movingly of her Senior class's decision not to hold an event at a facility that excluded Jewish people. Our own graduation dress code follows, and has for some time, in that non-exclusionary tradition, allowing for a range of gender expressions while maintaining the sense of community that comes with everyone wearing white. A sense of continuity with the past has been preserved while adapting to the present. It can be done.
Ms. Wilson's ultimate conclusion was that "The work to nurture inclusion is at the root of our purpose as educators." Absolutely. The same call was made at the AISNE diversity conference, and runs implicitly through everything GLSEN does at their conferences and in all their work. It comes down to who we want to be as a community. Our own school is, I believe, at the forefront of this inclusionary work in many ways. It is but one reason I am happy and proud to work here.
Written by Bill Ivey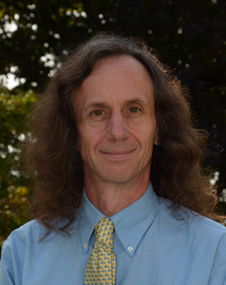 A dedicated member of the faculty, Bill Ivey is the Middle School Dean at Stoneleigh-Burnham School. He teaches Humanities 7 and the Middle and Upper School Rock Bands. Bill is the advisor for MOCA, the middle school student government, and he coordinates and participates in the middle school service program. Among his many hats, Bill also coordinates social media for Stoneleigh-Burnham School.