Yesterday, I attended a day-long conference sponsored and hosted by Vermont Academy. The idea was to send teams, or "pods," from each attending school representing different constituencies, and emerge from the day with a personal action plan to bring back to our school. I attended with four students from our school and Shawn Durrett, our Dean of Faculty and an English teacher.
The day opened with a keynote speech by Dr. Nathaniel Williams. He led off by pointing out that diversity starts with any person, place, or thing that is not you. It starts in childhood, as every person is diverse, every person is different. Diversity work should go on in every single group on every single day. Equality, equity, and liberation are not the same thing, and liberation is the ultimate goal. Silence says a lot more than you think and can impede our progress or lead to the creation of damaging secrets. After all, you can't change what you can't confront. But you also must know what you are confronting. When you can create a safe environment, people will come. Places must be welcoming to all, free of judgment of who we are if not necessarily of what we do. Everything else flows from that. He continued on to present a number of models for creating change and a context within which change can flourish.
The next session featured breakout groups based on one's affiliation with our schools. There were three student groups, Shawn joined a group of administrators, and I went with a group of teachers and diversity coordinators. There was also a sixth group for Trustees, parents, and alumni/ae. We agreed to confidentiality at our teacher meeting, but I think I can safely say all our schools had a lot in common. That said, it was quite clear that, as a girls school, we are dealing with the intersection of patriarchy and white supremacy from a very different perspective than coed schools (by the way, I'm still looking for better language than "girls school" and "coed school" given, for one, that both kinds of schools also have non-binary kids).
A student panel followed lunch. First, students were given the opportunity to talk about highlights and key take-aways from their earlier breakout sessions, then, adults were given the chance to ask questions. The students were honest and articulate, willing to trust that their schools are there for them but also wanting us to do a better - and more intersectional - job. This means talking about mental health, race, gender, sexuality, socioeconomic class, etc. (I would specifically add in (dis)ability.) It means teachers doing a better job of educating ourselves, perhaps with annual training in having conversations about identity, bias, marginalization and oppression, and being willing to own up to and learn from our mistakes.
One adult, a former A Better Chance student some 40 years ago, said he felt not only were we still dealing with some of the things he'd had to deal with back then but also in many ways things were getting worse, which frankly terrified him. He asked the kids what excited and terrified them about entering the world around them. Some of their answers were personal - excited to put themselves out into the world and try to be unique and different, yet scared at how that uniqueness might or might not be accepted in a racist world. While the growing division in our country scares them, they also view it as an opportunity, and loved being surrounded at the conference by people who felt as they did - as one kid said, "We are all activists." One student was excited to become a teacher, to make a difference in kids' lives. Another was frightened by close-mindedness but excited by the role social media and hashtag activism can play in making the world a better place. Another student pointed out that people who stay involved in causes form bonds with each other, and that can be sustaining.
The final session of the day lasted two hours, and brought together all participants by school. The goal was to form a vision for our individual school and set an action plan including a concrete next step. It's not really my place to reveal our plan here, but I can certainly say I think it has strong potential to help bring about further positive change at our school.
After closing words and thank yous, we were dismissed to separate receptions - pizza for the kids, wine and cheese for the adults. Though I genuinely enjoy networking, meeting and talking to people, I'm also pretty deeply introverted, and even after a comfortable two hours with Shawn and our students, I was finding myself in need of a recharge. Shawn had driven the kids up and I'd come up on my own, so I checked in with her to see if she thought we had anything to discuss before I left (she didn't), and with her kind blessing left her to the other adults as our kids headed for the long-awaited pizza.
I am grateful to Vermont Academy for organizing the day and to all participants, especially those from our school. I know Vermont Academy plans to make this diversity conference an annual event, perhaps changing focus each year. I hope this plan works out. I would love to return.
Written by Bill Ivey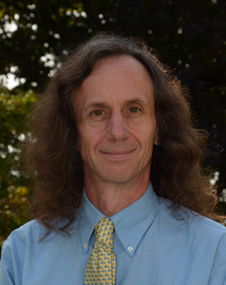 A dedicated member of the faculty, Bill Ivey is the Middle School Dean at Stoneleigh-Burnham School. He teaches Humanities 7 and the Middle and Upper School Rock Bands. Bill is the advisor for MOCA, the middle school student government, and he coordinates and participates in the middle school service program. Among his many hats, Bill also coordinates social media for Stoneleigh-Burnham School.