Sonia Nazario began her powerful keynote speech for the Fenn School Multicultural Educators' Forum by telling her own story. Born in the U.S., the daughter of immigrants, her parents' home of Argentina was at the time a place where simply possessing and/or sharing knowledge (especially the truth about what was happening in the country) was seen by the government as so dangerous it could get you killed. She grew up being told she was the "dumb jock" in the family and, being the only brown kid in her school, was not counseled to go to college. She nonetheless enrolled at Williams College, where it was quite hard for her at the start. But her immigrant determination served her well, as it has helped our country, and she eventually realized the other students were not smarter than her, they were simply better prepared.
She went on to become the youngest person hired by the Wall Street Journal (and the eventual winner of a Pulitzer Prize). She wanted to focus on those whose voices were often missing - women, children, Latinxs. Her chosen method was storytelling.
The face of immigration has changed over time, and now 51% of migrants are women and children. Faced with the extreme hunger of their children, women leave for the U.S. thinking they will only stay a year or two, but a hard life with low pay combined with the steep costs to bring their kids up north often force them to stay longer. One such women was Ms. Nazario's house cleaner, who had left four kids behind in Guatemala, and this led her to dive more deeply into the story.
In these circumstances, kids as young as seven will often set out on their own to find their moms. The journey through Mexico is long and dangerous. Simply getting on a freight train is tough enough, and many kids lose limbs in the process. But riding the train is even worse. Beyond the lurches and jolts of the swinging freight cars, the trains are a rolling criminal enterprise. 18,000 Central Americans a year are kidnapped by the drug trade, and descriptions of what happen to them are gruesome and inhuman. Even those who escape kidnapping may be subject to brutal beatings or rape.
As part of her work, Ms. Nazario rode those trains with the hopeful migrants. Twice. She nearly died, was nearly raped, and needed six months of therapy to recover. Yet, she was going through just 1% of what the kids on the train were going through, never mind that six in ten of them were fleeing someone trying to kill them. One such kid was Enrique, the focus of her award-winning book. It would take him eight attempts and 122 days before he found himself in his mother's arms.
There were moments of beauty, too. People would line the routes of the trains to share food, water, or, if they had no food or water to offer, prayer. They saw it as simply what a good Christian would do: one woman said, "If I have one tortilla, I will give half away. God will bring me more."
As with Ms. Nazario's own parents, most migrants would prefer to stay home if it were at all safe. Ms. Nazario sees increased border enforcement, guest worker programs, and legalization of residential status as uniformly failed methods that do not address the root cause. The best solutions, she believes, are rooted in common values and decency. In How the Most Dangerous Place on Earth Got Safer, for example, Ms. Nazario shows how smart investments in Honduras (such as funding programs that enable children to happily play together where once gangs reigned, and an emergency line to report crimes) genuinely made a difference.
One of Ms. Nazario's roles as a storyteller, as she sees it, is to make immigrants real to people who may not have any personal experience, raising awareness, creating empathy, for that matter countering repeated lies. As compelling as her stories are on the page, they are even more so in person. Ms. Nazario was on the verge of tears several times, her voice shaking before later rising in passion with strength.
It was a gift and a blessing to hear from her today. May all of us who had the great privilege of hearing her spread her words to others.
Written by Bill Ivey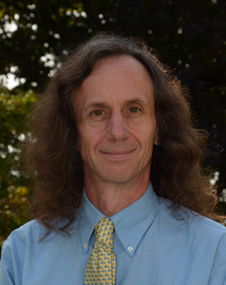 A dedicated member of the faculty, Bill Ivey is the Middle School Dean at Stoneleigh-Burnham School. He teaches Humanities 7 and the Middle and Upper School Rock Bands. Bill is the advisor for MOCA, the middle school student government, and he coordinates and participates in the middle school service program. Among his many hats, Bill also coordinates social media for Stoneleigh-Burnham School.