(title based on a quote by Graham Hays)
As of today, two teams share the record for the longest win streak in college basketball - the UConn women's team of 2008-2010, and the current team. They have tied and are poised to break this record in a year they were supposed to be, by UConn standards anyway, weaker than usual. After winning four championships in four years, Breanna Stewart, Moriah Jefferson, and Morgan Tuck had left for the WNBA as the top three draft choices. This was supposed to be UConn's rebuilding year. Under those circumstances, you'd think UConn's players would be feeling acute pressure. "But the Huskies were smiling too soon -- [Katie] Samuelson grinning from ear to ear even before the ball was tipped -- for the joy to be the product of the play. The joy had to be the source." (Graham Hays)
Last night in Middle School Rock Band, we had our second rehearsal of "Hall of Fame" by The Script. I told the kids I thought it made sense to try the song once through with the support of the original recording and then talk things through and figure out the next step. They did an amazing job holding together and you could already hear how gorgeous both the vocal and keyboard harmonies were going to be, how solidly the bassist and the drummer kept the core rhythm. I asked if they wanted to try it alone next, and while several kids said "Yes!," I did see one panicked look that said, "Please no. Please." so they did it once more with the recording.
"Now, I think it really is time to try it on your own," I said, and one student asked me to stand next to her and help with cues. Grabbing a guitar (our guitarist was out), I went and sat by her, ready to sing along to her part if need be. Kate, the drummer, is brand new to the instrument, so I had to teach her how to count people in. She did, and we flew through the introduction, first verse, and first chorus without an audible hitch. I stopped them and told them I didn't hear anything wrong, but as it was their first time through the main parts of the song, I needed to ask if they needed me to check in with them. They smiled and shook their heads no, and we restarted - and went straight through to the end. This is only the second song this group has learned this year, and the first one took four months start to performance. This song was nearly ready on their second night. "That's sounds gorgeous!" I said. "Any questions? [there were a few.] Let's do it again." And afterwards, once they'd left for dorms and study hall, or to meet up with their parents waiting in warm cars on the Oval, their positive presence and energy still filled the room.
Earlier yesterday, just after classes, I was walking down a corridor and saw two kids in athletic wear running to grab a snack before sports. They burst into laughter when they saw me but kept up the pace without ever breaking stride, and I could hear their banter all the way down the corridor. I thought to myself, "I get to see this every day. Kids who care, about what they're doing, about each other, about themselves. Kids who are caught up in moments of pure happiness." I smiled to myself, looked over my shoulder, and kept going.
Written by Bill Ivey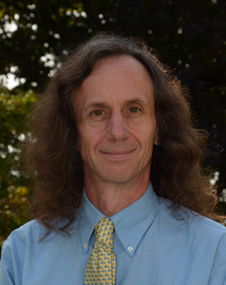 A dedicated member of the faculty, Bill Ivey is the Middle School Dean at Stoneleigh-Burnham School. He teaches Humanities 7 and the Middle and Upper School Rock Bands. Bill is the advisor for MOCA, the middle school student government, and he coordinates and participates in the middle school service program. Among his many hats, Bill also coordinates social media for Stoneleigh-Burnham School.