Recently, I attended the Annual Conference of the New England League of Middle Schools. As always, it was a chance to catch up with old friends, learn about ways to better support my students and colleagues, and in general enjoy being with people who really get middle schoolers and love working that age group.
As an advisory member of the NELMS Board of Directors, I generally attend the Wednesday night pre-conference - a chance to enjoy hearing about the beloved educators around New England who were nominated for and received one of a variety of awards such as Master in the Middle, Promising Practitioner, and A+dministrator.
After sneaking out for bibimbap at Soban, I returned to the Rhode Island Conference Center with other Board members to help move in and set up. We knocked off at 11:00, and returned in the morning to set up the bookstore and decorate tables with different mindfulness activities including colouring sheets designed by middle school students:
Monica Genta gave the Thursday morning keynote. If you want to get a sense of her as a speaker, you can view her TEDx talk, "How Starbucks Could Save Education." Ms. Genta nearly quit teaching after six years, taking a job at her father's car dealership. Though she loved that job, the "Back to School" sales' promise of another First Day at School led her to realize she really and truly wanted to return. But she realized she would need to reframe how she thought about teaching, a deeply powerful thought process that made her love her job again. This experience led her to write her first book, Game Changers. She would later follow up with a second volume, 180 Days of Awesome. Her passionate advocacy of finding the purpose in our profession and celebrating the awesome in education resonated deeply with me. Her closing reminder: "What is important to students has to be important to us." summed it up well - as did Jennifer Segalla, who shared the graphic below: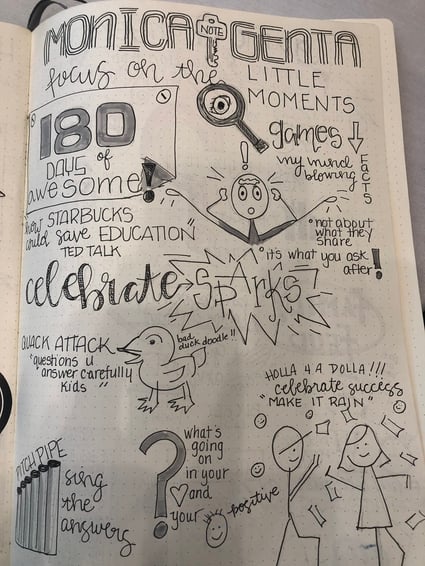 The first session I attended was "Tipping the Scales: Building Resilience Through Research-Based Practices." Adverse childhood experiences (ACEs) can leave students unable to process thinking as they otherwise would, with the pre-frontal cortex way more active and the midbrain way less. Two in five children have had at least one ACE, and one in five have experienced three or more. Research is clear that the more positive experiences a child has, the more their accumulation will counterbalance the trauma in their lives. Building an empathic, strong, and safe relationship is indispensable. In a lively conversation between workshop participants, many of whom taught in schools where the vast majority of students have suffered ACEs, several people noted that, while you never ever give up on a kid, neither can you personally reach every single one no matter how much you want to, and it's just as important to be understanding and forgiving of ourselves as it is of others.
In between sessions, some students from Lesley University were setting up for a station-based presentation on their Genius Hour work, so I slipped in quickly to check it out. One station was presenting on Health Education and, since I'm picking up a section of Leadership 8 this term, I wanted to take a quick look. Graciously, by turn, the students spoke to me about their work on the importance of broader, more comprehensive, and more inclusive education on mental health, gender and sexuality identities, and sex education. Another station was on the importance of a diverse curriculum. In all these areas, the students' research was clear on how each of these program elements contributed to stronger outcomes not only health-wise but also academically. Not every teacher prep program acknowledges these truths, and I greatly appreciated that Lesley does.
(image from a tweet by Dr. Brooke Eisenbach)
The second session I attended was "The Mindful Classroom," facilitated by David Hughes and Shannon Witman of West Middle School in Andover, MA. Again, there is evidence that mindfulness training in classrooms, even just two or three minutes a day, helps lead not only to a sense of well-being but also to better focus in class, thus better results. They defined mindfulness as being alert, aware, attentive, and at ease. A mindful classroom is focused on respect for self and others, self-awareness and empathy, comfort and safety. Having a mindful classroom can help kids be more reflective, and focus on process more than just on the end product. We can make space for mindful personal goal-setting. Students at this school think of their strengths and needs, set their goals, and turn it all into a vision board. Beyond directly helping students, mindfulness can be an important element of teacher self-care. Think in terms of the physical, the social, and the emotional. Useful mindfulness apps are picture in the slide below.
After lunch, I attended a session on "Youth Activism 101," facilitated by Dinah Mack of Youth Activism 101, author of The Pirates of Cologne and a teacher at John F. Kennedy Middle School in Northampton, MA. She opened by highlighting several dozen teens through history on whom we can focus, for example Claudette Colvin, Mary Beth and John Tinker, the kids of Good City Mad City in Chicago, the kids at Standing Rock, and GretaThunberg. "Activism," she said, "is a daily life skill." Among the many reasons to teach about youth activism: it engages students by allowing them to see other young people take action; it fosters participation in a democratic society; it empowers students to have a voice in their schools, communities, and society; it allows them choice in their own learning based on interests; and it helps build a collaborative and supportive classroom climate. In the process, students learn skills such as voting, political awareness, taking part in a community, public speaking, research skills, critical thinking, civil debate and listening, collaboration, and persuasive writing. We can engage through curriculum, service learning, extra-curricular activities, and a general building of awareness and support. In the process, "KWHLAQ," a variation of K-W-L can be useful. What do you Know? What do you Want to know? How will you find out? (...) What have you Learned? What Action will you take? What further Questions do you have? Granted, "Teaching kids to question authority is not always smiled upon." as one participant observed. But as another participant added, activism *can* be disruptive… and sometimes might need to be. Yet another participant suggested the Japanese concept of Ikigai might be helpful.
Among the many resources mentioned: - NPR Youth Radio -YR Media, Student Reporting Labs, and Youth Radio Interactive. Twitter recommendations from @YActivism101 included: @ChangeTheRef, @AMarch4OurLives, @50milesmore, and lots more!
After this awesome session, it was time for an ice cream break featuring Sub Zero Nitrogen Ice Cream. Yes, the NELMS Annual Conference is that cool!
My final session of the day was "Building 21st Century Skills in the STEAM Classroom," co-facilitated by students and staff of Our Sisters' School, a tuition-free non-sectarian independent girls school in New Bedford, MA. After a general introduction by the teachers, we were allowed to circulate among the students who were paired up at different tables and had mini-presentations ready to go. The students were poised, passionate, and proud of their work in coding, 3D printing, electronic jewelry, robotics, their Self eSTEAM conference, and more. The session was delightful and led me to want to attend a follow-up session with staff only the next day.
I zoomed home to see Idah and Candace Hope give their awesome presentation for the Miriam Emerson Peters Speaker Series, and made it back the next morning for breakfast with three of my good friends where we talked about politics, non-binary gender, support for LGBTQ+ kids, anti-racist work in schools, our amazing students, and more. Wonderful as the sessions are at conferences, the informal conversations with friend-colleagues matter just as much.
One of those friends is Monte Selby, who is a noted speaker and consultant who travels around the country helping kids vocalize what is on their minds first through words and then through co-written original songs. He is also this year's winner of the major James P. Garvin Educator of the Year prize, presented in Friday morning's session.
Carla Tantillo Philibert, the founder of Mindful Practices, gave the Friday morning keynote. Normally, I would have live tweeted the event (as I had done with Ms. Genta), but she explicitly asked us to set our phones aside, and I respected that. Though she had a short PowerPoint presentation on the importance of mindfulness, she gave most of her time over to facilitating activities we could do with our students. Have you ever seen over 600 middle school educators try and arrange themselves in order of birthday in less than four minutes? Trust me, it is a sight to behold. We also did a lot of think-pair work at our tables, and there were many high fives and fist bumps. She also introduced us to the #iTeachBecause website she started, and encouraged us to share our stories.
Once the Friday keynote was done, I had an odd morning. I had to miss the first session because, as a NELMS Board member, I helped clean up all our table decorations in the Ballroom. And the presenter for my chosen second session was a no-show. I felt an obligation to track down what was happening and by the time I did, it felt too late to walk into another session-in-progress. Maybe if I weren't such an introvert...
But fortunately, I was still able to attend "Igniting Powerful and Impactful Learning on Middle School" facilitated by staff of Our Sisters' School, whose kids I'd seen present the previous day.
They opened with the question, "What elements are essential to supporting middle school students' success?" As we also know in our own school, it all starts from school culture. In creating school culture, they focus on their core values and on tools (reframing mistakes, being inclusive, receiving feedback openly, etc.) to put these values into action. They recognize the importance of taking time at the beginning of every school year to think through values and how to put them into practice, integrating this into everything they do. During winter and spring portfolio presentations, their students reflect on academic *and* community core tools. They have instituted a student mentor program, and they have big/LITTLE pairs (8th graders with 6th, 7th graders with 5th). Advisory groups are built around these pairs.
They use the community as a campus. This fosters real world connections, builds capacity and deepens learning, empowers a diverse learning community, and helps them be aware of who is around them. The school's "Dendrites Program" is a class on the kids' brains and learning, focused on research-based collaborative learning. They also have a "Genius Flex Block" that offers choices in extended learning and ways to practice so-called "soft" skills. Student Leadership is another core element of the program: Student Council, 8th grade Leadership, and so on.
Bottom line, ask kids what they like, dislike, need. Makes sure the process is authentic. Help them build social skills. Listen to them and learn from them. Most importantly, In order to help them be leaders, you have to enjoy being with them and having fun with them.
The session was the perfect way to end the conference. I zipped up to get my traditional Blue State Coffee before hitting the road for home, happy to have been immersed in the world of people who truly love working with middle school kids for two and a half great days.
Written by Bill Ivey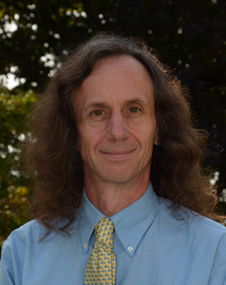 A dedicated member of the faculty, Bill Ivey is the Middle School Dean at Stoneleigh-Burnham School. He teaches Humanities 7 and the Middle and Upper School Rock Bands. Bill is the advisor for MOCA, the middle school student government, and he coordinates and participates in the middle school service program. Among his many hats, Bill also coordinates social media for Stoneleigh-Burnham School.