Amia Tyrae Berryman. Say her name. Say her name. The media didn't. They used the name she was given at birth when her sex was assigned male, in an article on her murder. On March 26, 2018, she became the seventh trans woman to be killed this year, and the fourth Black trans woman.
There are so many reasons why we need Transgender Day of Visibility. The danger in which trans people find themselves every day simply by ever emerging from their homes. The way, whether deliberate or unwitting, that misgendering trans people and using incorrect pronouns delegitimizes their identity, thus facilitating anti-trans violence and undermining their sense of self. The fact that the life expectancy of transgender people is so low. The fact that a depressingly disproportionate percentage of trans people die by suicide. The fact that more than a quarter of U.S. citizens don't even want to have a transgender person as a friend.
Of course, for cisgender people, meeting a trans person can often be the first step to understanding what life experiences you have in common. Similarly, White people with Black friends tend to have a much stronger understanding of racism. Same-gender marriage might never have become legal in this country without gay, lesbian, and bisexual people coming out in ever-greater numbers, and turning out to be (from the perspective of people who didn't already see this), the parent of your kid's best friend, the barista who knows your standing order, or the minister who officiated at your sister's wedding. With visibility comes a sense of common humanity.
And we know that trans kids who feel seen and who feel the support of their families and their schools are, in fact, no more likely to attempt suicide than cisgender kids.
So, visibility matters. Acceptance and understanding matter. Love matters. These, too, are reasons why we need Trans Day of Visibility.
I am absolutely certain that right now, there are people reading along with me thinking, "Oh, great. He's writing about trans visibility and I'm still being left out." And indeed, what of the people who identify outside of the standard gender binary, whether gender non-conforming, non-binary, agender, bigender, demiboy, trans-feminine, or one of the many other identities that exist? What of the person who does not relate to their gender as assigned at birth but also doesn't identify as trans? And for that matter, what of the many sexualities beyond heterosexual, lesbian, gay, and bisexual - asexual, pansexual, demisexual, and so on?
What of those who are in addition people of colour, or disabled, or economically disadvantaged, or Muslim or Jewish, or who belong to any group that experiences discrimination, oppression, and marginalization?
So this, too matters, on Transgender Day Of Visibility - that we remember that part of what enables transgender people, and others who don't identify within the gender binary, to be happily visible is that we develop our own sense of awareness. The sheer number of gender identities can be overwhelming, but we can start by avoiding assumptions, asking questions when we have them, and learning what we can. We can avoid the erasure of non-cisgender identities, and we can simultaneously work to remember the intersectionality of identity.
Transgender Day of Visibility was founded to be a celebration of transness, unlike other annual events such as the Transgender Day of Remembrance, which focuses on the death toll. So, on this day, by all means renew your commitment to making the world a safe place for trans and non-binary people. But also, celebrate trans people, non-binary people who don't identify as trans, and gender fluid people. Celebrate groundbreaking celebrities like Janet Mock, Chaz Bono, and Jazz Jennings, or those who may fly more under the radar like Amy Ray and Steven Tyler. Celebrate your friend, your neighbour, your child, your parent. Celebrate your co-worker, your teacher.
And, if it's your day, then by all means... celebrate yourself.
Written by Bill Ivey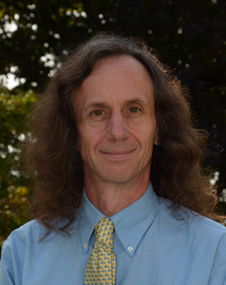 A dedicated member of the faculty, Bill Ivey is the Middle School Dean at Stoneleigh-Burnham School. He teaches Humanities 7 and the Middle and Upper School Rock Bands. Bill is the advisor for MOCA, the middle school student government, and he coordinates and participates in the middle school service program. Among his many hats, Bill also coordinates social media for Stoneleigh-Burnham School.