"It's your journey, do it the way you wanna do it." — Tan France

Tonight, GSA (Gender Sexuality Alliance) members will gather to make signs for the Northampton Pride parade tomorrow. I won't be there, but I can imagine the scene. Rainbows, glitter, and affirmation will abound, and mingle with stories and wry jokes. Occasionally, something going on on "Queer Eye" will grab everyone's attention. And then, as the laughter subsides and eyes return to posters-in-progress, conversations will resume.

Kids have been talking about Pride for weeks. One of them has never missed it since birth, and is upset to have a conflict with a swim meet that day even as she knows there will be others. Another says, "I know it doesn't make sense, but I've actually never been to Pride. I'm so excited." Her friend, who has decidedly been before, takes both of her hands and, as her face lights with a deep-down inner glow, she leans forward and says with constantly increasing excitement and melody, "You Are GOing TO LOOOOOVE IT!!!"

Me, I made my own sign last night, featuring my beloved old cat Princess. She was also featured in my sign five years ago: "My cat is open and accepting." I still remember vividly a teenager trying to catch my eye as I passed by with my sign and the Dakin contingent, urgently pointing to her friend's "Smash patriarchy" t-shirt. I smiled back and gave them both a thumbs-up.
Saturday, my colleague Apple and I will meet up with the kids attending the parade, drive them to Northampton, and help ensure they're at the staging ground on time. If tradition holds, their excitement and happiness will grow with every step of the parade. Some of them may have to scoot right back to school to leave for games, but others will be able to stay and enjoy the booths, vendors, and stage shows that follow the parade. Eventually, they will all be back at school, tired but happy and with a lingering feeling of comfort mingled with relief and wistfulness, remembering what it can feel like to know your entire surroundings support you, if only for a few hours.
Because, in our country and the world, LGBTQ+ people are increasingly on edge and anxious. Long time members of the military can no longer serve their country in their true gender, and it has now been formally affirmed that anyone who has a religious or moral objection to LGBTQ+ people doesn't have to offer them medical treatment. Caster Semenya, often mischaracterized as trans, has been banned from international athletic competition unless she takes medication to reduce her natural testosterone levels - never mind that, by definition, anyone who is a highly successful international athlete has some sort of natural physical advantage to go with their mental toughness and commitment to being their absolute best. Meanwhile, hate speech, hate crimes, and actual murders are all on the rise.
We need a respite.
And we need it to be longer than three hours. Permanent would be nice.
So I'll immerse myself fully and completely in the joy of the day, and make the most of it. And I'll continue my ongoing work to build a more equitable world, for LGBTQ+ people and allies in the fullness of their identities, for all marginalized and oppressed people.
Because, for me, being about unconditional love doesn't mean uncritical acceptance of any and all behaviors. Quite the contrary, it means resisting hate, resisting bigotry, building equity, working for the day when unconditional love for all becomes not just an ideal but a reality.
Some say that is unrealistic and unlikely ever to happen. I acknowledge the possibility. But I refuse to mindlessly accept the inevitability.
They are my kids. They deserve love. Unconditionally. Exactly as they are.
Written by Bill Ivey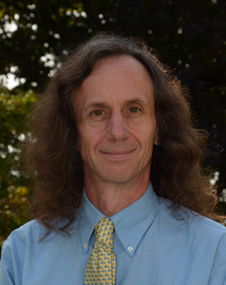 A dedicated member of the faculty, Bill Ivey is the Middle School Dean at Stoneleigh-Burnham School. He teaches Humanities 7 and the Middle and Upper School Rock Bands. Bill is the advisor for MOCA, the middle school student government, and he coordinates and participates in the middle school service program. Among his many hats, Bill also coordinates social media for Stoneleigh-Burnham School.