I know we in the U.S. pride ourselves on our small town pride, but I still feel my town is extra special. When I tell people I live in Shelburne Falls, if they're heard of it (and that's more common than one might expect for a village of roughly 1700 people), they almost always tell me about an idyllic visit they once had to "such a beautiful town." Though by no means as gifted a photographer as many of my friends and relations, I periodically post pictures of my home town, and they often draw a positive reaction.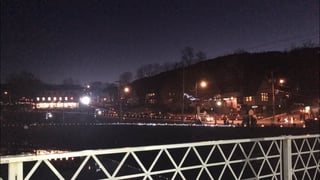 One such moment was yesterday, when an after-dark photo of "Moonlight Magic" with holiday lighting and luminaria brought a nostalgic memory from Nelba Márquez-Greene. She visited the town some years ago with her children, and shared a beautiful picture of herself with her daughter Ana. Beautiful - and moving.
You see, Ana was one of the 20 children who died in Sandy Hook Elementary School in the mass shooting on December 14, 2012, nearly five years ago. Her brother, fortunately, survived. Even as my photograph brought back a happy memory for Ms Márquez-Greene, it also served as a reminder of the never-to-be-filled hole in her life, and she added the hashtag #Grief to her genuine thanks-for-the-memory.
On Thanksgiving Day, Ms. Márquez-Greene wrote on Twitter, "Be thankful you are still here, for this season, to do what needs to be done to make this world a better place. #HappyThanksgiving"
I find it so easy to be thankful for the people in my life. Honestly, with the people in my life, how could I not be? My online Twitter and Facebook communities not only enrich my life with a non-stop stream of information and thought-provoking insights but also with their kindness, honesty, and commitment to bettering the world on a daily basis. There is absolutely no way my activism would be as committed or effective as it is without every one of these people, and they inspire me to try to grow and do better every day.
My colleagues fulfill much the same role, but of course in person, with the advantage that we can hang out and talk face to face and use the school's mission to focus our work together. My students also enrich my life in so many ways, inspiring me daily with their realistic hopefulness, not to mention giving me more laughs and joy than anyone could realistically dare to hope for.
And my family is at the center of it all. I am at my best, my happiest, and my most comfortable when I am with them. After a full, glorious week together, they are heading back south today to New York City and Chatham, Virginia to return to work - until we have another glorious week together again during winter break. I miss them terribly, but that emotion is still dwarfed by the gratitude I feel for the love we share and the warmth of the memories we've created and continue to create.
I spend most of my life trying to give back at least a portion of the blessings that have been given to me. Fortunately, that dovetails with one of my other lifelong goals: to try every single day to make the world a better place. As you might imagine, Ms. Márquez-Greene's Thanksgiving greeting resonated strongly with me. The one part I could perhaps stand to think about more often is the part about being thankful I'm still here.
But I am.
I'm still here to advocate for LGBTQ+ kids (including non-binary kids), kids of colour, disabled kids - each and every one of the kids that fill my classroom and my life, and the adults into whom they have grown. I'm still here to learn from and with adults in my life of a tangle of identities, each with unique gifts to bring the world. I'm still here to partner with and seek mutual support from people of different axes of privilege as we learn to do our part to undo systems of oppression and seek true equity. I'm still here to advocate for a peaceful and just world. I'm still here to smile at and laugh with my friends both virtually and in real life. I'm still here to hug my family. I'm still here to advocate for #EverydayKindness and for educator Richard Lakin's legacy that people of difference might peacefully #Coexist.
Oh, yes, I'm still here. So is Nelba Márquez-Greene. My friends, students, colleagues. My family.
And you.
Written by Bill Ivey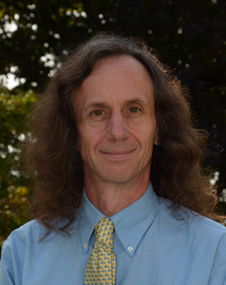 A dedicated member of the faculty, Bill Ivey is the Middle School Dean at Stoneleigh-Burnham School. He teaches Humanities 7 and the Middle and Upper School Rock Bands. Bill is the advisor for MOCA, the middle school student government, and he coordinates and participates in the middle school service program. Among his many hats, Bill also coordinates social media for Stoneleigh-Burnham School.