"We try. We will always try. And also? We all matter- all of our voices rising for school safety, better resources for schools and teacher and students, etc. will help ....." - Nelba Márquez-Greene, tweet dated July 2, 2018.
Nelba Márquez-Greene is the founder of the Ana Grace Project, one of a variety of foundations and charities set up by Sandy Hook parents following the tragedy. Her ongoing advocacy for safer and more inclusive schools, her willingness to be vulnerable, her resilience, and her relentless work to bring about positive change in the world have led me to view her as a role model in my own ongoing work along the same lines. So when the idea arose that we might do a Twitter chat together on gun violence, I knew working with her was an amazing opportunity, one which I hoped many dozens of people would seize. We settled on the hashtag #SavingLivesChat, and if you click on this link, you should be able to scroll back and view the chat if you'd like.
Though the chat did not nearly reach the level of participation for which I had hoped, those who did join the conversation were able to make some new connections and talk about a number of important ideas, and of course who knows how many people listened in, during the chat or following it? I did wake up the next morning to far more notifications than usual, and in preparing to write this blog, I discovered another person had added a whole series of answers to questions the day after the chat itself.
One of the questions Nelba and I had planned concerned the changing climate of schools, especially post Parkland. Responses varied depending on what ages of kids we taught or were parenting. With younger kids, the level of awareness varied though drills became overall less of a game and more intense. For better or for worse, gun violence and how it relates to lockdown drills is "like the thing we all know but no one says." (Heidi)
With older kids, of course the level of awareness was higher. But in schools like ours, that awareness seemed to be transformed from simply being scared into an imperative to take action, and in so doing actually raised optimism that something positive could be accomplished. This optimism seems to have spread to younger kids as well.
Nelba noted that we have a whole generation growing up with school shootings as the norm. I told her about my conversation with my office mate, who is 24 hours years old and who has a deep level of anger that she can not remember a time pre-Columbine and how that affected her childhood.
Nelba also noted that the increase in school shootings often leads to a punitive approach rather than a more effective restorative justice approach. I told her that our school had been looking into establishing a restorative justice program, and she was delighted.
As we discussed possible additional responses to take, Nelba wrote "Without question, programs - policies and practices that encourage connection. Connectedness among staff parents and students to each other and their community is one thing I find we miss. Also? Accessibility to healing centered services (clinical support) during the day." and Jeremy, a parent, noted that including parents in the process can bring a range of benefits. Nelba added that partnering with local mental health agencies can also help, and that she'd "love to see students empowered to support grieving or hurting friends. Activism is awesome- and also so is knowing how to connect. Our schools are full of survivors. Let's do activism and grief support!"
We also talked about the voter registration tour being undertaken by some of the Parklands kids, and how wonderful it is that they are taking it to the next level.
As we neared the end of the chat, Nelba spoke about the importance of equity: "We had a shooting in Newtown followed by millions in grants for support for our trauma. When thousands of kids across America suffer the impact of gun violence and get nothing? America has to take a good look in the mirror and call out the inequity." I responded, "Absolutely. #GunViolence of different sorts might be rooted in racism, or misogyny (especially related to domestic violence), or other (often systemic) bigotry. Fighting that (systemic) bigotry, working for true equity, can help with this issue as well as others."
After sharing a number of resources (see list below), I closed the chat with the benediction we've heard here so many times from Shayna Appel '78: "Go in peace, believe in peace, and create peace." #LoveWins
Resources:
Written by Bill Ivey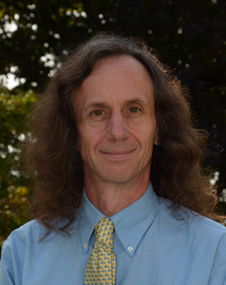 A dedicated member of the faculty, Bill Ivey is the Middle School Dean at Stoneleigh-Burnham School. He teaches Humanities 7 and the Middle and Upper School Rock Bands. Bill is the advisor for MOCA, the middle school student government, and he coordinates and participates in the middle school service program. Among his many hats, Bill also coordinates social media for Stoneleigh-Burnham School.