Inspired by our Convocation ceremony on Monday, Sept. 5, 2016
"Where do our individual templates and belief systems come from?" Shayna Appel '78 asked, pausing a moment during her invocation. In telling a personal anecdote of when she needed to grow further into her own best self, and did, she was inviting us both implicitly and explicitly to consider the question. As Head of School Sally Mixsell '69 would later say, all you know is what you see when you first meet a person - what is most important is unseen and undiscovered. And we have, as Shayna pointed out, the freedom to choose different judgments and opinions, to bring a more critical awareness of ourselves and our certainties. Student Council President Molly Li '17, in her discussion of what the Honor Code means to her, told us that when she first came here as an eighth grader, she had feared she would be judged here by her looks and by her English. However, she said, everyone was always kind and respectful to her. And Miles DeClue '18, in her own take on the ritual reading (and eventual signing) of the Honor Code, noted that it comes down to personal responsibility.
So as we take personal responsibility to critically examine our individual templates and belief systems, learning to find the unseen and undiscovered, the better to treat people kindly and respectfully, we do so in a school whose mission statement focuses in part on an international perspective. But what is that, really? If each country has its own perspective, and if furthermore different regions of each country may have their own take on that, then what is this "international perspective" that we are, according to our mission, supposed to foster?
People who do social justice work are often asked to decenter their own perspectives, and for me, one of the keys to bringing our mission to life lies in this truth. For example, if every culture has a way of showing respect, not every culture shows it in the same way. In some Latin and Asian cultures, deference and respect are shown by lowering one's eyes. But in U.S. culture, we take eye contact as a sign of respect. If I know that, I can make the internal adjustment to remind myself of that fact when having conversations with students, especially if related to discipline. And if I don't know that, I can still try to keep a mindset wherein I don't just look for the obvious cultural cue but look at multiple aspects of behaviors and perhaps even check in if I have a question - always assuming best intentions.
And despite all that, I'm bound to mess up from time to time. In such moments, Molly's observation that the Honor Code is meant to help us be better people can guide me. If I act disrespectfully, no matter how well-intentioned I may have been, the respectful response is to sincerely apologize and explain what I have learned and how I can do better. That way, too, when students mess up (as is also all but inevitable as they are just as human as I am!), they'll have had the chance to see how I handle it, adding that to their many observations of other teachers, friends, and of course and especially family.
Shayna wrapped up her invocation by calling on us to stand powerfully on the side of love. Sally wrapped up her speech by quoting Jung, calling us in turn to "kindle a light in the darkness of mere being." Molly ended with the observation that she sees the Honor Code as a North Star guiding us in the right direction. And Shayna ended the entire ceremony with her ritual phrase, "Go in peace. Believe in peace. Create peace."
The year is well begun.
Written by Bill Ivey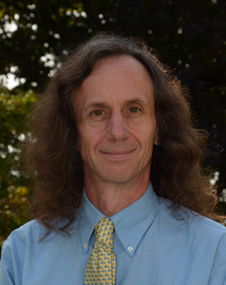 A dedicated member of the faculty, Bill Ivey is the Middle School Dean at Stoneleigh-Burnham School. He teaches Humanities 7 and the Middle and Upper School Rock Bands. Bill is the advisor for MOCA, the middle school student government, and he coordinates and participates in the middle school service program. Among his many hats, Bill also coordinates social media for Stoneleigh-Burnham School.