As Bill Ivey's blog posts focus on all the different ways different people find things in common, the web of connections we see and create, and a belief in the ideals of intersectional feminism, he has chosen to group future blog posts under the heading and using the tag "Intersections." We hope you enjoy them!
Over time, in an effort to ensure students have plenty of time to let ideas form and express them, I've become much more comfortable with long silences. (By the way, this has spilled over into the rest of my life - for example, my son and I have been known every so often to spend part of our phone calls just quietly connected.) After one such silence in my Humanities 7 class yesterday, I said, "Okay, so I guess that's everything we have to say about that." and one of the students commented, "I think we're still a little shy and scared."
Well - it was the first class of the first day of classes, and by now I'm used to the idea that the volume level of the seventh graders as they arrive for their last class of the First Day is markedly higher than when they arrive for the first one.
Shy and scared, of course, doesn't mean silent or uninterested. It simply means a normal human process of starting to feel things out, something some of us naturally do more quickly than others. And right from their first "Thoughts? Reactions? Questions?" to the first read-aloud of the year, Jonathan London's wonderful jazz poem Hip Cat with its refrain "Do what you love to do and do it well!" they were thoughtful and engaged, insightful, willing to speak up, listening to each other, and making connections.
A "think-pair-share" activity on "What a good teacher does" yielded a wonderful and detailed list. I told them I will use the list for general guidance and that I will select certain items about which I'm particularly curious for the six times a year they evaluate me. One item on the list, "improvises," struck me as particularly insightful. I'd love for them to sit down with those who are of the school of thought that if you planned your third activity to start at 9:24 and it starts at 9:27, that is a problem (as is actually true of some of the principals in some of my friends' schools).
Later on, they were doing a "brainstorm on the white board" on the question "How do people learn?" and I could see that they were coming up with a fascinating variety of ideas. So I spontaneously decided to tell them (paraphrasing here), "So you said good teachers improvise, and I do that all the time. Like now. Line up and we'll form three groups. Each group will look at one of the white board panels and determine the groupings and themes you see for the ideas on that white board and then present your ideas to the rest of the class."
With this activity, they became more animated than ever. In order to do what I was asking them, they also as a group had to come up with a system to accomplish it. They all happened to use colour-coding of one type or another, with one group circling ideas, another group coming up with a written key, and a third group drawing a really complicated web. As each group presented their panel, my pride and delight grew. When they finished, I said, "Before we go, I have two requests to make. I'm going to take pictures of these panels so we have a record of your ideas. But may I share them with Mr. Bogel, who teaches the IB Theory of Knowledge course? (they said "Yes.") And may I also share them with my Twitter community? (they said "Yes" again.) Thank you!"
Today, I get to tell them that Mr. Bogel loved their work and is going to use it as his first lesson plan with the Juniors in Theory of Knowledge. They're going to do the same exercise, and then compare their ideas to those of the seventh graders.
I'd say the year is off to a good start!
Written by Bill Ivey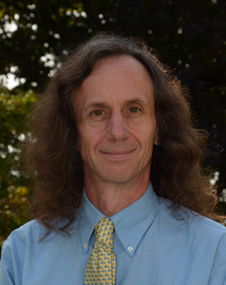 A dedicated member of the faculty, Bill Ivey is the Middle School Dean at Stoneleigh-Burnham School. He teaches Humanities 7 and the Middle and Upper School Rock Bands. Bill is the advisor for MOCA, the middle school student government, and he coordinates and participates in the middle school service program. Among his many hats, Bill also coordinates social media for Stoneleigh-Burnham School.