Alfie Kohn is one of my educational heroes. His thoughts and work have infused my practice for decades, as well as that of a number of my colleagues, and from our first days in 2004, these principles have provided key foundations and touchpoints for our middle school program. I follow him on Twitter, and read nearly everything he shares.
So when he wrote "Exaggerated claims of gender diffs underlie efforts to teach boys/girls diff'ly or even separately. Debunking study:" and linked to this article, it saddened me. I did open the article, and quickly realized how our school's history and mission might provide an important context lacking in the article, opening the door to a discussion focusing on the nuance of how a given school might do single-gender education and why that distinction matters.
First, though, let's acknowledge the terminology is no longer completely straight-forward. As we learn more about the nature of gender and sex as spectrums, there's every reason to believe few if any truly single-gender and single-sex schools exist any more. My office mate is from Mount Holyoke College where, while they still and perhaps always will identify as a women's college, they in her words "admit women but graduate people." The article to which Mr. Kohn referred mentions boys and girls, which to be fair might implicitly include binary trans kids, but (as with the vast majority of articles on gender research) does not mention non-binary kids.
That said, I think the phrase "exaggerated claims of gender differences" is the key point both supporting the conclusions of the article and supporting my own claim that girls schools like Stoneleigh-Burnham continue to be vitally important. On the one hand, science is indeed quite clear that sex-based differences are tiny to non-existent at birth and beyond. On the other hand, our society largely continues to function on the belief those differences both exist and matter.
Long ago, I realized that my students were just as diverse and unique as the kids in any teacher's classroom. Experience suggested that teaching to "a girl's brain" worked well for some but not as well for others, and eventually I discovered science that confirmed the variation from student-to-student in my classroom was far more significant than purported differences between genders. Still later, I would learn gender is not strictly binary and that "between genders" was inaccurate; "among genders" would be a better way to phrase it. It's easy to argue against an educational model based on stereotyping - in fact, I have, for example in my post "Why I Support the ACLU's Lawsuit Against Single-Sex Schools." On this point, I agree completely with Mr. Kohn.
But studies that focus on individuals and personalities by definition do not look at the cultural context in which these individuals and personalities exist. And this is where I continue to believe schools like ours matter deeply.
The article Mr. Kohn shared mentions the work of Dr. Janet Hyde of the University of Wisconsin. As it happens, Dr. Hyde and I were both guests last year for a podcast hosted by Heather Stark entitled "His, Hers, and Theirs: Gender and Education." In many ways, the foundation for the discussion was laid early on. Dr. Hyde described the history of how many girls schools emerged in the 1800's essentially as finishing schools; I described the specific feminist origins of Stoneleigh-Burnham through the beginnings of our three ancestor schools: Prospect Hill, founded by members of the Abolitionist movement in Greenfield whose focus turned to women's and girls' rights following the Emancipation Proclamation, The Classical School for Girls (later renamed the Mary A. Burnham School), co-founded by Bessie Capen, the first-ever female Chemistry professor at M.I.T., and Elmhurst School (which would move to New Hampshire and become the Stoneleigh School for Girls) founded, like Burnham, by two women at the suggestion of the president of a women's college, Smith.
Dr. Hyde is a brilliant scientist, and her perspective grounded us in the reality that research shows coed and single-gender schools, taken each as a whole, provide very similar academic results. My perspective grounded us in the reality that non-academic results also matter, and that not only my personal experience but also research shows positive effects for girls schools in this domain. Girls schools can function effectively as a large affinity group, providing a space for our students to explore who they were truly meant to be and how to remain so in the face of society's stereotypes and expectations. As the hour progressed, a contrast between two essential questions gradually emerged: it's not just whether we should do single-gender education, it's also how. Dr. Hyde acknowledged the value of our school's work but cautioned me that there may not be many girls schools who take our approach. That may of course be true, though I hope not.
So, I continue to believe, as I wrote in 2014, "the fight should not be against single-gender education. The fight should be against patriarchy." Including of course the fight for recognition that more than two genders exist.
Carry on.
Written by Bill Ivey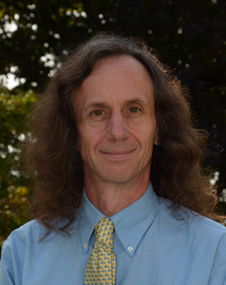 A dedicated member of the faculty, Bill Ivey is the Middle School Dean at Stoneleigh-Burnham School. He teaches Humanities 7 and the Middle and Upper School Rock Bands. Bill is the advisor for MOCA, the middle school student government, and he coordinates and participates in the middle school service program. Among his many hats, Bill also coordinates social media for Stoneleigh-Burnham School.