"Well, maybe we'll still make the keynote," I said to my student as we began the 10-minute walk from Wheelock's main campus, where I had attended last year's GLSEN Massachusetts Spring Conference (GLSEN being an organization that supports LGBTQ+ students and educators as well as their allies), to Wheelock's Brookline campus where, it turned out, this year's conference was held. They (the pronoun this student uses; here is a list of common choices) answered cheerfully, "Oh, it's okay. We'll get there."
Which we did, and just moments before they called everyone into the big room for the keynote. The speaker was Ashton, a 12-year-old trans boy from an independent school in Eastern Mass. Ashton was introduced by his eight-year-old friend Lia, who characterized him as a nice boy with whom she liked to play and who also spoke well, so we should listen to him. Which we did as he related the process of coming out at his school from the first tentative email sent by his worried mom to the ultimate embracing of him for who he is, including cheering and encouraging remarks from his classmates, on the day he came out to them. He noted the importance of visibility – Jazz Jennings (a 16-year-old trans girl who has written or co-written two books, spoken at a number of national conferences, and appeared in the TLC program "I Am Jazz") was one of his inspirations - and he noted and acknowledged the role his race and class played in navigating the process. Meanwhile, Lia returned to her parents, reached over, grabbed a green stuffed raccoon, and hugged it to herself.
The first workshop session I attended was on immigration and LGBTQ+ people. We looked at the different aspects of enforcement, detention and removal (a.k.a. deportation). The facilitator, M. Barusch, emphasized the importance of knowing one's rights in the process, there being a wealth of websites (e.g. here) on the topic. He noted a number of different factors that make LGBTQ+ people a higher risk subset of the immigrant population, such as economic well-being, going through a CORI check, living in gendered detention facilities (for an average of 102 days), sexual assault, access to health care, and finally the notion that solitary confinement is often the only form of protective custody offered. Note here that solitary confinement for as few as 15 days has been defined as torture by the U.N., essentially giving vulnerable LGBTQ+ people the choice between different forms of torture rather than torture and safety.
What can the LGBTQ+ community and allies do about this? There are a number of levels where we can speak up and advocate: the federal government, county sheriffs, district attorneys, and LGBTQ+ groups who are involved in endorsing candidates. We can also help fundraise to cover the costs of lawyers.
My second workshop session, led by my friend Karla Gandiaga, was entitled "Intersectionality: Purpose and Person." It consisted of a series of questions on which we were asked to reflect and quick write, then discuss with a partner according to different protocols, and finally debrief with the full group. My partner was a wonderful, warm, kind, insightful person. She asked whether I might be attending the GLSEN Massachusetts Educators' Retreat next year. I've been before, and it's a wonderful experience. So, I might be!
Meanwhile, my main take-aways from that session were: the degree to which you can't separate my identity from my purpose, the clarity with which I see my destination even as I don't see the path there, and an appreciation of all the ways that people can attend to and understand each other (it's much more than just seeing and listening).
For the final round of that session, we rotated around to talk to new partners, and I met Francie, a high school junior who would be co-leading the next session I planned to attend, "Empowering and Advocating for LGBTQ+ students," designed for educators and people who work with LGBTQ+ youth. Besides facilitating effectively, she also provided a valuable, brave, touchingly honest student perspective that humanized right there in the moment the abstract ideas we were discussing, and made the importance of our work more visible and immediate. I was able to find her and let her know how much I had enjoyed the session despite the difficult moments, and how important she was in multiple ways to that outcome.
The general themes noted as areas in need of improvement in many of the schools represented there focused on health and wellness, truly inclusive sex education and biology courses, improving awareness of and sensitivity to gender-inclusive speech including pronouns, and willingness to confront anti-LGBTQ+ speech when witnessed. The general themes seen as positives were an overall greater awareness of the full diversity of gender and sexuality, a general level of inclusivity and desire to be supportive, and fully formed and active GSAs. Looking at our school, I feel we've evolved over my 30+ years from shying away from the topic to seeing it as a problem we wanted to solve to, much more healthy than either of the previous two attitudes, understanding the importance of both continually seeking to grow and actually growing.
After the closing session, my student asked if they could hang out a bit longer with a new friend before we left, and of course! They made several friends through the course of the day, including (at lunch) Emma, perhaps a sixth grader (there were almost as many middle school kids at this conference as there were high school kids), who earnestly told me when I asked about her first session that it had been about intersectionality and that, while of course everyone knows race is just a construct, racial identity nonetheless very much affects one's experience as an LGBTQ+ person. Among other things.
Anyone still wondering whether the next generation includes people who will help move our country forward?
My student and I walked back to the car and headed for home. This was our second GLSEN conference this year, and my student had another fantastic day. As we did last fall, we'll be reporting back to housemeeting on our experiences. And, if my student has any say in the matter (and they do), we'll be returning again and again over the next few years.
Written by Bill Ivey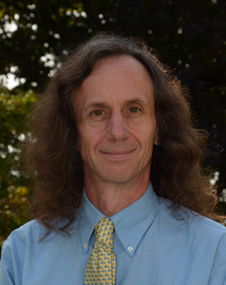 A dedicated member of the faculty, Bill Ivey is the Middle School Dean at Stoneleigh-Burnham School. He teaches Humanities 7 and the Middle and Upper School Rock Bands. Bill is the advisor for MOCA, the middle school student government, and he coordinates and participates in the middle school service program. Among his many hats, Bill also coordinates social media for Stoneleigh-Burnham School.