In many ways, 2019 has been an amazing year for girls. Greta Thunberg has been nominated for a Nobel Peace Prize for her work with climate change, and Alexandria Villaseñor and Isra Hirsi, among others, have also received well-deserved attention. Mari Copeny continues to advocate tirelessly for an improved water supply for her hometown of Flint, and Autumn Peltier has been doing the same for the indigenous people of Canada. And Malala Yousafzai's name still pops up on occasion in connection with her own ongoing work advocating for girls' education and women's equality.
Closer to home, Nikki Mangaru '20, the Head of Community Alliance, has been hard at work setting up a series of open meetings with advisory follow-up to be led by the Students of Colour affinity group, the Gender Sexuality Alliance, and the Multicultural Club. MJ Campos '20, the Head of Athletics, is dividing the school into colour-based teams and planning a series of fun competitions throughout the year. Nora Broady '20, Head of Health and Wellness, has been advocating for students with a wide variety of dietary needs and restrictions. Katie Kowalyshyn '20 and Melissa Ndabarasa '20, co-Heads of School, have been ably leading Student Council including ongoing work with our new for-the-moment-interim dress code. And this is just a sampling.
In my own Humanities 7 class, students have been raising a great number of questions and fears concerning climate change. They came up with four fundamental questions, essentially looking at the past, present, and future, and wondering what it all means:
What has happened?
How is the Earth responding to climate change?
What will happen 10 years from now?
Is our Earth dying?
We now have eight groups of related questions on greenhouse gases and their effect on worldwide temperatures, how those rising temperatures are affecting sea levels and ocean temperature, how climate differs from weather and how shifting climate patterns are affecting human populations, and the current thinking on how much human activity is contributing to climate shifts and what the Paris Agreement is. Small groups of students and I are all researching answers to these questions and will produce fact sheets for our specific area of focus, collaborate to create a one-page "Quick facts" overview, and also create and give a presentation.
Further on in the year, we will work to think up solutions and positive paths forward, and take concrete action. As it happens, Sarah Tracy-Wanck '06 was visiting yesterday; she has excellent experience in working with teenagers in just this way and has agreed to help us when the time comes.
It's so easy for us adults to stand back and watch these girls and think how relieved we are there is hope for the future. But Greta Thunberg said, "I don't want your hope, I don't want you to be hopeful." We can't simply stand by and admire them. We can't simply wait for them to grow older and be able to make even more of a difference. We have to work alongside them.
What better way to celebrate International Day of the Girl?
Written by Bill Ivey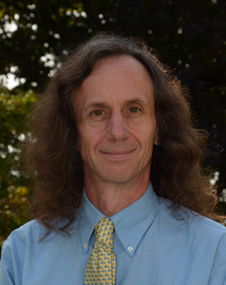 A dedicated member of the faculty, Bill Ivey is the Middle School Dean at Stoneleigh-Burnham School. He teaches Humanities 7 and the Middle and Upper School Rock Bands. Bill is the advisor for MOCA, the middle school student government, and he coordinates and participates in the middle school service program. Among his many hats, Bill also coordinates social media for Stoneleigh-Burnham School.