The National Association of Independent Schools (NAIS) recently shared the article "Seven ways parents and educators can improve kids' middle school experience" by Phyllis Fagell, the author of Middle School Matters. I immediately clicked on it, and found a series of thoughtful suggestions and examples, each of which in fact does relate well to our own middle school program. Her seven suggestions (in boldface), and a few examples of how they have been playing out in our school:
Trust them with responsibility. Last week, the seventh graders were passionately discussing the read-aloud book they chose to go along with their self-designed unit on the theme question, "How do people act, perceive, and make decisions?" Suddenly, one of them paused and said, "This is so much better than my class last year. You don't make us just answer a bunch of questions like, 'What is the author trying to do here?' We get to really get into the story and give our ideas and talk about it." Once the tumult of reactions confirming and expanding on those thoughts had subsided, I pointed out to them that as they were having these passionate discussions about different characters and their relationships, backstory, what might happen next, and more, they were doing all the things good readers do - discussing the author's style and purpose in the process.
Help them with self-identity. The essential question of Humanities 7, "What does it mean to be human?" and the seed questions for their three student-designed units, "What do you want to know about the world? What do you want to know about yourselves?" all speak to this fundamental aspect of middle school development. But far beyond my own classroom, throughout our program, we work with and support our students in being caring, principled, and reflective members of our community (these also being traits of IB learners). As teachers, we read and think about culturally responsive teaching, anti-racist work, supporting LGBTQ+ students, and more, the better to support each student in exploring the question, "What is my authentic best self?"
Give them ways to serve. From the first year, a core element of our middle school program has been to go out into the community and do service. The ten founding students helped design the service component, focusing on the Dakin Humane Society and an after-school program. As the middle school has grown, we've periodically changed our affiliation with after-school programs and we've added options at the Food Bank, Poet's Seat Health Care Center, and the Community Action Food Pantry. We are eagerly welcomed at all sites (Dakin once referred to our students as "a bundle of animal-loving energy"), and our students are touchingly committed to doing their best work to help out.
Foster relationships with adults. This, of course, has been one of the cornerstones of our school throughout our history. Advisory is a key component of that and, while many middle schools have cut back on advisory due to financial pressures, we have remained committed to making time for it, setting aside not only a full hour on Wednesdays but also a chance to meet over lunch on Mondays. Dorm life is also important, for day students as well as boarders as they all have rooms. Several times a year, I get the chance to hang out in the middle school dorm and assist houseparents, and I always look forward to those random conversations that happen when kids sit down on the hallway with you and start talking about whatever is on their minds. Teachers, coaches, houseparents, riding instructors, staff, administrators… there are countless adults here who are skilled at connecting with kids, and each student tends to find the supportive adults that give them what they need.
Help them relate to peers. Friendships matter to all of us, but perhaps that is never more true than in middle school. In a school where we support the development of one's authentic best self, where the kids who are role models tend to be both true to themselves and consistently caring for others, students report much less drama, much less pressure to conform, than in their previous schools. At the same time, we know that nurturing and sustaining healthy relationships is also part of everyone's lifelong learning journey, and through any number of forums, we work with our students in groups or one-on-one to help them navigate wherever they may be in that process.
Build in opportunities to play. Moments after morning meeting let out last Friday, a group of middle schoolers burst through the doors of the McNear wing (where we are newly housed) and raced for the swings, followed by another group that settled in at the picnic tables to chat. Recess now happens twice a week, and we are looking to enable it to happen every day. Meanwhile, classrooms can provide a setting for a different kind of play - kids show up in my class excitedly talking about a challenge they were given in Acting, or about what they were able to get their robots to do as they learn coding. Kids learn primarily through play, and there is plenty of space for that in our middle school
Make it safe to fail. When the middle school faculty was asked for an end-of-year report to reflect on how the kids grow in the ten traits of the IB Learner Profile, one of the most frequently mentioned traits was "risk takers." Performing artists taking the stage in front of dozens or even hundreds of people. Language students holding conversations in a language they may never have even heard before this year. Science students generating and testing hypotheses. Eighth graders sharing their "I am from…" poems with their peers. And more. With no grading and a healthy focus on learning as an ongoing, indeed never-ending process, it's so much easier to try new things, perhaps discovering undreamt-of passions.
Like any healthy community, we know that alongside our strengths, we have things on which we need to work. But we also recognize that those very strengths can provide a foundation for growth, especially when grounded in solid principles like our school's mission, the 16 characteristics of successful middle schools as outlined in This We Believe by the Association for Middle Level Education, and the aforementioned traits of IB Learners.
Written by Bill Ivey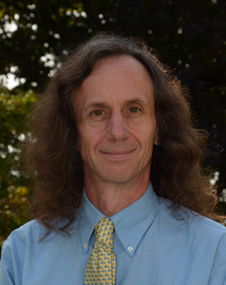 A dedicated member of the faculty, Bill Ivey is the Middle School Dean at Stoneleigh-Burnham School. He teaches Humanities 7 and the Middle and Upper School Rock Bands. Bill is the advisor for MOCA, the middle school student government, and he coordinates and participates in the middle school service program. Among his many hats, Bill also coordinates social media for Stoneleigh-Burnham School.