Today, I am wearing purple. As it happens, I like purple - in fact, it's one of my favourite colours. But more to the point, I am supporting GLAAD in marking Spirit Day and taking a stand against bullying and in support of LGBTQ+ youth.
GLAAD's website has a page on "The Facts" that sums up the current situation based on GLSEN's report from 2013. Over half of LGBTQ+ kids feel unsafe at school due to their sexual orientation, and over a third due to their gender expression. Three-quarters of the first group and half the second group have been verbally harassed and about half that many physically harassed; 12-16% have been physically assaulted. Over half of LGBTQ+ kids don't report these incidents because they doubt anything will be done, and in fact over 60% of those who did report an incident said nothing was done.
GLSEN recently released a new and more comprehensive report done in 2015, somewhat ominously entitled "From Teasing to Torment: School Climate Revisited, A Survey of U.S. Secondary School Students and Teachers." You may read the executive summary and or full report on their website, but overall, it's clear that things have not changed as much since 2005, when they did their last comprehensive report, as one might hope.
For example, while roughly one in five students reported bullying based on gender, gender expression, or sexual orientation, a slight improvement from 2005, teachers are actually less likely to intervene now than they were ten years ago. Furthermore, students report hearing biased language from teachers (be it based on gender, gender expression, sexual orientation, race, appearance, academic ability, or disability) about half as often as with students, a significant percentage.
All of this, however, is taking place in an atmosphere where more and more LGBTQ+ people are out, and the GLSEN executive summary notes that "Overall, the general student body appears to be relatively accepting of LGBT people, and most have LGBT people in their lives, either as peers, friends, or family members." The percentages of students who reported knowing someone who was LGBT (82%) and saying they had no problem with people who are LGBT (88%) nearly match, and I doubt that's entirely a coincidence. Indeed, "Students who knew someone who was LGBT held less negative attitudes towards LGBT people than students who did not know any LGBT people." (GLSEN)
This may be one reason why our school has a well-deserved reputation as being more supportive than average. We live in a region that is far more accepting than average of LGBTQ+ people, and on occasions when kids have come out in the past, students often take it pretty much in stride. We have done professional development to help our cisgender and heterosexual faculty understand more about LGBTQ+ identities with an eye toward positive support. And we have been presented as a model school within the National Coalition of Girls Schools for our support in particular of transgender kids.
That said, no school is perfect, and we can and should always aim to improve. So it is both with that thought in mind, and thinking more generally of LGBTQ+ kids around the country and around the world, that I am wearing purple today as a symbol of my support and my goal to work for a world that is 100% safe.
Written by Bill Ivey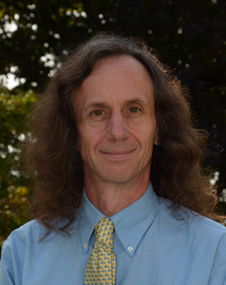 A dedicated member of the faculty, Bill Ivey is the Middle School Dean at Stoneleigh-Burnham School. He teaches Humanities 7 and the Middle and Upper School Rock Bands. Bill is the advisor for MOCA, the middle school student government, and he coordinates and participates in the middle school service program. Among his many hats, Bill also coordinates social media for Stoneleigh-Burnham School.