Welcome and Morning Keynote
As we were waiting for the 2019 AISNE Diversity-Equity-Inclusion conference to start, the person sitting to my right leaned over to introduce himself. I recognized his name immediately, since Clyfe Beckwith is the Assistant Head for Teaching and Learning at Andover, from which my son graduated. I knew about some of the school's more recent initiatives through newsletters and, as we got to talking about Andover's firm and ongoing commitment to looking honestly at how they are supporting their kids and taking concrete steps to grow continually, one of the themes became (as morning keynote speaker Dr. Philip McAdoo would put it) how to transition a school from head to heart. The perfect introduction to the day!
Claire Leheny welcomed more than 600 of us from 93 schools, urging us to live into the commitment. LaShawn Springer, while introducing Dr. Philip McAdoo, the morning keynote speaker, noted the importance of storytelling and narrative in social justice work.
And Dr. McAdoo had stories! A former Broadway actor (he once played Mufasa in The Lion King), he turned his dissertation into a book, Independent Queers, about the experiences of LGBTQ+ educators in independent schools. Speaking as a person who is black, gay, a father, and an educator, he made clear the importance of networking and its potential for healing… of empathy, being seen, financial and emotional support, and keeping multiple perspectives in mind… of how people in such communities are finding hope. He spoke of the importance of asking tough questions, of being willing to get uncomfortable, of speaking up earlier rather than later because the power of silence can build and build otherwise. That said, he also reminded us that it's ultimately not that complicated, it's about lived experiences and listening, and that Nike had it right when they said, "Just do it."
*****
"When your voice is the ONLY voice: coalition-building while preserving your sanity"
The first session I attended was a Deep Dive Conversation facilitated by Lawrence Alexander II. Noting what Tim Wise said about the privilege of belonging and the burden of responsibility, Mr. Alexander stressed the importance of schools understanding our work is not, as is too often assumed, antithetical to the bottom line. He also reminded us that we need to look honestly at ourselves and be willing to assume we may well need to improve at speaking up and building coalitions in order to be effective. He gave us some useful framing questions for doing the work:
Are we truly the only voice?

For whom might this be an issue?

Who needs to be in the room with us?

What rooms do we need to be in?

Who does care?

Who can help move the needle?

What if they actually listened?

How would we frame the issue?

How would we actualize the solution (if there were no limitations)?

What constituencies need to be part of the solution?

What would success look like in our community?

What does togetherness look like?
We were given a fair amount of time to meet in groups to talk about various issues at our schools and how we might put these framing questions to work for us, although you always want more! Mr. Alexander wrapped up by noting we need to find the level of tension with which we can live. And maybe we can impact some change but, regardless of the outcome, we can always influence the articulation of truths.
****
"Staying Power: Recruiting, Retaining, and Empowering Faculty of Color"

I moved on to attend a Peer Case Study session presented by Pascale Musto and James Greenwood. They presented research, related experiences, showed paths to empowerment, and took questions.
At this point in time, independent school populations are about 30% students of color, 19% teachers of color, and 20% administrators of color. About 34% of Heads of School are women (though it should be noted this number is much higher in elementary schools than secondary) and about 7% are people of color.

Climate surveys show that while racial awareness is up, racial tension is also up and dialogues about race are less frequent. People of color remain way more likely to be asked to take on professional duties (clubs, advising, etc.) based on their race. Between 70-80% of both teachers of color and white teachers report having witnessed racism, a number also on the rise. 74% of teachers of color reported having personally experienced racism. Tolerance of racism is increasing and perceived at a rate of over 50% for administrators, faculty, and students. In another negative trend, people of color are increasingly less likely than whites to perceive their schools as being supportive of them.
There is a need to have more conversations about race that are not precipitated by specific events, and to make training consistent and ongoing. Some schools are extending diversity training beyond faculty and administrators (and sometimes staff) and also involving students and/or parents. There is a perception that being beholden to a small number of donors is chilling the conversation; we need to look honestly at whose voices carry weight and whose don't. We need to get beyond soothing feelings and look at the deep-down causes and take action. We need to recognize and deal with covert racism, and white people need to get beyond the notion that "not seeing color" is both sufficient and positive.
We can also deliberately be cultivating leaders through professional networks. If we have a person of color who does not meet our specific hiring needs, we can pick up the phone and refer them somewhere else so they are more likely to find a job and stay in the profession. We can involve the Director of Diversity, Equity, and Inclusion in the hiring process. We can offer people of color internships, fellowships, and hire them for summer programs. We can look carefully at where and in what order we spend our money. We can keep track of and attend job fairs for people of color. And we can raise awareness of these opportunities.
Creating a genuinely inclusive culture is absolutely necessary if we are able to retain those hires we do make. Andover, Concord, and Kingswood Oxford were all cited as positive examples.

All of this requires buy-in, investment, and a willingness to work together. It also requires commitment, for example being willing to say outright, "We are a community centered on equity. If that doesn't suit you, other schools exist." We all do have the power to have an impact, but we have to act, to be the change.
*****
"Leveraging individuality and intersectionality to create cohesive communities"

After a "networking lunch" which led my introverted self to flee to a common area where I randomly happened to network anyway with other people who had also fled, I went to another Deep Dive Conversation, this one facilitated by Carla Pugliese. In this session, we did a series of exercises and activities (individually, in pairs, and in small groups) to consider these questions:
What are our intersecting identities?

How do those intersections play out in terms of power and privilege?

How do those intersecting identities play out in schools?

What are the bottlenecks in our communities in terms of qualifications, developmental factors, and instrumental-good (e.g. money)?

What intersections benefit from historic or sustained development (who is able to navigate the community with ease)?

What intersections are not being served (how do we find out what they need)?
Ms. Pugliese shared a number of her own thoughts as well as quotes from Kimberlé Crenshaw and others. Among the points made:
Treating different things the same can generate as much inequality as treating the same things differently. (Kimberlé Crenshaw)

The word "inclusive" often centers those with privilege and power, inviting others in.

This work's most pressing problem, in many if not most cases, is not the existence of categories, but rather the particular values attached to them, and the way those values foster social hierarchies.

Too often, we wear the "dishonest mask of pretended order." (Jane Jacobs)
*****
Performance and Afternoon Keynote
We all came back together to enjoy a short performance by The Wonder Twins and a closing keynote by Dr. Ali Michael. Becky Biggs of AISNE observed that partnerships are what make days like this amazing, and Deb Olander, in her introduction, thanked Dr. Michael for her work which helped guide the creation of a white anti-racist group at her school, Andover.
Dr. Michael spoke on "building the beloved community" and the role of white people in talking about race. We white people need a place to explore, to get each other's backs, and to build skills to do the necessary work of speaking out against racism (just as heterosexual people need to speak out about homo- and bi-phobia, abled people need to speak out against ableism, and so on). Part of our work needs to be building our own racial identity, becoming better able to name whiteness as is necessary to be called in to this work (as Dr. Eddie Moore, founder of the White Privilege Conference, has said).
Ultimately, the goal of this work is the pursuit of wholeness - a wholeness of person and community that does not exist because of racism. Racism fractures us. Internal bias fractures us. The point is not the feelings but the goal of wholeness - even if we may never fully arrive.
In the interim, we can remember the importance of personal relationships to student success and how a multicultural curriculum and identity development are critical since lack of knowledge can lead to lack of competence which feels like not caring. What we bring to the classroom speaks to students about what is on our radar. Are we as educators thinking in the same way as a student of color's parents? And if so, how would they know?
We are trying to talk ourselves out of 500 years of history, often using the same categories that contributed to our ended up where we are right now. Race may be a made-up social construct, but racism is real. And a positive racial identity in students leads to social and academic success; toward that end, white people need positive white anti-racist role models.
As Barbara Smith said, "If Black women were free, it would mean that everyone else would have to be free since our freedom would necessitate the destruction of all the systems of oppression."
*****
It was a wonderful day that left me with a lot to think about and a lot of ongoing work to continue, broaden, and extend. There's more work here than I can accomplish in a lifetime. But the more work I
can
accomplish, the more I can help make a difference.
Written by Bill Ivey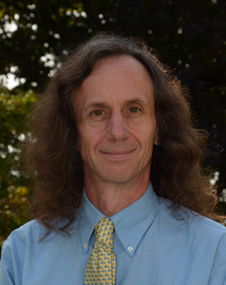 A dedicated member of the faculty, Bill Ivey is the Middle School Dean at Stoneleigh-Burnham School. He teaches Humanities 7 and the Middle and Upper School Rock Bands. Bill is the advisor for MOCA, the middle school student government, and he coordinates and participates in the middle school service program. Among his many hats, Bill also coordinates social media for Stoneleigh-Burnham School.