Since the week before the election, I've been attending the Vigil for Racial Justice in downtown Greenfield when I can. I first went with students and on our way back, we all agreed the school should offer it as a weekly activity - which we have been doing. Each time I've been there, it's been a quite pleasant experience. Most people who passed by either ignored us, smiled, or honked supportively. I did have a conversation with one citizen on my way there one morning; he saw my poster and looked me in the eye and said, "All lives matter.
All
." I smiled at him and cheerfully said, "I couldn't agree more." Because, to the founders of the movement, and to me, that is the fundamental message of the slogan "Black Lives Matter" - in a country infused with and shaped by racism from its earliest days, all lives,
including Black lives
, matter equally. And that was as close as I had come to having a negative experience.
This past Saturday, I intended to go to the Vigil after an 8:00 a.m. drum lesson I had agreed to give to a Rock Band student. But we were working so hard we lost track of time; when I checked my phone and found it was 9:22 and this student still had things on which she earnestly wanted to work, I decided this was more important in the immediate present. We did get a lot more done, and I left a little before 10:00, just as the Vigil was probably ending.

Meanwhile, one of my colleagues and one of our students were at the Vigil. This particular morning was quite different from the ones I'd experienced. There were a lot of negative reactions, from thumbs down to one person out and out screaming at the group. For our student, it had to be extra hard to take. She is Black, and had been the direct target of racial harassment at a public event in town just the night before. That night, a parent had intervened to put distance between her and her attacker. The next morning, she had the solidarity of everyone participating in the Vigil but was also standing for herself. My colleague was both deeply upset with our town and deeply proud of our student. She was resolved to return again and again. And our school is preparing to rally in support.
Preparing to write this blog brought back one of the crucible events of my teenage years with a high school friend who, for reasons I never could comprehend, found that my identity as a pacifist angered him at a deep and visceral level. He told me he wasn't going to give up until he made me hit him, and began punching me on the arm. I imagine I must have winced, and I was feeling shock and amazement. I was also firmly resolved he would not win. As time passed, though I was in a kind of timeless haze, he got angrier and angrier and the punches came faster and stronger. Eventually, he whirled and stomped away. By that point in time I couldn't have hit him even if I had changed my mind - my arm had become so numb that I couldn't even move it for several long minutes. But trust me, nothing - absolutely nothing - was going to make me change my mind.
And I'm not giving up here either. I may be a pacifist. But I'm a stubborn pacifist. Like others from my school, like others around the world, I'm in it for the long haul.
Written by Bill Ivey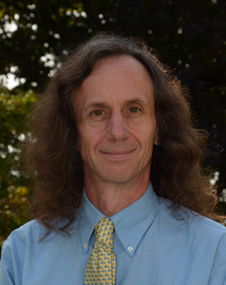 A dedicated member of the faculty, Bill Ivey is the Middle School Dean at Stoneleigh-Burnham School. He teaches Humanities 7 and the Middle and Upper School Rock Bands. Bill is the advisor for MOCA, the middle school student government, and he coordinates and participates in the middle school service program. Among his many hats, Bill also coordinates social media for Stoneleigh-Burnham School.