This past Saturday, at a memorial service for a college friend, I shared stories of her ability to stand up for herself "with just the right touch of defiance," of her deep seated insistence on being her own authentic self, of her feminist affirmation of women.
During the all-school meeting last Friday in which we held an open discussion about the range of thoughts and feelings following the election, one of our students shared her belief that women as a whole need to believe in themselves and their gender more strongly than they now do. After the meeting, I came across this quote (abridged here) shared on Gloria Steinem's Facebook page: "So while I do not pray for anybody or any party to commit outrages, still I do pray, and that earnestly and constantly, for some terrific shock to startle the women of this nation into a self-respect which will... give them the courage and conscience to speak and act for their own freedom, though they face the scorn and contempt of all the world for doing it." I shared it with that student, wanting her to know not only that her voice had been heard but also that she had echoed the thoughts of a feminist icon.
That would be Susan B. Anthony, and the quote dates to 1870, only one year after the founding of our school.
These days, one could easily argue that the U.S. needs the kind of feminist affirmation of women Ms. Anthony, Ms. Steinem, and that student all sought and still seek. It's one thing to think "Of course I want a woman to be President some day, just not this particular woman," and quite another to think that women as a whole are too weak be President – a sentiment actually expressed on a radio program to which I was listening. By a woman.
This is just one area in which our broader school community can step up and play a leadership role. I've been deeply moved by the actions taken by some of our graduates since the election. I've seen messages of solidarity, of sympathy, of hope. I've seen bravery in the face of hate speech. I've seen a young LGBT person reach out to younger LGBT people, knowing the process of coming out is an incredibly vulnerable time under the best of circumstances, and these are not by any means the best of circumstances for them. And I've seen the middle schoolers interviewed by Miranda Davis for an article in The Recorder bring comfort to people who've never even met them.
In parallel, though, I've been deeply disturbed at the harassment and hate speech out there. As I alluded to above, one of our own graduates was called a [redacted adjective] [redacted word meaning "lesbian"], and another who has a same-gender stick figure couple on her car's rear window returned to a threatening note signed with the hashtag #Trump2016. Yet another alum reported a group held a protest of tolerance at her college.
That's right. A protest of tolerance. Let that sink in.
So where does this leave us? Near the end of Friday's meeting, picking up on different threads I'd heard throughout, I offered the following thoughts.
Revolutions can and do certainly happen through collective action, but revolutions can also happen one conversation at a time. I hold dear the ideals of love, respect, and equity, and I Will. Not. Compromise on that. That said, if you have a different path to the same ideals, I'm happy to talk with you. I'm happy to explore how our lived experiences differ and how that might shape our different approaches. I've learned, during such conversations, it can be a useful framing to speak of the difference between intention (known only to the person saying something or taking some action) and effect (known only to the person or people experiencing it). And I said that I knew before the election that work would continue no matter who won.
I closed by observing that, when I came to school on Wednesday, I chose my clothing – as did my wonderful office mate – to affirm that I was so not giving up the fight (insert fist pump here). Christy and I both wore purple shirts, her with a pantsuit, me with a purple skirt and tights. A widely shared article in Huffington Post affirmed teachers needed to tell those students who were afraid, "I will protect you." This was my way of saying in addition, "I am not going backward. I am not giving in to fear."
At the memorial service for my old friend, I ended by saying, "And I shall continue to smile at her stubborn insistence that the world, no matter what anyone else might say, could be a magical place." One way or another, the world will become whatever we shape it to be. Right now, more than ever, we need to stubbornly unite around the kinds of ideals in which our school, our country, and for that matter people all around the world believe. Love. Respect. Equity. For all.
Nothing less will do.
Written by Bill Ivey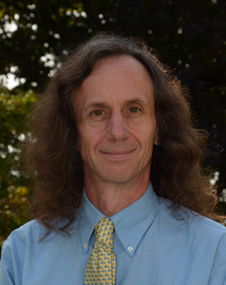 A dedicated member of the faculty, Bill Ivey is the Middle School Dean at Stoneleigh-Burnham School. He teaches Humanities 7 and the Middle and Upper School Rock Bands. Bill is the advisor for MOCA, the middle school student government, and he coordinates and participates in the middle school service program. Among his many hats, Bill also coordinates social media for Stoneleigh-Burnham School.