On Saturday, January 19, eight members of the Stoneleigh-Burnham community attended a diversity conference, 'Everybody, Everybody': Reimagining Gender and Sexuality in Our Schools," hosted by Vermont Academy. Our group, or "pod" in the terminology of the Dalton Conference model, represented a past and present cross section of students, faculty, staff, administration, parents, alums, and trustees.
In welcoming us all and kicking off the conference, co-chair Cynthia Murphy characterized the conference as both a call for awareness and action and a celebration. "This is a time to lift every voice and sing." Jennifer Zaccara, Vermont Academy's Head of School, picked up on the theme, noting that identity is a spectrum and that we are all in the same mission together. She also quoted from two poems by Mary Oliver, "Worried" and "Mysteries, Yes."
Keynote
Dr. Sarah Miller, the keynote speaker, opened by saying, "I have never been so excited to do something." She continued to note that our structural roles often keep us away from really being with young people. We need to create spaces for them to speak their truth. We can also use our personal spheres of influence.
Dr. Miller then gave a short presentation on Gender and Sexuality 101. (For anyone interested in learning more specifically about the spectrums of sex, gender, and sexuality, our school blog has a fairly thorough informational page on the topic.)
Next, Dr. Miller spoke about how school communities reinforce gender norms and heteronormativity. Gender norms are everywhere and they are really toxic for everyone. They also reinforce heteronormativity. Teacher training programs spend the least time teaching about gender diversity and the second least about sexuality. (Here, I thought to myself that, given what a poor job most teacher training programs do about teaching about race and class, that is a depressingly strong statement.)
In setting norms for masculinity, our society opposes them to norms for femininity and then uses this distinction to privilege masculinity and denigrate femininity. Masculine norms such as strong, tough, intimidating, never showing weakness, and so on are often constructed, negotiated, and regulated through homophobic languages and action, sometimes referred to as fag discourse. That said, boys themselves are in the process of redefining masculinity more broadly and with fewer rigid norms than in the past. We need to pay attention to this positive movement as well as the negative culture within which they are acting.
Girls' bodies, clothing, and sexualities are often judged and shamed, both directly and indirectly. Many rumours spread to deliberately hurt girls paint them as slutty, and beyond general slut shaming and the accompanying reinforcement of rape culture, simply being bisexual or lesbian can also be seen as negative.
Most kids in school have learned nothing about trans people, and those who have often hold images that are bigoted, inaccurate, incomplete, and/or just plain negative: something's wrong with them, they want attention, no one should talk to them because they're creepy, they get murdered...
We must start attending "to the way bullying often reflects, reproduces, and prepares young people to accept inequalities embedded in larger social structures."
Homophobic and heterosexist remarks are the most common type of biased language heard in schools, a contributing factor to why ⅗ of LGBT youth feel unsafe in school. 73% of LGBTQ+ kids report being subject to bullying vs. 38% of cisgender hetersexual teenagers. Similarly, 60% of class disadvantaged kids report being bullied, and 58% of students of colour (as compared to 43% of white kids). Yet, the kids most likely to actually report bullying are white, cisgender, heterosexual, and class advantaged.
Much of Dr. Miller's research has focused on bullying. Bullying is about inequality, enacted and then experienced and responded to in inequitable ways. There is a clear perpetrator and victim, there is repetition, there is an intent to harm, and there is a power differential. This is exactly why thinking how to address gender and sexuality inclusively at school matters.
So, what can you do? Everyone can play an important role. It starts by thinking about your own spheres of influence. We have a network of opportunities including traditional curricula, gender education, sexuality education, diversity and social justice education, sexual and date violence prevention education, and explicitly anti-bullying education. We can address what bullying is about by attending to the inequalities and structural conditions that shape young people's conflicts - focus less on individualistic approaches and more on the larger picture. We can recognize and learn from youth about what they are already doing to create positive school climates.
Key suggestions:
Listen to teens
Create space for them to speak about what matters to them
Work collectively - get beyond silos of disciplines, roles, and ages
Recognize that gender and sexuality education happens throughout school ecologies, not just in a sex ed class
As we continue the day, Dr. Miller asked of us, assess what the needs are for your specific school. Listen deeply to each other. Recognize how important each of you are in this process.
Focus Groups
The second session of the day featured facilitated conversations designed for people with common roles in their different schools. We ended up with representatives in all four groups; I went with the focus group intended for teachers and diversity coordinators. Once again, we agreed on confidentiality and once again, I realized how our school's feminist mission and the gender make-up of our student population mean our school is dealing both with somewhat different issues and from a somewhat different perspective than other schools, as much as we also have in common.
Student Panel
In the collective group of students' after-lunch presentation to all the adults at the conference, and in responding to our questions, a number of major themes arose:
Make sure there is sufficient time for the whole school as well as for GSAs to have the necessary conversations and do the necessary work.
Listen to the actual lived experiences of teenagers.
But don't always depend on LGBTQ+ teenagers to be the experts - we can educate ourselves, and we can share our own knowledge
Pod Meeting
Because of the impending snowstorm, we decided to leave early but did want to meet first to debrief the day. We had a great conversation about things we had learned and what we saw going on at our school. We agreed to meet about a week later (incredibly, all eight of us had common free time!) to look at what we had identified needs work, to settle on goals and action steps. Some of what we want to do should be fairly quick and simple. Some of the rest of it involves deeper change and will take a longer time.
I look forward to every part of this vitally important work. And I am deeply grateful to Vermont Academy for welcoming us so kindly and for hosting another successful conference. I look forward to the next.
Written by Bill Ivey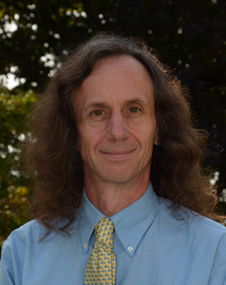 A dedicated member of the faculty, Bill Ivey is the Middle School Dean at Stoneleigh-Burnham School. He teaches Humanities 7 and the Middle and Upper School Rock Bands. Bill is the advisor for MOCA, the middle school student government, and he coordinates and participates in the middle school service program. Among his many hats, Bill also coordinates social media for Stoneleigh-Burnham School.