"I am not a pretty girl. That is not what I… do." - ani difranco
It's 10 days after Parkland and, while some of the initial rawness has subsided, I know many teachers who are still having difficulty sleeping, having nightmares when they do get to sleep, crying on basically a daily basis. While one of my colleagues and I were discussing actions the kids here are resolving to take, she told me, choking back tears, "I just feel so helpless." My office mate and I had a long conversation yesterday in which she pointed out she was so young when Columbine happened that she can't remember a time when we didn't have to worry about school shootings. She's profoundly angry about that, and goodness knows I would be.
Myself, I am… emerging. Yesterday, I still felt shattered and vulnerable. Today, I still feel vulnerable (hard not to!) but also, somehow, refocused on what needs to be in the short term and for the long haul. Sleep is restorative, and last night I got more sleep than I have in two weeks and, for once, with no interruptions. And I find myself able to relax and weave together more deliberately the threads of thought that have been spinning out in my brain.
One is to ensure we keep in mind that no one actually wants children to be killed. That should of course be obvious, and it doesn't make it any easier to bridge our differences as we look to solutions, but it is nonetheless at least one point of commonality.
Another is to ensure we keep in mind this problem runs deep and and is woven into the fabric of our culture. For one thing, reducing gun violence isn't just about reducing mass shootings. It's also about reducing the suicide rate, the homicide rate, and the number of accidental deaths. How the media frames violence, both in the news and in movies and games, affects our own framing of violence. Our country's stigmatization of mental illness affects both the willingness to seek treatment and its coverage. Patriarchal thinking and structures play a role in domestic violence and, often, other gun deaths (mass shootings, the murders of trans women,...).
And of course racism very much affects how this plays out (see this moving poem by Siobhan '16), and it's rooted in our history: as scholar and feminist Roxanne Dunbar-Ortiz put it in discussing her new book Loaded: A disarming of the Second Amendment, "You have this parallel genealogy of the militias covered in the Second Amendment—to kill Indians to take their land, and slave patrols." To be clear, this is not to say by any means that any given gun owner is racist. Of course some are, of course some aren't. The same is true of any large general demographic, including gun control advocates. But it is to say that understanding and acknowledging our racial history and how it continues to affect us in the present day can help us to clearly see patterns that need to be changed, and to see those changes through.
Complicated and interrelating causes of gun violence will require complicated and interrelating solutions. Over the years, in discussions with colleagues, friends, and family, in discussions I've hosted on Facebook on anniversaries of Sandy Hook, and in Twitter chats I've facilitated or in which I've participated, I've encountered a great many thoughts offered by people of a range of political beliefs, races, ages, genders, sexualities, classes, and abledness. I've come to think we need not just one solution, but many, because there is not just one cause to this problem, but many. Of course, some of these will appeal to different people. That's fine. All this is probably more work than any one person can take on anyway.
First, and most fundamentally, we can and must continue to work for equity across all axes of identity. Seeing ourselves in others and feelings empathy can be part of that. We can re-examine how we think about violence and look at changing how the media reports on mass shootings and other acts of violence. We need to find a way to destigmatize mental illness (including keeping always in mind that mental illness is not in itself a risk factor for violence), and improve our coverage of treatment. One relatively easy change a student in Humanities 8 recently proposed was that we get yearly mental health check-ups just like we get annual physicals. We can look at our system of laws and regulations for loopholes that can be closed and modifications that would help, and organize to advocate for those we see as most promising. We can look to successful programs for gun safety and replicate them.
Sandy Hook Promise and Campaign Zero are among the organizations whose work I admire and promote. In fact, I recently signed up to become a Sandy Hook Promise Leader. SHP has a multi-pronged and non-partisan approach to reducing gun violence that includes prevention programs like "Know the Signs," "SOS Signs of Suicide Prevention Program," and "Start with Hello." Campaign Zero was developed by young Ferguson activists in consultation with researchers and activists and drawing on the work of researchers, activists, and the Task Force on 21st Century Policing. Much of what is presented on the website mirrors policies implemented by the police department in Richmond, CA some years ago now, with positive results.
All of this work will be most effective if we work to build intergenerational partnerships. In Powered by Girl: Supporting Youth Activists, Lyn Mikel Brown emphasizes both the need to let young activists (primarily girls in the context of this deeply feminist book) take the lead in determining their priorities for activism based on their own lived experiences, and in putting their ideas out there. But adults, with the privilege that comes with that status as well as our own lived experiences, can sometimes help them open doors, or perhaps better see a door that needs opening. For the kind of sustainable ongoing work which brings about deep change, we need the different kinds of energy, experiences, and vision that kids, young adults, and older adults all bring to the table.
Of course, we can practice that outside the context of activism, too. Our school at its best builds genuine opportunities for adults and kids to work collaboratively - to put our heads together, define and solve problems, and take actions.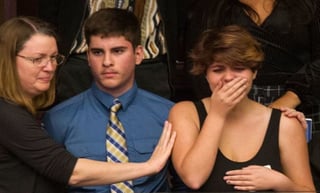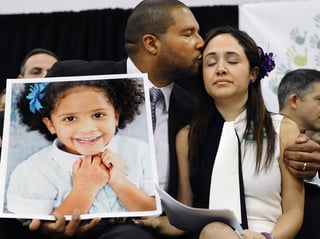 I can't shake the image of the Parkland teenagers in tears as the Florida legislature voted to refuse to even allow discussion on a proposed law to ban many semi-automatic weapons as well as large-scale magazines. And I don't particularly want to shake it. I want to carry it in my mind alongside the image of Nelba Márquez-Greene, who turned grief into action after losing her daughter Ana, her "caramel princess," at Sandy Hook. I want to carry them alongside the images of my own family members, and of my own students. I want to remember why I care so much about this issue, and why I feel so urgently the need for action.
*****
The day I met with Windsor and Annamaria to follow up on Windsor's powerful message was a beautiful Wednesday with spring-like warmth. Thinking of both the weather and our meeting, I changed into my "Nevertheless she persisted" tank top after school. I love that, as we talked over both their specific plans and the general nature of activist work, that message was always right there for the kids. I look forward to supporting them in helping take the actions and trying to make the changes for which they hope.
Meanwhile, I continue my work to radically minimize the "Nevertheless."
And radically maximize the "she persisted."
Written by Bill Ivey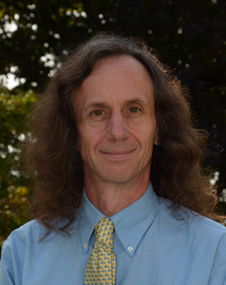 A dedicated member of the faculty, Bill Ivey is the Middle School Dean at Stoneleigh-Burnham School. He teaches Humanities 7 and the Middle and Upper School Rock Bands. Bill is the advisor for MOCA, the middle school student government, and he coordinates and participates in the middle school service program. Among his many hats, Bill also coordinates social media for Stoneleigh-Burnham School.