I remember four years ago, as one of my advisees was contemplating moving up from eighth grade to the high school, she said, "Bill, what am I going to do without you?" Well," I said, "the way I think of it is, once an advisee, always an advisee, and I'll be right here if ever you need me or even if you just want to drop by and say hi." Of course, she made the transition to ninth grade just fine, and continued to grow into herself and develop her positive and cheerful voice throughout her remaining four years here.
So when I saw her up in front of the school for the yearbook dedication at Housemeeting, framed by three other former middle schoolers and another senior with whom I'd served on last year's Schedule Committee, I flashed her a smile, and she smiled back warmly.
Moments later, I found myself standing next to these wonderful seniors, deeply touched and a little teary, listening to the kind words they'd written me in their yearbook dedication. And after shaking their hands and thanking each one of them in turn, walking back to my usual place sitting right behind the middle schoolers, I thought of all the wonderful people and all the love contained in the yearbook. And I hugged my copy tightly.
Each of these kids brings a unique set of gifts to the school, and when they pool their individual energy and strength, they become an amazing force. They care about each other, and by that I mean each other as they really are: their true, authentic, imperfect, wonderful selves. They care about the world, about their individual and collective vision for how things could and should be, about what each of them - and by extension each of us - can do to bring about the possible. When I find my own courage flagging, I think of these kids and their individual and collective ability to know and stick to their principles and find a way to keep moving forward. It may be a cliché but it is also the absolute truth: they inspire me to be my own best self.
So for them to think that I may have in any way helped them along that journey, contributing to creating a kind, inclusive, and accepting atmosphere here at this school, humbles me. And when they say they will remember me, in the words of their poem lovingly modeled on the Closing Poem I read each year at the Eighth Grade Moving Up Ceremony, "for his advocacy of activism, for showing us that what society wants is not what matters, but what we want to do for our society," when they thank me "for teaching me that my voice can change the world, my music can inspire those around me, and that I matter," it means the world.
Earlier this year, Mary Dooley '03 returned to say hi, and we talked for nearly an hour about her life over the past 16 years, all the amazing work she is doing to make the world a better place. I was able to tell her I can still hear clearly in my mind vocal parts she sang way back in the early 2000's when she was in Rock Band. Just the other day, talking with two of the sophomores about how very much they were going to miss the seniors, I mentioned Mary and they asked me to sing them one of her harmonies. And I did.
It's going to be like that with these seniors. So many moments together, so much they've taught me, so many ways they've made the school a better place… it all will stay in my heart forever. And just as I smile at them now when we pass in the corridor, I will one day smile to think of them out in the world.
But. That's still in the future. We still have 23 days together.
I plan to cherish each and every one.
Written by Bill Ivey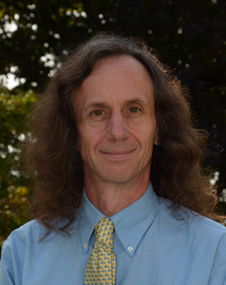 A dedicated member of the faculty, Bill Ivey is the Middle School Dean at Stoneleigh-Burnham School. He teaches Humanities 7 and the Middle and Upper School Rock Bands. Bill is the advisor for MOCA, the middle school student government, and he coordinates and participates in the middle school service program. Among his many hats, Bill also coordinates social media for Stoneleigh-Burnham School.