When I was a girl, I had parents who loved me and believed in me, but those doubts still worked their way inside my head and my heart, and I was always worried about something. Does my hair look right? Am I too tall? Do I raise my hand too much in class? So when folks said that a girl like me shouldn't aspire to go to the very best colleges in this country I thought, "Maybe they're right." But eventually I learned that each of those doubts were like a little test, a challenge, that either I could shrink away from or rise up to meet and I decided to rise. - Michelle Obama, quoted by AISNE Assistant Director Bonnie Ricci at the AISNE Diversity Conference on November 1, 2016
It wasn't particularly easy waking up at 4:45 in the morning to head out to the 2016 AISNE Diversity Conference. But it was well worth it, and not just for the chance to connect with familiar faces from other schools I don't see often enough.
Ralph Wales, Head of Gordon School, welcomed us, asking the question, "What would happen if we were to start a school today?" He talked about aligning the power pyramid with our work in support of it, of the force and power we have to do right by all children, and of the concept of "pushing subversion." Speaking as a person whose mood indicator has been stuck on subversive for several years, I can support that. The question, of course, is what to subvert, and how.
Irshad Manji gave the morning keynote, "The Diversity Dilemma." For me, the key take-aways were the need to get past diversity - which should be a given and not an end in itself - and work toward inclusion. Getting comfortable with discomfort needs to be part of this process and a fundamental goal of education. Moral courage requires speaking truth not just to others but also to oneself. We need to engage rather than assume, listen deeply, be intentional, and ask questions from a place of genuine curiosity. We need to be role models if civility and curiosity are to become major forces any time soon (unlikely though this may be in the immediate future).
Oddly, after Ms. Marji's eschewing of labels as a way of breaking down barriers and obstacles to being our full, true, authentic selves, the very next session turned immediately to labels. The title of the session, "Decentering Whiteness," was promising - it is one of my fundamental goals in my own work for social justice and equity. The facilitator, Robin Mallison Alpern, used census data on different racial identities to lead to a proposal of centering multiracial values in place of whiteness. My own (never voiced) question, formed in curiosity, was, "Why must there even be a center?" Furthermore, as my colleague Diana Fiori wondered, what is a "multiracial value" in the first place? Both are questions worth exploring, and I imagine would lead to a fuller understanding of what Ms. Alpern is proposing.
Ms. Alpern provided useful information about "aspects and assumptions of white culture in the United States," features of a centered whiteness, and requirements for multiracial community building. These latter include intentionality, having a critical mass (which could essentially be two or more people!), ensuring work is genuinely anti-racist and not simply non-racist, acquiring knowledge and building awareness, keeping multiple racial identities, in mind, developing multicultural skills, advocacy, and organizing. She also provided chances for participants to talk to each other, and I enjoyed learning from a teacher in Fayerweather Street School of their creation of a faculty-parent group to explore and enable anti-racist work, while she enjoyed hearing about our Friday "current events and social justice" lunchtime conversations.
Though interrupted by possibly the quietest fire alarm I've ever heard (I thought it was someone's phone going off in their bag) and a period of time standing outside in the parking lot, Alexandra Scott's session on "The impact of transgender and gender non-binary students on school culture" was interesting, entertaining, and useful. She talked about her growing awareness of being a woman (she uses "trans woman" more as a helpful referent than as an actual identity) as well as her own experiences in independent schools before striking out as a consultant, using most of the time for questions and discussion with participants. Among the fundamentally important questions raised by her and others: Are you who you say you are? What curricular choices are we making? What part does social justice play in the school? How do you create a supportive environment? What does a mindful school look like? What underlies a great educational experience? How do we create an ethos of mindfulness and intentionality? Do we have an increased responsibility to bring up these topics with younger kids who might not do it on their own?
Ultimately, a few themes emerged. One is that kids are very much out in front of adults in general at this point in time - for one example, kids' coming out in schools is making it safer for adults to come out themselves. Another is that our ongoing work happens most effectively in conversation, especially in a culture of mindfulness and intentionality, coming from a place of understanding and love. A third is the need for constant self-evaluation and seeking growth, both personally and institutionally. Most fundamentally, the kids themselves need to be at the center of this, and individual kids need to be able to feel in control.
The closing keynote, "Practicing Diversity: Race, Law, and a Real Path Forward," was given by Professor Donald Tibbs. Picking up on the convergence of the conference's theme of "difference, dignity, and debate," he discussed what Philando Castile's death can show us about the policing apparatus - not individual police officers, but the systems and structures we have built into our justice system over time. Professor Tibbs noted the concept of "racial deconstitutionalism" - racial profiling as a stripping of constitutional rights. We are not remotely post-racial, as many people thought upon the 2008 election of President Obama. We must start practicing diversity in order to truly achieve it, and we must dismantle laws that support the policing apparatus.

In the question-and-answer session that followed the address, Professor Tibbs noted that we pre-Millennials (and pre-whatever the next generation will come to be called) can learn from younger generations, who are getting a lot of things right and are more inclusive than any prior generation, and furthermore are showing tremendous courage in putting themselves out there. He noted the power of social media in bringing many of these issues to the forefront. He also reminded us that acting unruly is one way to break us from an oppressive regime. As for what to do when it all gets overwhelming, especially for Black people, he suggested exercise, taking a break, being careful which emails you actually open, calling a coward a coward, not insisting on engaging with every opportunity to engage, reminding yourself of the goodness in the world, and… playing with your pet. There is, he remarked, a power in unconditional love.
Diana, Tim, Shawn, Victor, and I had an enjoyable drive back to Western Massachusetts sharing what we'd each learned and thought about, debriefing sessions, thinking through what it all means for our school. Lots to think about. Lots to help us move forward as the conversations continue, always with an awareness that action is just as necessary as conversations.
Written by Bill Ivey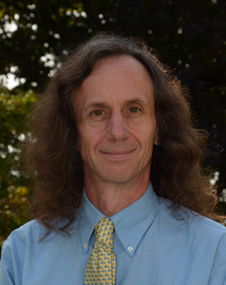 A dedicated member of the faculty, Bill Ivey is the Middle School Dean at Stoneleigh-Burnham School. He teaches Humanities 7 and the Middle and Upper School Rock Bands. Bill is the advisor for MOCA, the middle school student government, and he coordinates and participates in the middle school service program. Among his many hats, Bill also coordinates social media for Stoneleigh-Burnham School.