My friend Christina Torres, on her blog and via Twitter, has shared her 2017 resolutions for her classroom. Being a positive, growth-oriented person, she role models how best to acknowledge past improvements and use them as an opportunity to seek to do even better. She also invited as many teachers as possible to do the same, and of course, I couldn't resist!
Dear students,
Each day, when you walk into my classroom for Humanities 7 or into Bonnie's House for Rock Band, you are a breath of fresh air, bringing smiles, energy, caring, positivity, realism, earnestness, dedication, and ultimately hope to my life. Yet, even as I gratefully acknowledge these truths at the end of each day, my identity as a teacher and intersectional gender activist, not to mention our school's mission, call me to keep the focus always on you. As I've written before, I carry with me not only our cumulative experiences and everything I've learned about each of you as a person and all of you as a group but also my cumulative experiences with every student and class I've ever had. Moreover, every book and article I've ever read, every conference I've ever attended, and every conversation I've ever had with colleagues both here at Stoneleigh-Burnham and out in the world, also infuse my work continually. Who I am as a teacher today is already subtly different from who I was as a teacher yesterday when I woke up; I seek always to keep growing.
That makes making New Year's resolutions for my life here at school with you all a complicated task. When I'm already trying to take in all the information I can, short- and long-term, and constantly make adjustments to my teaching to do my best to support each one and all of you, what possible role could a resolution play?
One clue comes to me from a conversation I had over break with Jess. She was writing about the role sharing her learning journey plays in helping her students find their own way, and I realized I've probably done that much less this year than last. Some of that is a function of what each individual class needs, granted, but then have I perhaps shortchanged you by not occasionally (always for your benefit and never selfishly or self-indulgently) talking about how I got to where I am now, and where I see myself going? So then, maybe I can resolve to be keeping an eye out for when such moments of transparency might honestly be helpful to you.
Another clue comes to me from previous years and has to do with balancing democracy and inclusivity. Each one of you is absolutely unique and very special. That may occasionally mean that, in seeking the best possible consensus, one or two students begin to feel effectively disenfranchised. That does not necessarily happen every year, but it's always a risk. So I can and must resolve to be alert to the inadvertent tyranny of the well-intentioned majority, always a risk with democracies, and be alert to the periodic need to ask if there is indeed an elephant in the room that I am missing. I can and must also resolve, of course, to acknowledge the elephant if I do see it on my own!
I hope and trust you all will help support me in this journey to support you by continuing to give me honest feedback, both in class and when I ask you to evaluate via Google Form. I hope and trust, too, you all will keep being your own wonderful authentic selves, keep learning, keep growing, keep building a sense of community, and keep having fun.
With gratitude, now and forever, for having you all in my life, and with a fervent wish I am up to the challenge of truly making this the best of all possible years for each of you,
Take care,
Bill
Written by Bill Ivey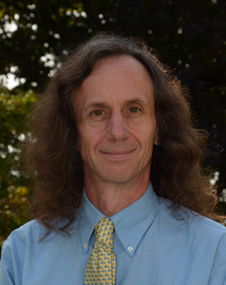 A dedicated member of the faculty, Bill Ivey is the Middle School Dean at Stoneleigh-Burnham School. He teaches Humanities 7 and the Middle and Upper School Rock Bands. Bill is the advisor for MOCA, the middle school student government, and he coordinates and participates in the middle school service program. Among his many hats, Bill also coordinates social media for Stoneleigh-Burnham School.