Did not know it was #WorldTeachersDay until this morning. All respect to all teachers. I will be celebrating by... teaching. :-) (tweet by Bill Ivey)
So how have I been spending World Teachers Day?
Well, for starters, I woke up. My phone seemed further away than it had any right to be, and I contemplated how much energy it would take me to silence my alarm while my cat contemplated how much energy it would take her to get me moving, preferably in the direction of her food dish. I eventually got up, picked up and silenced my phone, drifted to the kitchen and emptied the remnants of a bag of cat food into the dish, took a shower and finally began thinking coherent thoughts, got breakfast, called my wife, packed my bag, and drove off to school.
I greeted several of the people on Maintenance, the dining hall workers, and any teachers and students who happened to cross my path as I grabbed some (more) coffee and walked to my office. I flipped open my laptop, noticed another student had left a first-draft essay on Google Classroom and read through it and gave her feedback. I planned out what I needed to talk about with the student who had decided to turn in the slide show she planned to use for her presentation before starting her essay as an alternative way of organizing ideas; she had turned that in last night. I turned to email, noted a request for an advisor conference time (student-led, of course!) on two different Google Docs before confirming the time with the parent, reassured a student who had had to miss last night's Rock Band rehearsal because of sports that I appreciated her writing and of course I understood, wrote another family that I appreciated their letting me know their daughter was sick and that I hoped she'd feel better, read emails from the executive directors of the New England League of Middle Schools and the National Network of Schools in Partnership, read through the previous night's Duty Notes, noticed the agenda for the 8th grade MOCA (student government) meeting had been posted and the group's plans for a mixer were also proceeding well, and turned to Twitter to find shareable tweets for the school's account. Somewhere in there, I greeted my office- and classroom-mate, who had the 8:00 slot today.
By the time 7th grade MOCA started, I felt I had a handle on the day. For some reason (are they already getting that pre-Family Weekend nervous energy?!), the kids were a little more squirrely than usual, though good-hearted throughout, as they gave their Student Council representative feedback on Mountain Day, clubs, sports, and whether middle school students should be allowed to be peer tutors. There was some push for me to advise a gymnastics club, which frankly I might consider if they didn't need instruction - and if I weren't unavailable to them four out of five school nights because that's when I teach Rock Band.
After MOCA, the seventh graders swung relatively seamlessly to Humanities 7, a fairly simply process as they were already sitting in a circle on their beanbags. I asked them to put their iPads in a state of readiness, and while they presumably had no qualms with closing unneeded apps and turning off notifications, they reminded me I had said they could use art apps to doodle on the screen during read-alouds. I read them the second chapter of True Confessions of Charlotte Doyle, and as the plot began to form amid heavy foreshadowing, more of them began to engage with the story. Oddly, there were no predictions today for what would happen next. Maybe, I made a mental note, I should push the issue tomorrow if it didn't naturally come up during the "Thoughts, reactions, questions?" discussion. Or maybe we needed to explore Charlotte's character more deeply, especially her concepts of social hierarchy.
Today was an "Ellen Day" when our school counselor comes to work with the seventh graders on friendship, community, handling conflict, and other issues, so we went straight from the read-aloud to "choice time." Most of the kids shook their head "no" politely when I approached to see if they needed me for anything, but about six of them (out of a class of 16) had various questions, mostly about how best to revise their essays. After I made the rounds, I hovered more or less in the background while they all worked, conferred with each other, and called me back as needed. Ellen arrived at about 11:05, and they started to put their work aside ready for today's activity.
So we're still an hour from lunch and this blog is already longer than average. I'm pretty sure that's unsurprising to most people, and certainly to most teachers (though, of course, some teachers will have had pangs of jealousy upon learning my class size). At one level, all of this is simple and routine, just normal everyday moments in the flow of a normal everyday life.
Yet, at another level, this is exactly why I love teaching. At root, it's about people and relationships and making connections and giving support when needed and standing aside when unneeded - at least for the moment. I love this class, as I love all my classes, as I've always loved my classes. And these strings of moments are what brings that love to life.
My friend Megan Allen, a professor at Mount Holyoke, wrote in response to my #WorldTeachersDay tweet, "Sounds like a perfect thing to do!! #WorldTeachersDay"
I wrote back, "I'm just whimsical that way. :-)" But all kidding aside, she was right.
Written by Bill Ivey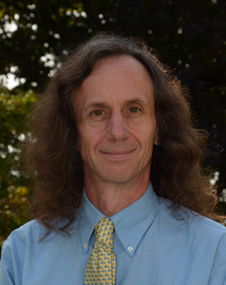 A dedicated member of the faculty, Bill Ivey is the Middle School Dean at Stoneleigh-Burnham School. He teaches Humanities 7 and the Middle and Upper School Rock Bands. Bill is the advisor for MOCA, the middle school student government, and he coordinates and participates in the middle school service program. Among his many hats, Bill also coordinates social media for Stoneleigh-Burnham School.