Many of my online friends are teachers, active or retired, and many of them have recently been sharing advice urging people to give teenagers a smile and some candy if they come trick-or-treating. I love the posts, thinking, of course, of my own students but also of teenagers everywhere, every one of them somebody's kid.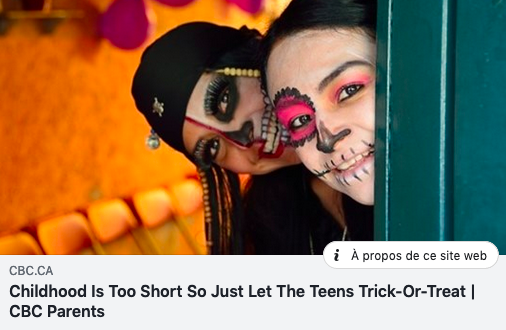 (image and link shared by Claudia Swisher)
Perhaps I have extra sympathy for teenagers on this issue because I vividly remember, at age 13, wanting to go out one last time. I knew people had mixed feelings about kids continuing to go out when they were quote-unquote "too old," so I hatched a plan with my parents. I would go through the neighborhood, dressed (if memory serves) as a robot, but I would have made cookies ahead of time and I would deliver them to homes as a way of saying thank you. That way, it wouldn't be about scamming candy, it would be about the fun of dressing up and walking around house to house and passing other groups of kids in the street. Whether I would have followed through on my plan or not, I'll never know because about two weeks ahead of time an adult shamed me so badly for wanting to get dressed up one last time that I gave up completely on the idea, tearfully informing my sympathetic parents, "It's not fair!!!"
My friend Nancy Flanagan, a brilliant music teacher who is now retired but who is still very much active in the education community, recently wrote a blog entitled, "Should Teenage Trick-or-Treaters Go To Jail?" This is not hyperbole; the city of Chesapeake, Virginia has passed an ordinance whereupon teenagers who trick-or-treat can be fined and/or jailed - for up to six months. Six. Months. For putting on some zombie make-up and a sheet hoping for some free candy and maybe the chance to prolong their childhoods a little. I know, much as our society says we like kids, we don't always act as if that were true. But. Seriously.

Not to mention the likelihood that Black kids and other kids of color are more likely to be detained, charged, found guilty, and given longer sentences. Speaking of not being fair.
Nikki '20, the Head of Community Alliance, has been working with student leadership of the affinity groups that include and support various marginalized communities - Gender Sexuality Alliance, Multicultural Club, and Students of Color - to create a forum for ongoing intersectional dialogue. Once each trimester, each group will begin by holding an Open Meeting designed to inform the entire community and get us thinking. One week later, Upper School advisories will meet to discuss the given topic, and middle school advisories will meet with Nikki and other student leaders for more information-sharing and questions. Another advisory will follow up a month later, giving us the chance to go deeper into each topic. GSA is going first, and their Open Meeting is next week and will focus on how to have these hard conversations in the first place.
In Tuesday's Middle School team meeting, we discussed the Community Alliance initiative, how we might best support it, and whether we might hold our own ongoing dialogues in parallel - both to push our thinking forward and to support the kids in their own growth.
Right after that meeting, during the announcements period that starts the Humanities 7 class each day, one of the kids asked, "Can we go around the circle and everyone say what they're wearing on Halloween?" They'd begun thinking of ideas back in September, or I guess I should say I first heard them talking about ideas back in September. And they will be far from alone… usually, over half the school dresses up on Halloween.
Because, wonderful and necessary as the deep work is that our kids are doing here… sometimes, too, they just need the chance to be kids.
Please and thank you.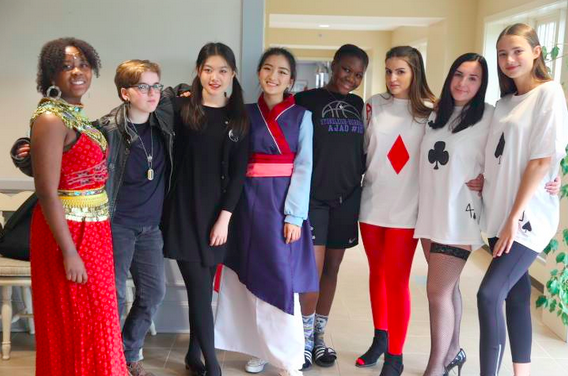 (image from Halloween 2018)
Written by Bill Ivey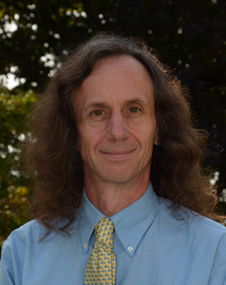 A dedicated member of the faculty, Bill Ivey is the Middle School Dean at Stoneleigh-Burnham School. He teaches Humanities 7 and the Middle and Upper School Rock Bands. Bill is the advisor for MOCA, the middle school student government, and he coordinates and participates in the middle school service program. Among his many hats, Bill also coordinates social media for Stoneleigh-Burnham School.