A few weeks ago, Nola-Rae Cronan of the Columbus School of Girls sent out an email that began:
I hope this finds you well. In honor of the International Day of the Girl, my students will be hosting several Hangouts to connect girls around the world. The conversations will be self-directed by the students who attend, with student facilitators. We hope to provide an opportunity to unite girls across borders on the ways we are similar and bring us closer together by celebrating our differences.
I know Ms. Cronan from a number of Twitter chats, and deeply respect her as a thoughtful educator who is committed to social justice. I explained the project to my Humanities 7 students, asked if they wanted to facilitate or participate ("participate"), and signed them up.
For a warm-up activity, I decided they should take a look at the "How to be an Activist" blog on the U.S. "Day of the Girl" website. They could read and discuss the introductory article, then find a posting in which they were personally interested to read and share with other kids in a small group.
Alongside the prep work for the day's class, I found myself participating in a series of discussions on the concept of teachers advocating for equity and social justice and what may be holding some of us back. The running theme was fear. Fear of saying the wrong thing. Fear parents might complain. Fear that the administration might not be supportive - or worse.
I think of myself as an empathetic person, but I find myself having little patience deep down for all this attention being paid to teachers' fears. To one blog on the topic, I commented:
Not to take a stand for social justice and equity equates, in my mind, to tacit acceptance of the status quo. We know for just one example that LGBTQ+ kids are more vulnerable to bullying and/or more susceptible to depression and even suicidal thoughts - unless they experience loving support from their schools and/or their parents. Under those literally life-and-death conditions, I can't just stand aside. And I feel the same way about kids of colour, disabled kids, and so on.
And to another blog,
I find anchoring these moments in respect can go a long way. Respect for different opinions. Respect for our common humanity. And I think when those two respects are placed in opposition, respect for our common humanity has to be the priority. I'll tell kids on occasion, usually when they bring up this very issue, "Your feelings are what they are, and I'll never argue with them. And you have every right to your own opinion. But if that opinion cannot be stated without disrespecting members of our school community including kids in this room, then perhaps it's best you keep it to yourself. You can still feel free, however, to talk it through privately with me."
Moments like these Google Hangouts with other schools provide a golden opportunity to learn about different ideas and opinions and cultivate that respect for our common humanity. We'll use the seed prompts, "what issues do the girls see as important to them and what ways do they stand up for girls." And "hopefully, we'll get some cross-sharing and inspiration on how to/help/engage even more." (Cronan)
Respect. Engagement. Advocacy. Action. This is what we're asking of these middle school girls on this International Day of the Girl.
And that's what I'm asking of all the teachers out there.
Even the fearful ones.
(originally written in the "Crafty Girls" font)(!)
Written by Bill Ivey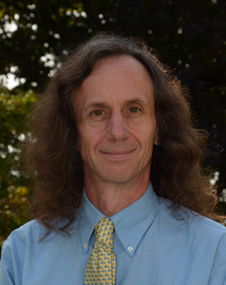 A dedicated member of the faculty, Bill Ivey is the Middle School Dean at Stoneleigh-Burnham School. He teaches Humanities 7 and the Middle and Upper School Rock Bands. Bill is the advisor for MOCA, the middle school student government, and he coordinates and participates in the middle school service program. Among his many hats, Bill also coordinates social media for Stoneleigh-Burnham School.