Recently, a colleague shared out an article with the unfortunate headline, "My Daughter Is Not Transgender, She's a Tomboy." The author, Lisa Selin Davis, seemed to be saying she wished people would stop questioning her daughter's gender identity based on her gender expression, including not only people who have fairly limited ideas of how boys and girls look and/or should look but also well-meaning people who wondered - repeatedly - if she was transgender and what pronouns she used. Ms. Davis wrote that she appreciated both the well-meaning question of whether her child might be transgender and the sensitivity to pronouns, objecting rather to those times when people seemed skeptical of the answers and/or kept re-asking the questions. I shared the article on Twitter, adding the comment, "Seems like the underlying message is adults need to listen to kids about how they view who they are w/openness to all genders/expressions." And several of my colleagues told me they enjoyed the article, thinking in particular of their own daughters who are frequently mistaken for boys.
Meanwhile, a friend wrote me in response to the article and began a long conversation that focused on what gender means and how it is determined, and how we can best achieve a world where every individual person can fully be their own authentic self. It was an amazing conversation that eventually extended to the next day, one that by turns unsettled and comforted each of us, and ultimately led each of us to greater clarity. In my case, I came to a better understanding how someone who shares my goal of gender equity and a world free of gender-based roles, expectations, and stereotypes might believe that transitioning transgender people undercut that goal.
I see my friend's point - anything that, in any way and however unintentionally, reinforces a strict binary view of gender also makes it tougher for anyone who doesn't fit in their assigned gender box to be able to live fully as their authentic self. At the same time, I believe that we must take each individual at their word when they describe their personal sense of their own gender if they are ever to live fully as their authentic selves. It was one of those "Well, we're mostly on the same side, and we'll both keep thinking this whole thing through" moments for which we were both grateful.

Meanwhile, I began to see the transgender community reaching out to each other in protest of the article. For one thing, the author kept reaffirming that her kid is not, under any circumstances, put the idea right out of your mind, in no way transgender, effectively blaming the transgender community for the misgendering of her child. As Chase Strangio put it on Twitter the next morning, "For those praising tomboy piece, you're missing point of critique. The violence of gender policing is not happening b/c of trans ppl."
Too, the question arose to what degree and why Ms. Davis wanted her child to be a tomboy and not transgender. A few years ago, she had written an article for Parenting magazine with a somewhat different take. After describing her daughter's various rowdy behaviors, she went on to say, "And again, I thought, 'How great is she?' / Well, okay, 90 percent of me said that. The other 10% thought, 'uh-oh.' As she started to announce in ways both subtle and direct that she's a boy, and ask me questions like "Why can't boys have vaginas and girls have penises?" the ratio of heartwarming to heart-sinking has shifted." Of course, it may be that since that article came out, Ms. Davis's child no longer identifies as a boy and Ms. Davis is now more open to the idea of having a transgender child. One hopes so. Transgender kids whose parents refuse to accept them as such are among the most at-risk populations in the world.
That said, I still agree, as I think my friend would, with one of the core assertions of Ms. Davis's article: "Somehow, as we have broadened our awareness of and support for gender nonconformity, we've narrowed what we think a boy or a girl can look like and do." Whatever the causes, we can and should work to reverse that trend...
… one which, by the way, I honestly don't see at this school. I was talking today with a colleague, and we both hear from students of various axes of identity (and allies) that it's more the world beyond our campus that worries them than their life here.
Recently, GLSEN sponsored its annual Day of Silence. As often seems to happen, unfortunately, it was once again observed on the Friday of Family Weekend when classes, housemeeting, and the performing arts presentation render it impossible for us to participate. But at any rate, we've come a very, very long way since I first started working here in 1985 in terms of breaking the silence on campus (I think it was 1997 before the first student in my time at the school came out as lesbian). The question becomes how best to break the silence elsewhere, to help LGBTQ+ people (and more broadly, any historically marginalized and/or oppressed people) feel genuinely safe 24/7.
Every time we can help people see past assumptions and maybe not act on them (it's hard to fight their very existence), we're helping to better the world. Every time we point out and push back against prejudice, whether deliberate or not, we're helping to better the world. Every time we listen supportively and without judgment to someone else's experience, we're helping to better the world. And for that matter, every time we present and act as our deep authentic selves, we're helping to better the world.
And there are plenty of chances to do so. Every single day of our lives.
Written by Bill Ivey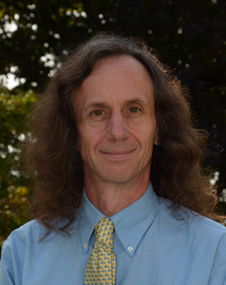 A dedicated member of the faculty, Bill Ivey is the Middle School Dean at Stoneleigh-Burnham School. He teaches Humanities 7 and the Middle and Upper School Rock Bands. Bill is the advisor for MOCA, the middle school student government, and he coordinates and participates in the middle school service program. Among his many hats, Bill also coordinates social media for Stoneleigh-Burnham School.