During advisory lunch on Monday, one of my eighth grade advisees asked why people might not want to arm teachers. The conversation quickly shifted to our school's policies around lockdowns and other policies meant to help keep kids safe, so we ran out of time before her question was really answered. I told her I hadn't forgotten the original question, and said maybe we could talk on Wednesday.
Yesterday, as it happens, three of my other four advisees were absent, but the two who were there were up for returning to the question. We talked for nearly half an hour in a wide-ranging conversation. All of us of course agreed that the most important thing was keeping kids safe, and that it was natural there were different points of view on how to go about that. The girl who asked the original question, in listening to what my other advisee was saying and to my explanations of arguments against arming teachers that I'd seen made (accompanied, for balance, with some of the arguments I'd seen made for the opposing viewpoint), came around to think maybe arming teachers wasn't such a good idea. She put forth other ideas such as arming our security guards and searching student backpacks (this latter led to discussion of Fourth Amendment rights and how they shape school policy), while my other advisee focused on wanting more frequent lockdown drills. They also talked about the importance of speaking up if you have a concern, and I told them about the Sandy Hook Promise "Say Something" program.
One of those advisees was at a March For Our Lives on Saturday. Coming out of those events, I see more and more adults in this country realizing what we teachers see every day: that our kids are far more knowledgeable, articulate, and ultimately powerful than they are often given credit for being. Through the course of the day on Saturday, I also saw adults starting to realize that this is a generation that not only was born and grew up post-Columbine, and for the most part post 9/11, but also was born and grew up in an age where we have become increasingly aware of the arrays of identities we wear, the ways those identities intersect to shape our life experiences, and the ways those intersections relate in particular and in different ways to different blends of power and privilege on the one hand and marginalization and oppression on the other. Our Seniors were 11 and 12 in 2012, when Trayvon Martin and the Sandy Hook children were tragically gunned down, and our seventh graders 6 and 7. Of course, patterns of patriarchy and white supremacy affect the youngest generation too, but they are on average (if not uniformly) much more sensitive than we older folks to that reality, and therefore better positioned on average to deal with it.
The Parkland kids are a wonderful example of that, explicitly using the privilege that came with the level of media attention being paid to these mostly-white kids to call out the exclusion of black and brown voices, to reach out to kids from Chicago, to invite other kids like Naomi Wadler to join them at the D.C. March For Our Lives.
Myself, I was acutely aware that the Parkland shooting took place in the middle of Black History Month, and used my social media platforms to try and amplify not only the voices of the Parkland kids but also the voices of marginalized people, many of whom had already been doing anti-gun violence work for a while. I have no idea how effective I was, if at all. But my heart and actions lined up well.
That may, I realize looking back, not have been the same impression I left within my school. With such a high level of activism in my personal life, and so many things to keep track of here (Humanities 7, the Rock Bands, Middle School service, the Middle School team, MOCA (our Middle School student government), Schedule Committee, Weekend Activities, supporting gun violence activists here, preparing for and taking part in Revisit Day, etc. etc. etc. etc.), I don't think my deliberately intersectional approach to dealing with gun violence really came across here. But, as I well know, when intentions don't match perceptions, it's time to shift my thinking and change my actions.
Luckily, I have colleagues here to whom I can talk openly about these thoughts, feelings, and questions. Luckily, we are on the same page about wanting to create a more thoroughly intersectional approach to activism here. Luckily, we have amazing students of a wealth of intersecting identities who sense that we adults want to support them. As I told one of my colleagues, it's probably going to be a shifting equilibrium between occasionally leaving too much in the students' hands and occasionally taking over more than we should. But if intentions are clear all around, we can also talk about perceptions on how things are going, and adjust that equilibrium as needed.
After our growth over time, transforming ourselves from simply a girls school into an explicitly feminist school, becoming more effectively anti-racist and pro-LGBTQ+, we now have a golden opportunity to move our school deeper than ever into intersectional activism. With care and conversation, we can do this. I believe.
Written by Bill Ivey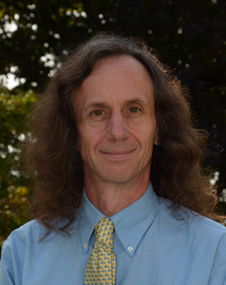 A dedicated member of the faculty, Bill Ivey is the Middle School Dean at Stoneleigh-Burnham School. He teaches Humanities 7 and the Middle and Upper School Rock Bands. Bill is the advisor for MOCA, the middle school student government, and he coordinates and participates in the middle school service program. Among his many hats, Bill also coordinates social media for Stoneleigh-Burnham School.