Like many Americans, especially parents, especially teachers, Dec. 14, 2012 is burned into my brain. I may have been too young (just) to remember where I was on Nov. 22, 1963, but I know exactly where I was 49 years and 22 days later - in the gym working scoreboard for our basketball tournament - and remember it as clearly as if it were yesterday. On that day, we learned with growing shock what had transpired at Sandy Hook Elementary School, a horrific mass shooting that began with the shooter's mother and continued to result in the deaths of 20 children and six faculty/staff members before the shooter turned his gun on himself.
Nancy Lanza.
Charlotte Bacon, Daniel Barden, Olivia Engel, Josephine Gay, Dylan Hockley, Madeleine Hsu, Catherine Hubbard, Chase Kowalski, Jesse Lewis, Ana Márquez-Greene, James Mattioli, Grace McDonnell, Emilie Parker, Jack Pinto, Noah Pozner, Caroline Previdi, Jessica Rekos, Avielle Richman, Benjamin Wheeler, Allison Wyatt.
Rachel D'Avino, Dawn Hochsprung, Anne Marie Murphy, Lauren Rousseau, Mary Sherlach, Victoria Leigh Soto.
The shooter.
I need not remind you of the many school shootings that have occurred since then, or for that matter before. No matter how many times we process them - Sandy Hook - Parkland - Santa Fe - it remains hard to believe. Survivors, parents, friends, and relatives have each handled their losses as best they can. While some have turned to activism, most recently and successfully the Parkland kids, who were awarded the 2018 Children's Peace Prize, others prefer privacy, as activist Nelba Márquez-Greene (mother of Isaiah, who survived Sandy Hook, and Ana, who didn't) has noted. My Sandy Hook Family honours the lives of those who died in the shooting in the manner of each family's choosing and, where pertinent, offers links to the various foundations and charities established and advocated by the families.
Meanwhile, we still search for a solution to gun violence. Whether or not we can reduce it to zero, we can unquestionably reduce it, and keep bringing the rate of gun deaths down. Gun laws right here in Massachusetts have been widely promoted as a national model. The actions taken by the Parkland kids, some of which have been echoed by our own students, also show a way forward.
Fred Guttenberg has become another well known parent-activist following the murder of his daughter at Parkland. But, as Nelba reminds us, if you only know the names of the activists and not the lost children, you are missing the essential. So, by all means, pay attention to Fred, Nelba, Mark Barden (co-founder of Sandy Hook Promise), and other parent-activists. But always remember Jaime (who would be a sophomore this year), Ana and Daniel (both of whom would be in middle school), and all the others as well.
And let's do the work so that, as Ember Larregui '18 put it in her walkout speech last April 20, "Just under two decades from now… no student, no child, no teacher, no adult, will ever have to feel scared that they, too will become a victim of gun-based violence, in any form, in any place, in this country."
Written by Bill Ivey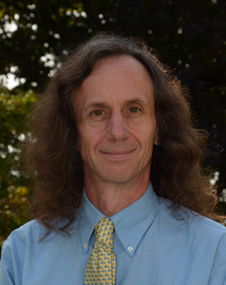 A dedicated member of the faculty, Bill Ivey is the Middle School Dean at Stoneleigh-Burnham School. He teaches Humanities 7 and the Middle and Upper School Rock Bands. Bill is the advisor for MOCA, the middle school student government, and he coordinates and participates in the middle school service program. Among his many hats, Bill also coordinates social media for Stoneleigh-Burnham School.