In writing up Sonia Nazario's keynote speech for the Fenn School Multicultural Educators' Forum, I deliberately left out a number of details in order to focus on the central story. While it makes a smoother narrative and hopefully helps focus on the power of her story, it neglects some important facts and details she deliberately and skillfully wove in. Among them:
Massachusetts, while a fairly friendly state to immigrants in many ways, does not provide in-state tuition or financial aid to undocumented residents, nor drivers' licenses. We have 17,000 DACA applicants.
In general, the majority of immigrants come from Central America - Guatemala, El Salvador, and Honduras. 51% are women and children, in a dramatic shift from past years.
300 people a year are killed trying to cross our border illegally. Given the phenomenal danger involved in travelling by train to our border, this risk factor is virtually insignificant by comparison. Also, more undocumented immigrants (wherever they may be from) enter the country by airplane than by land across the border.
Migrants used to go primarily to six states, but now fan out more or less everywhere. We have written thousands of laws against them. Realistically, their influx produces winners and losers and has effects both good and bad.
Ms. Nazario sees her role as focusing attention on why people are so desperate to get here. Migrants are likely to follow jobs, even jobs with low pay. She believes prejudice is more likely to stubbornly resist change in homogenous areas that haven't changed in years. This isn't to say there aren't legitimate concerns. For example, if an immigrant opens up an auto shop and is willing to work for lower pay than an established auto mechanic, the older mechanic may in fact lose business. But on the other hand, if for example an immigrant is willing to work as a drywaller for low wages, the cumulative effect can have a boost up the economic food chain by freeing up money within the housing industry that may be spent in other ways. Also, immigrants contribute to the Social Security and Medicare systems without any realistic hope of getting a return.
Rhetoric can go too far in different directions. Yes, there were MS-13 gangsters admitted to the U.S., but there were 56, not 250,000. Yes, there are DACA recipients who are valedictorians and leaders in their colleges, but that is by no means true of all.
Ultimately, she said, reminding us that the U.S. refused entry to Anne Frank and her family, we say "Never again" again and again but, without action, those are hollow words.
*****
After a short break, the Forum continued with five Heads of School joining together for a panel discussion on, as facilitator John Sharon put it, "How to talk about hard things in hard times." The panel included Rick Melvoin (Belmont Hill School), Jane Moulding (Cambridge School of Weston), Dan Scheibe (Lawrence Academy), Ingrid Tucker (Cambridge Montessori School), and Jerry Ward (Fenn School) Among my take-aways from this insightful, honest, forward-looking group:
It takes time to learn to have difficult conversations where everyone feels safe. But focusing over time on the process and the desired outcome will steadily get you there. Be intentional. Ongoing professional development helps - indeed, professionals may be best suited to teach at least some of the necessary skills. The part where you reach out in empathy to give comfort is easier for many of us. Yet, sometimes you do have to take a stand - the hard part is to know when a line has been crossed. At such moments, grounding ourselves in the core values of our schools can help. At the student level, it can help to have ally groups networking. One school explicitly weaves an intersectional perspective into its work. Assume our common humanity, watch out for the tyranny of the majority, and remember what Barack Obama said on November 9, 2016: "Let's all agree, not only to stay engaged, but to push ourselves to do even better. (...) The sun will rise in the morning."
Asked how to keep diversity, equity, and inclusion from just being trendy buzz words and how we make them everyone's job, one Head pointed out that systems outlast people - essentially, if we build it, it will persist. Ongoing conversations need to take place authentically and make room for every voice. Boards play a big role in setting direction and priorities. We have to commit to a cultural monitoring of what we do - specific data and metrics can be especially useful. And remember, while it's a journey, you actually never reach the final destination.
*****
In the afternoon, we met in small groups of adult participants (the kids had their own separate program once the keynote was over, and returned for the closing presentations) to have open discussions on topics of our choice. In my group, there was a unified commitment to explore ways to ensure our perceptions are accurate and to keep improving. While student surveys are helpful, it would be nice to have other objective data-gathering tools. We also discussed ideas for curriculum, and the roles (and supporting structures) of different student affinity groups as well as advisories.
*****
The first of the three final presentations was given by Fenn's librarian, Liza Halley, on graphic novels and comic books. Her passion for the genre was clear, and she pointed out something of which I hadn't yet thought (and should have): that graphic novels eliminate the risk of the colour-blindness in readers' experiences. I vividly remember when the movie of The Hunger Games came out and a fair number of racists all over the country were deeply upset that Amandla Sternberg, a Black woman then 13 years old, was cast as Rue even though the book included this description of her: "...a twelve-year-old girl from District 11. She has dark brown skin and eyes, but other than that's she's very like Prim in size and demeanor…" In a graphic novel, there would be a constant reminder of her skin colour; no incorrect assumptions would be made.
I was the second to speak, telling the story of the planning, execution, and follow-up work of the Conference on Girls' and Women's Rights organized by my 2016-2017 Humanities 7 class and their Declaration of Sentiments, and connecting it to the recent blog by Windsor and the importance of adults supporting kids without taking over or co-opting their work.
Five students from a theatre class at Pike School closed the day by performing an original piece - concept, words, staging - on the hurtfulness of the worst of the racial slurs. It was intense and powerful, and not just the performance but also their answers afterward to the question, "Why did you do this and what did you hope would happen?" They're realistic about what they're up against, and some are more optimistic about change than others. But they have no desire to just throw up their hands. It was the perfect end to another amazing day.
Many thanks to the incredible Tete Cobblah for his work in putting this together. At the end of this school year, he is moving on to a new and exciting project, and will be greatly missed here even as we look forward with excitement to see the results of his careful planning for this new stage in his life.
Written by Bill Ivey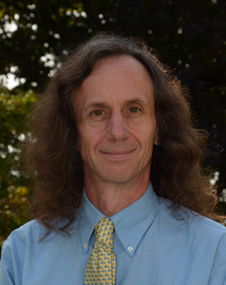 A dedicated member of the faculty, Bill Ivey is the Middle School Dean at Stoneleigh-Burnham School. He teaches Humanities 7 and the Middle and Upper School Rock Bands. Bill is the advisor for MOCA, the middle school student government, and he coordinates and participates in the middle school service program. Among his many hats, Bill also coordinates social media for Stoneleigh-Burnham School.